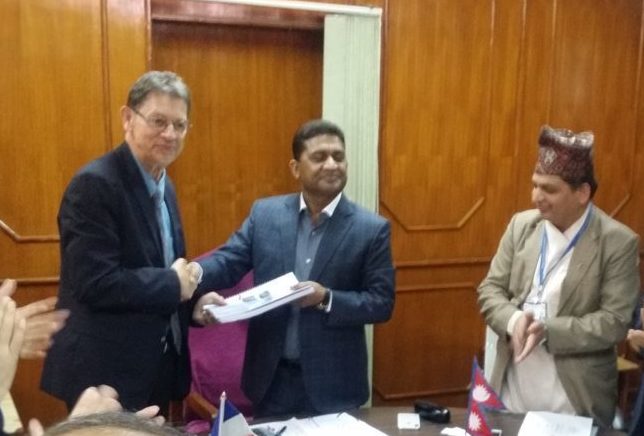 Kathmandu, May 24
The feasibility study for the construction of urban cable car project in Kathmandu has been completed.
Ambassador of France to Nepal Yves Carmona handed over the detailed feasibility study report to Minister for Physical Infrastructure and Transport Raghubir Mahaseth amid a programme organised in the Capital on Thursday.
"The objective of the study was to put into perspective the feasibility and relevance of a cable transport system in Kathmandu, as fast to implement, a cost-effective and sustainable solution to tackle traffic congestion, reduce air pollution and ease mobility of the city," reads a statement issued by the French Embassy.
The study report focuses on how a cable car system could be a relevant part of the public transportation system of Kathmandu, and also a tool for urban renovation as well as touristic development.
Likewise, various operational and financial models including the public-private partnership and design-build-and-operate have been suggested for the project. Moreover, a pilot line of seven stations of about seven kilometres from Bouddhanath to Bishnumati in Kalimati has been highlighted.
The French delegation, which included Head of South Asia Economic Department at the French Embassy in Delhi Jean-Marc Fenet, Counsellor for Sustainable Development Fanny Hervé and representatives of the French companies, MDP, SYSTRA and POMA hoped that the government takes up the project soon.