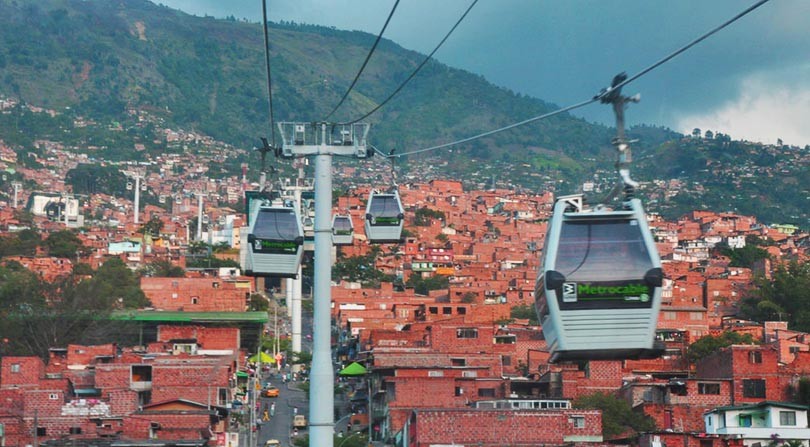 A network of mass transit cable car system is feasible in Kathmandu valley, a study says. If completed, a network of ropeways will crisscross the urban centre of the capital transporting commuters from the outskirts to downtown Kathmandu.
The study, financed by the French Government under a technical assistance program, was done by a consortium of engineers and consultants from engineering firms SYSTRA and MDP.
The study has identified the 7 km stretch from Boudhanath, at the northeastern part of the city, to Bishnumati located at the valley's western part, as the pilot project. This pilot line, according to the study, will have 7 stations including one at Ratnapark and another at Kathmandu Durbar Square before ending at Bishnumati. The total duration of this journey, from Boudhanath to Bishnumati, is estimated to last for 34 minutes, 29 seconds.
Routes are based on the data provided by the study and are not to scale.
The line will have a total of 250 gondolas, the study says. Each gondola will have a total carrying capacity of 12 people and which will arrive at a station every 15 seconds. The line is estimated to transport a total of 70,000 passengers per day, says Shyam Mohan Shrestha, President of France Nepal Chamber of Commerce.
Beside the pilot line, the study has identified three other possible lines for the ropeway. The study shows Lagankhel-Jamal, Tankeshwar-Gongabu Bus Park and Kalanki-Ratnapark as other possible routes for the cable car system.
The study estimates the project to cost around Rs 10-12 billion. "We hope to start the project within the next year or two. We plan to fund the project under a Public Private Partnership model. We will need the backing of a consortium of investors including French and Nepali investors, Asian Development Bank, World Bank and International Finance Corporation," says Shrestha.
Urban cable car system has long been the part of the culture and the cityscape in several cities around the world like Rio de Janeiro, La Paz and Medellin. The system will especially be feasible in a crowded city like Kathmandu where it's virtually impossible to further expand the network of roads or explore other system of mass transit like subway.
The study believes that the cable car system will reduce 30-40 per cent traffic on road and halve the traveling time for commuters. The system will bring a 'modal shift' from private ownership of vehicles to the culture of pedestrians and cycle, the study believes.
The cable car system will not only be silent and efficient, the study says, it will also offer a panoramic view of the city and will be a major attraction with tourists.
***
Also read
Up, up and Chandragiri: Kathmandu's first cable car to be launched within a month