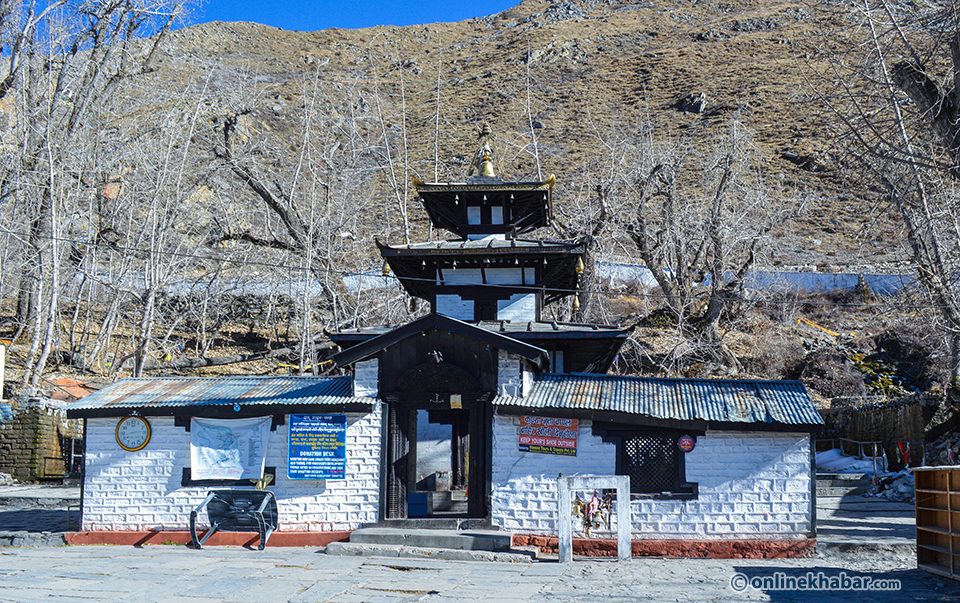 Kathmandu, May 1
Devotees and travellers would soon get the opportunity to travel to Muktinath, a revered shrine visited by thousands of Hindus and Buddhists every year, from Birethanti of Annapurna circuit area on cable cars.
Muktinath Darshan Pvt Ltd has proposed to construct an 83.5-kilometre cable car route for the travellers from Birethanti of Kaski via Ghorepani, Tatopani, Lete, Jomsom, and Kagbeni to Muktinath.
The routes have been divided into six sections. The section from Bairethanti to Ghorepani would be 13.3 kilometres whereas the length from Ghorepani to Tatopani would be 12.7 kilometres. The section from Tatopani to Lete would be 16.4 kilometres.
Marpha, a village in Mustang situation between Lete and Jomsom, would be a transit for travellers.  Then, the distance from Lete to Jomsom would be 23.9 kilometres, Jomsom to Kagbeni would be 8.2 kilometres and Kagbeni to Muktinath would be nine kilometres.
The travel has been expected to take between two to three hours.
According to the company, the cable car would travel at the speed of two to 12 metres per second. However, the speed would depend on the speed of the wind.
The route is being constructed targeting Nepalis.  and the travel is expected to cost Rs 6,000. Similarly, the company has further planned to charge IRS 6,000 for Indian nationals and $100 for foreigners.
Around 800,000 travellers will travel to Muktinath in the first year of its operation, claims the travel agency. "More than 3.6 million travellers will benefit from the service."
The company has recently received permission from the government to conduct a feasibility study for the project. Around Rs 34 billion has been estimated for the construction.
The cable car would be constructed as per the public-private partnership model. Around Rs 34 billion has been estimated for the construction. Around 85 per cent of the cost (Rs 28.90 billion) would be collected from loan whereas remaining 15 per cent cost (Rs 5.10 billion) would be collected from the investors, informed the travel agency. Likewise, Rs 2.29 would be collected from members of the public.
Preparation for the detailed project report (DPR) might take around two years and the operation might start after three years of preparing the DPR, the company informs.
If the project succeeds, it will be the longest cable car ride for the travellers in Nepal.