Like many people of her age, Bandana Rai does not want to spend her whole day in dust and smog, under the hot sun of Kathmandu. But, as a food delivery girl, she continues to roam the streets of Kathmandu through all the troubles.
She wants to fulfil her dream. She wants to be an athlete, a racer to be more precise.
Still, she is not happy with life so far. She feels that one has to compromise somewhere in life to fulfil their dream. "I still have a long way to go to fulfil my dream. But, I am ready to do anything for my dream of becoming a racer."
A permanent resident of Deumai municipality-5 of Ilam, Rai is seen riding her motorbike around the town, with her dream close to her heart. But, this aspiring racer is today working as a food delivery girl for Pathao Food. She has set an example that food delivery is not only a 'man's job', but she wants to prove more that even "small" jobs such as food delivery can de decisive for one to meet one's long-harboured dreams.
A big leap
Hailing from the hilly district of Ilam, Rai initially had trouble getting familiar with the city way. "In the village, I only knew about chowmein, momo, and noodles. But, when I came here, I delivered a lot of dishes like pizza, burgers and dishes that I had not ever heard the names of before or pronounce," she shares laughing.
Her day starts with an hour of morning walk, some three or four hours for her college. She starts her work as a food delivery worker from 10:00 am to 9:00 pm. Starting from Naxal, she goes to Chabahil, Thamel, Baneshwar, Gyaneshwar, New Road and Koteshwar or wherever she has to. She reaches door-to-door to deliver the orders.
But while in Ilam, she had not even ridden a bicycle. She came to Kathmandu from Ilam to study high school. That was when she started helping her aunts at a restaurant to pay for her education. It has been four months now since Rai started working as a food delivery girl.
But, when she started working with Pathao, she rode the motorcycle for some 10 to 11 hours a day, "My arms, legs and body hurt a lot. After delivering food for one day, I did not go to work for the next two days. I was so tired."
But, now, she is used to the bike and enjoys her food delivery work. It has been four months now since Rai started working as a food delivery girl.
Rai is also studying in the second year of a bachelor's level programme at the Baneshwar Multiple Campus. She knows education is also very important for her to realise her dream.
Working as the food delivery girl, Rai earns Rs 30,000 to 35,000 monthly, which she wants to invest in the pursuit of her athletic dream.
Before joining Pathao, she asked her brother for help in buying a motorcycle. She already had saved some money for this on her own too. After this, her work options multiplied. She then began working as a food delivery girl.
Night deliveries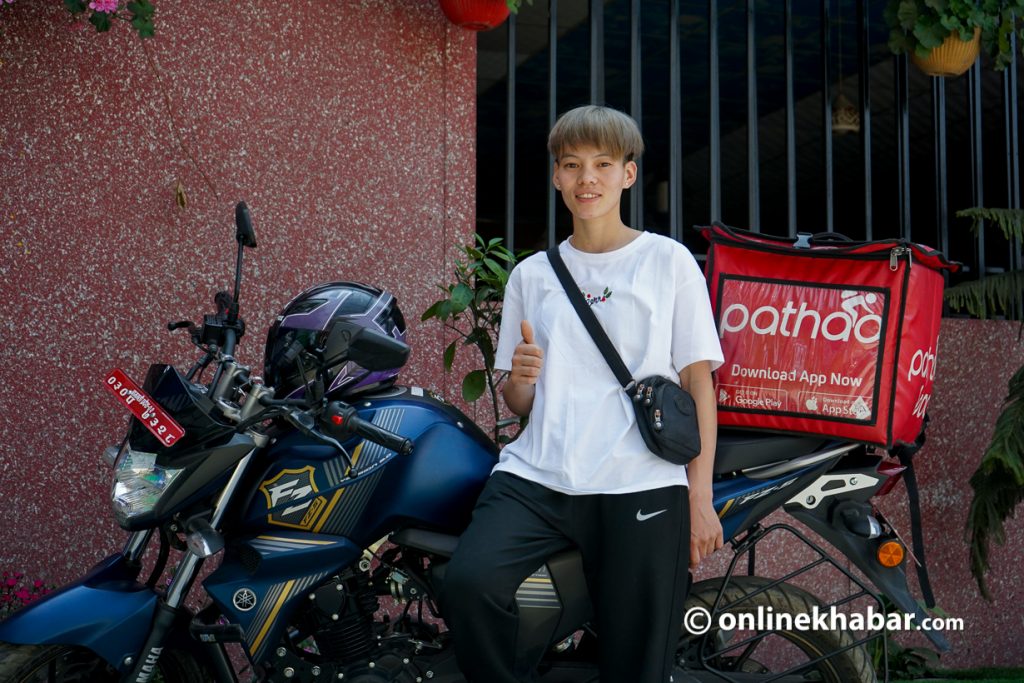 It has been four months since she started working with Pathao, and Rai has not felt any discomfort at work. But since Kathmandu is deserted at 9 pm, she feels uncomfortable travelling. So she does not work after 9 at night.
Kathmandu's traffic sometimes makes it difficult to reach the customers on time and food gets cold. When customers get angry, she trembles and says sorry. Some customers are angrier. So such things sometimes make her unhappy.
She does think no work is small or big and that one should not be ashamed to work. She says that working as a food delivery girl has helped her fulfil her dream and cover her education expenses.
Yet even after all this time, she has not told her parents that she works as a delivery girl. Apart from her close friends, her brothers and sisters know. But those who know are encouraging her saying that she is doing a good job.
According to Pathao Nepal, 10 women are currently working in food delivery. While eight of them are using scooters, two are using motorcycles.
The racing dream
While attending school in the village, she participated in various school races.
"I have loved running since I was in school. I wanted to be a racer when I grew up," Rai says, "Even today, I am trying to give shape to my passion for running."
These days, work keeps her busy but she says she has not forgotten her dream. Rai arrives at the Dasharath Stadium in the morning to run.
But lately, her sick mother has come to Kathmandu from the village. Since she should be taken to the hospital from time to time, she is diverted from her training and college.
Rai back in the village had to walk uphill for about an hour and a half almost every day. She would always be late in the morning to reach school after collecting fodder for her cattle and eating her meal. So she would run to school no matter how tired or late she would be.
"Because I had to run to get to school on time, but I got into running," she says.
Rai, despite being a food delivery girl, has already participated in various races in and outside Kathmandu. She has achieved podium finishes in several such competitions.
Rai is not only interested in athletics; she is also a black belt in taekwondo. After coming to Kathmandu, she wanted to wear a white dress and practise her karate at the Dasharath Stadium. But her family suggested that she play other sports as taekwondo is risky.
"They said girls should not play taekwondo and it was not a good game. But, they did not know the sport and wanted me to do a government job instead. But, I could not help but play taekwondo," she says. And, she is happy that she can protect herself to some extent if necessary.
---
This story was translated from the original Nepali version and edited for clarity and length.