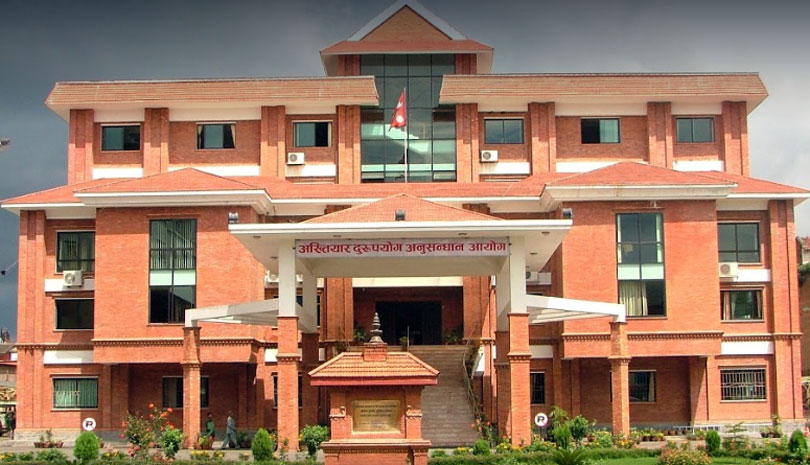 Kathmandu, February 6
The anti-corruption constitutional body, Commission for the Investigation of Abuse of Authority, on Wednesday filed a charge-sheet at the Special Court indicting 175 persons on irregularities in the encroachment of government land in Baluwatar of Kathmandu. The case is popularly known as Baluwatar or Lalita Niwas land scam.
Completing its yearlong investigation, the commission filed the case against three former ministers, 57 former or current government officials, and 115 former and current owners and users of the land. Of them, 65 should not be fined or punished, but they should be made to return the land, according to the commission.
The former deputy minister and Nepali Congress leader Bijaya Kumar Gachhadar, former ministers Chandra Dev Joshi and Dambar Shrestha have faced the charge. Gachhadar, a sitting House of Representatives member, will be suspended as a lawmaker till the court gives a final verdict in the case.
Among the officials include the then government secretary Deep Basnyat, who also became the chief of the CIAA later; former secretary Dinesh Hari Adhikari, also a popular lyricist and poet; and former secretary Chhabi Raj Panta.
Likewise, Bhat-Bhateni Supermarket and Departmental Store owner Min Bahadur Gurung has faced the charge for purchasing the land and selling it to others. Among the current owners of the land, the Non-resident Nepali Association has been told to return the land to the government.
Who got spared?
The commission has said it decided not to indict former prime ministers Madhav Kumar Nepal and Baburam Bhattarai, Supreme Court Justice Kumar Regmi and ruling Nepal Communist Party General Secretary Bishnu Paudel's son Navin. During the investigation, the commission had recorded statements from all four of them.
Former PMs Bhattarai and Nepal got spared as the Cabinet decisions could not be investigated by the commission, the commission informs, adding Regmi and Paudel have already promised to return the land.