Sabina Bhandari, who works for Loo Niva Child Concern, child rights organisation, was in the heart of Kathmandu–Jamal–to attend a programme. As she left the programme, she felt she was menstruating and searched for a public toilet to put on a sanitary pad. However, she could not find a single public toilet in the area.
Nevertheless, she knew there was one at Ratnapark, which was too far for her. Meanwhile, those public toilets were dirty and unsafe. So, she decided to go to her office in Bhaisepati to use the toilet.
"I felt uneasy for hours but I didn't have a choice because the valley doesn't have public toilets," says Bhandari.
Asmita Koirala works at a cooperative. Her job mainly involves going door to door and collecting money from people who have accounts in the cooperative she works in. During this, she has used many public toilets, but since none of them is clean or up to the standard, many times she has gone home to urinate.
"I don't drink water during my working hours because there aren't enough public toilets and even the ones that are there are dirty and unhealthy," says Koirala.
There are many women who face similar troubles due to the lack of public toilets. Many complain that even though there are public toilets, they are not women-friendly except for a few ones. Most of the toilets are dirty, unhygienic and unsafe as women rather hold on to their urine than use them.
Extra burden on women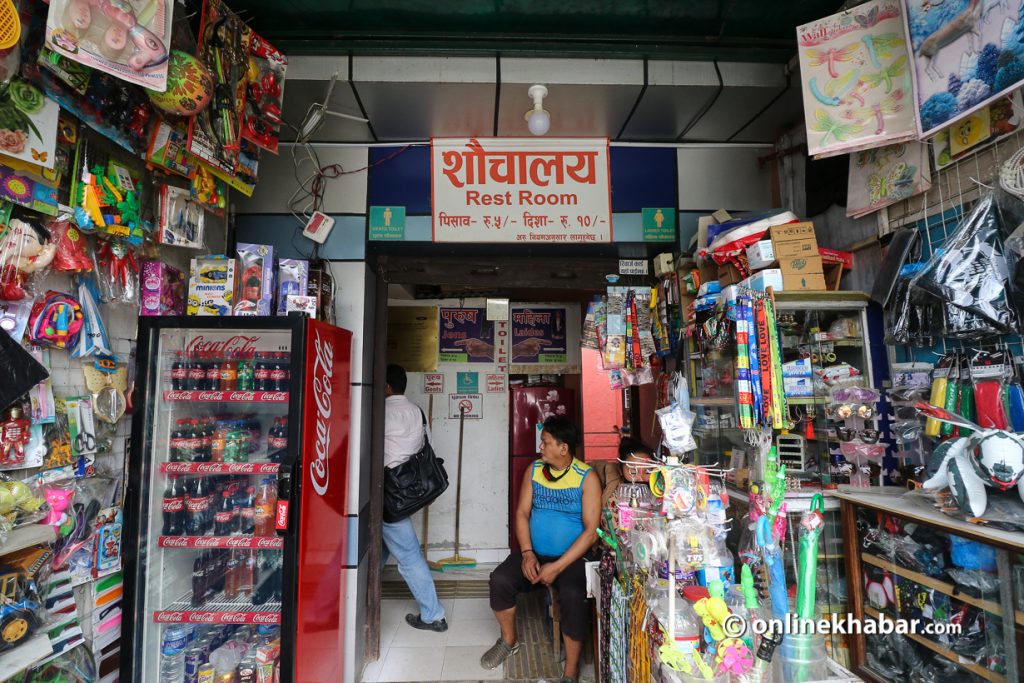 "When I have to go use one, I prepare myself mentally because these toilets are so bad," says psychologist Karuna Kunwar. "If I have to be out for more than three hours, I don't drink water. But, I know this is not healthy because it will attract different diseases."
It is not just public toilets that are bad. If you go to community schools, the state of toilets there are the same if not worst. These toilets are prepared with a male gaze. They do not have a proper locking system and do not have a space for women to change their sanitary pads. This is why many girls take a friend along with them when they are going to the toilets, say psychologists.
Being the capital city and not having proper public toilets is a shame, say experts. Kunwar says because they have to hold urine for a long time, women face a lot of unnecessary mental stress.
"This is shameful because women who are pregnant or those who have urine infections have no choice but to use them," she adds. "It's pathetic that women have to go through this avoidable mental stress."
Health impacts
Ideally, health experts say people have to urinate every three hours–the longest–as the human bladder can only hold up to 300 ml. Not emptying the bladder from time to time can cause different diseases, says urologist Dr Paras Shrestha.
"Holding urine a couple of times might not be an issue, but when done on an everyday basis, it will cause a long-term impact on a person's kidney," says Dr Shrestha.
Pregnant women and those suffering from diabetes urinate in short intervals. If these people do not urinate on time, the bacteria in their bladder will cause direct and indirect harm, says Dr Shrestha.
"A woman's urethra is smaller than that compared to a man and that is why women are more prone to urine infection," says Dr Shrestha, adding the state needs to come up with a plan that helps women.
---
This story was translated from the original Nepali version and edited for clarity and length.