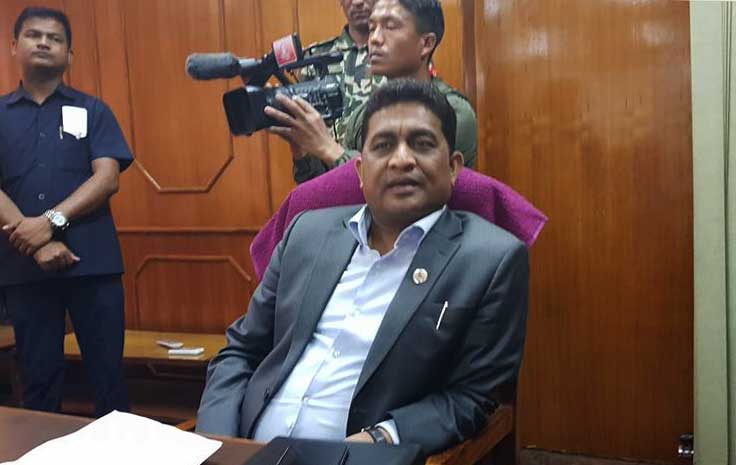 Kathmandu, June 23
A transport enterprise preparing to launch an electric public bus service in Kathmandu Valley has accused the Ministry of Physical Infrastructure and Transport of noncooperation.
Sundar Yatayat Pvt Ltd says the Ministry did not approve its fare list, which was essential to launch the service.
The company's operator Bhesh Bahadur Thapa informs that he has been forced to keep two new electric buses in the garage as the Ministry did not approve the fare list.
An official of the Ministry claims Minister Raghubir Mahaseth has put Sundar Yatayat's file on hold as a company close to him is planning to launch the similar service soon and he wants to endorse that company's proposal about the fare.
The Ministry's Secretary Devendra Karki says the Department of Transport Management can make a decision and the file should not be forwarded to the Ministry. He tries to avoid the issue, saying it was forwarded before he got transferred there.
Thapa, meanwhile, informs the proposed fare is 30 per cent cheaper than the fare imposed by fossil fuel vehicles.
Currently, the minimum fare for a passenger bus in Kathmandu is Rs 14. While the electric bus company has also proposed the minimum fare to be Rs 14, the same amount will be enough to travel upto 10 km. Currently, a passenger has to pay Rs 21 to travel 10 km in Kathmandu.
"The electricity we use is made in Nepal. Hence, we want to give cheaper service to the passengers," he says, "But, we did not get the Ministry's decision. If the dilly-dallying continues, we will operate our buses at the old rates (of other fossil fuel vehicles)."
The company has planned to bring in additional 11 buses to the capital once the first two buses begin to ply the road.
It has planned to invest Rs 130 million in total including for the establishment of charging stations.