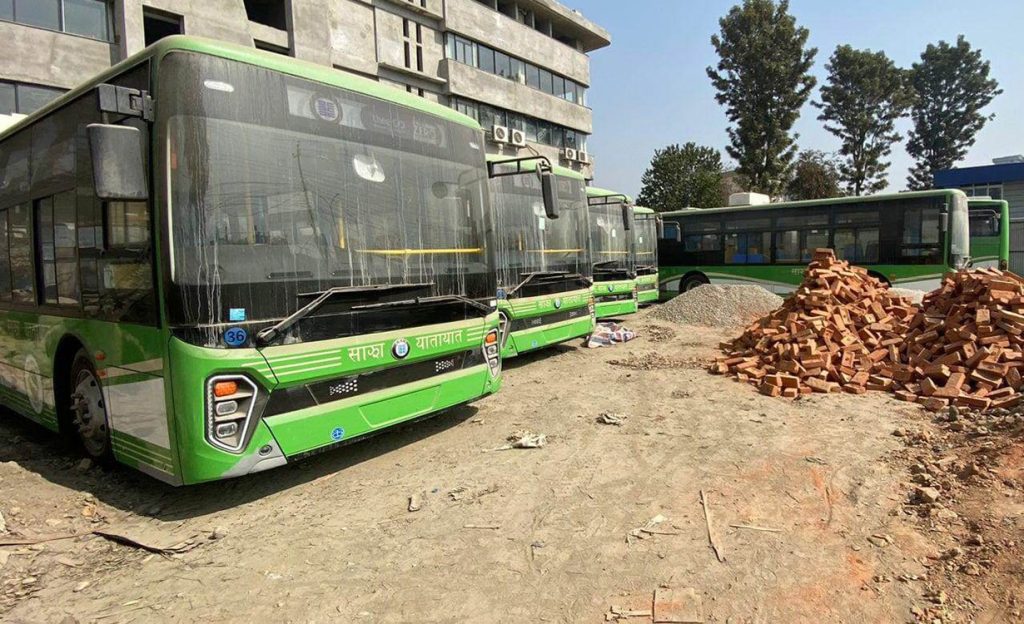 Kathmandu, February 6
Thirty-seven electric buses bought by Sajha Yatayat are gathering dust in its various parking spaces across the country.
According to sources, the lack of charging stations and other infrastructure challenges around the valley has made the buses bought by the company for around Rs 560 million to stay idle at parking spaces in Banepa, Pulchok and Pokhara.
The importer had asked Sajha Yatayat to take over the buses around two and a half months ago, but it refused, stating it did not have the infrastructure or parking space to park them.
Sajha Yatayat, which is running three electric buses in the valley, has not been able to decide on the routes of the new buses and where it can charge and park these vehicles.
The buses were purchased by Sajha Yatayat after the government gave them a grant.
The tests of the vehicles were done a long time ago, yet Sajha Yatayat has not been able to operate these vehicles.
Sources blame Sajha Yatayat for not doing enough homework and preparation before buying the buses.
Sajha Yatayat in defence says it is looking for a parking place with a charging station, but it has not been available yet.
"We have requested the government to provide us with the land used by the trolley buses in Min Bhawan.  We are waiting to receive permission from the government," says Mahendra Raj Pandeya of Sajha Yatayat.
He says the buses are undergoing testing and once the tests are completed, the company will start obtaining route permits.
According to him, there is a plan to operate the new electric buses on the current routes.