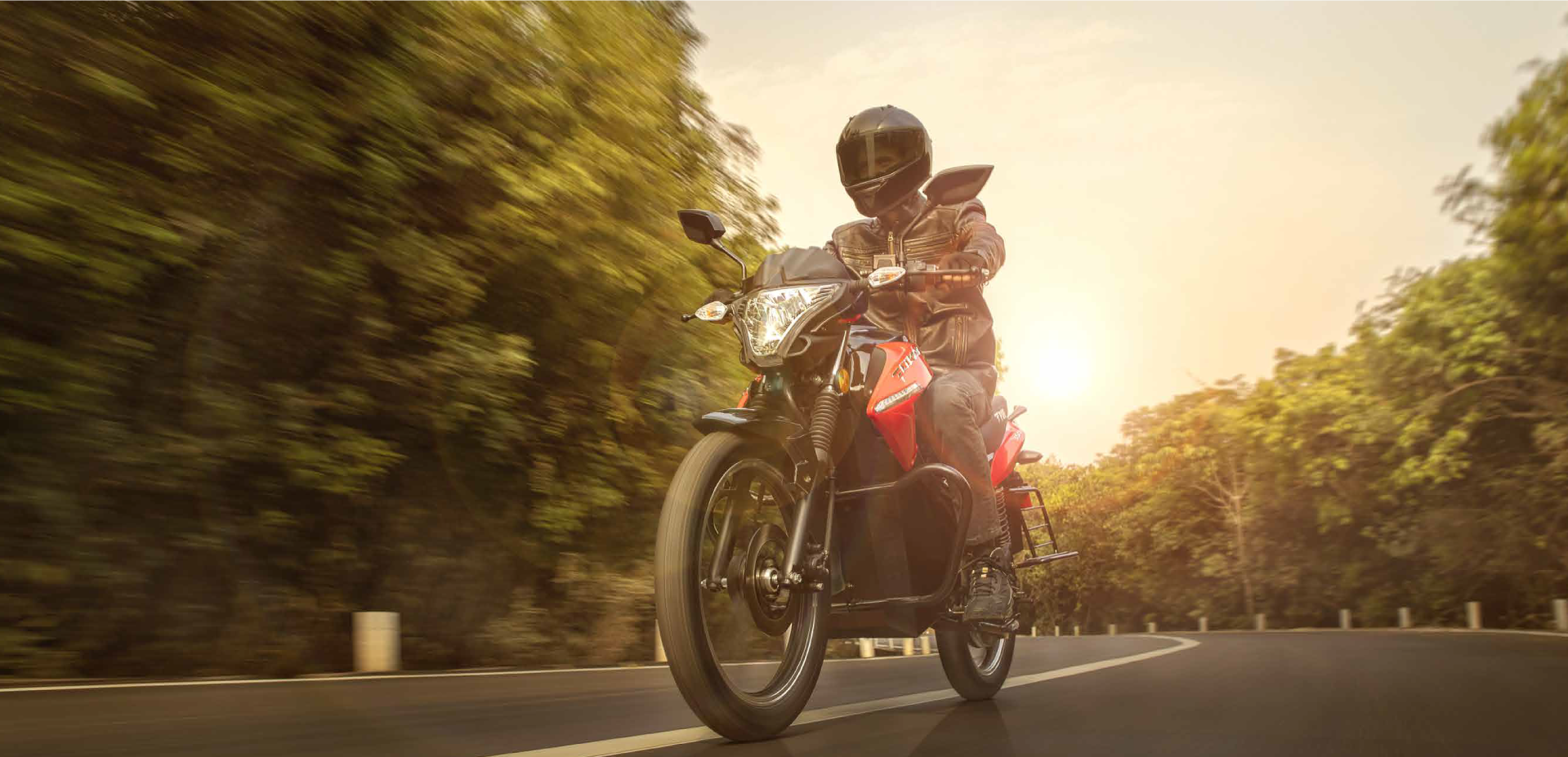 As the electric vehicle (EV) market is expanding in Nepal, not just scooters and cars, motorcycles are also getting EV versions. One of the most popular electric bikes available in Nepal is Pure Etryst 350. The electric bike is loved by those who favour soft style, is lightweight and is also cheap in price.
Are you also looking forward to an electric motorbike? Do you think Pure Etryst 350 could be your pick? If you are confused, read our review first.
Specifications
Dimensions
Length: 2040mm
Wheelbase: 1375mm
Saddle height: 770mm
Ground Clearance: 198 mm
Kerb weight
120kg
Motor
4.0 KW Peak
3.0 KW Nominal
BLDC Hub Motor
Battery
3.5 KWH, Lithium-ion Battery
Top Speed
85kmph
Charger
84V 8A CC-CV portable
Load capacity
160kg
Ride modes
Drive: 60 kmph
Cross over: 75 kmph
Thrill: 85 kmph
Charging time
6 hours
Tyre
F: 2.75-18 | Tubeless
R: 3.00-17 | Tubeless
Brakes
F: 220 mm disc
R: 220 mm disc
Torque
60 Nm (at 60kmph)
Acceleration
0 – 40 kmph in 04.4 secs
0 – 60 kmph in 07.4 secs
0 – 75 kmph in 11.6 secs
Regenerative braking
Yes
Display
7-inch LED
Suspension
F: Hydraulic dual suspension
R: Hydraulic dual suspension
Colours
Sea blue, punch black, tan red
Price
Rs 399,000
Design
Pure Etryst 350 has a well-known design like most of the 125CC bikes available in the market. In particular, it resembles 125CC versions of Honda Shine and Yamaha Saluto. The bike has a ground clearance of 198mm and an overall length of 2040mm.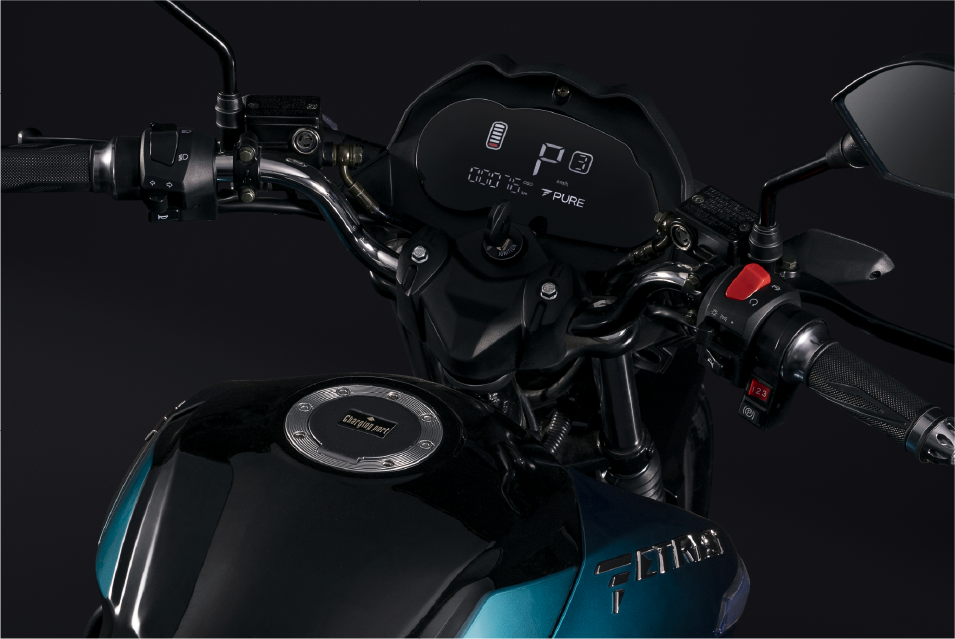 The only difference in the bike itself is the fuel tank getting replaced by a huge battery. The battery can be powered through the socket available in the muscular tank of the bike. The LED DRLs can be seen in the tank itself. The headlight, backlight and indicators also use LED lights.
Besides these, the bike has a wide range of buttons in the control and handle parts. There are horns kept on both sides of the handle. It has a key that is physical and a place to put it is below the display. It comes with a remote for you to lock and unlock the bike.
Performance and battery
Pure Etyryst 350 has a 3.5kWh lithium-ion battery paired with a BLDC hub motor. The bike features three ride modes drive (60kmph), cross-over (75kmph) and thrill (85kmph). The bike can reach a top speed of 85kmph in the thrill drive mode. It has 16 degrees of gradability.

The battery can deliver power to the bike for at least 140km of range. The charger included is an 84V 8 A, CC-CV portable charger. The bike can be fully charged in about six hours. The Etryst 350 can reach 0-75kmph in about 11.6 seconds. It can generate a torque of 60 Nm at 60kmph. It also includes regenerative braking for energy regain.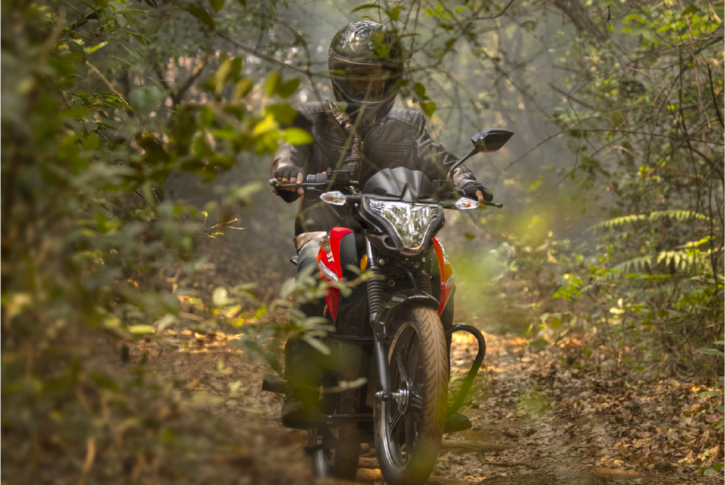 Etryst 350 has alloy wheels with an 18-inch tyre at the front and a 17-inch tyre at back. The brake used is a 220mm disc brake on both tyres. The suspension used is hydraulic dual suspension also on both tyres, which is quite good along with the braking provided in the electric bike.
Display
The display used in Etryst 350 is a 7-inch LED digital display. The digital display shows speed, distance travelled, drive mode, battery and battery percentage left. The display is bright and easily readable in low light but is quite dim when the sunlight falls directly on the display.
Pure Etryst 350 is available in three colour options: sea blue, punch black and tan red.
The price of Pure Etyryst 350 in Nepal is Rs 399,000.