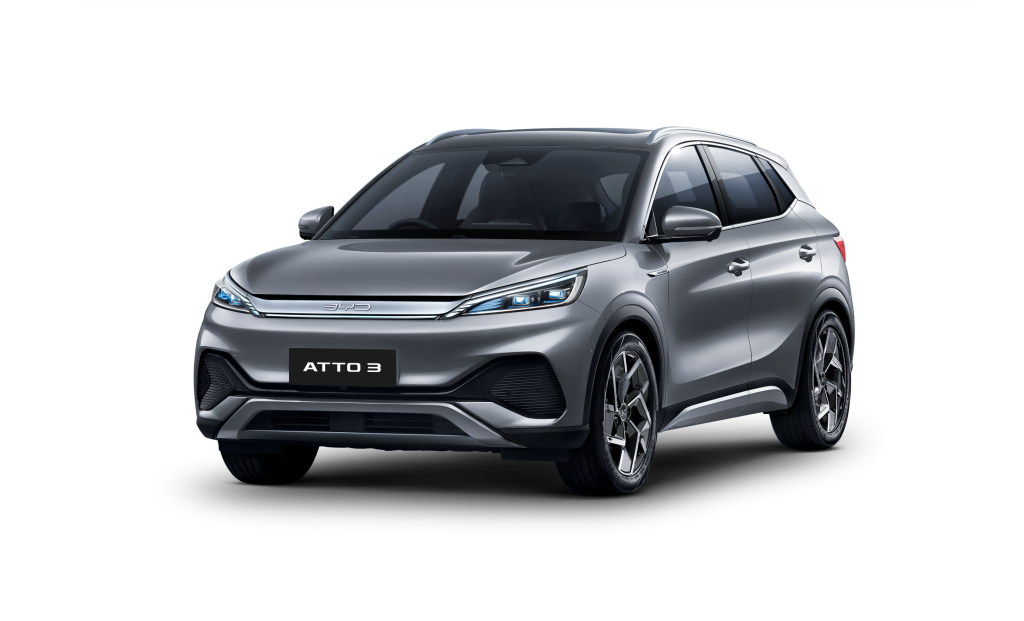 One of the most popular electric car companies, BYD, started its journey in Nepal form 2017. It currently offers three vehicles in Nepal: BYD M3, BYD ALL-NEW E6 and BYD ATTO 3. The most popular BYD car in Nepal currently is the BYD ALL-NEW E6. However, recently, you are seeing a lot of BYD ATTO 3s on the roads of Kathmandu; apparently, the car is getting more and more popular every day.
Recently, comedian Hari Bansha Acharya also bought a new car and boasted about it on his social media. Maybe you are interested to know why your favourite comedian is into it.
BYD ATTO 3 has a good and slick design with a comparatively good performance. It has two variants on the basis of battery capacity, 49.92kWh and 60.48kWh, which are standard and extended range respectively. The standard variant with a 40.98kWh battery gives a range of 320km whereas the extended range variant with 60.48kWh gives a range of 420km.
What are the other features? Let's give it a thorough review.
Specifications
Range
320km | 420km
Torque
310Nm
Battery type
BYD Blade Battery
Battery capacity
48.92kWh | 60.48kWh
Seating
5
Kerb weight
1680kg | 1580kg
Power
150kW
Boot Space
440 litres
Brake
Front: Ventilated Disc
Rear: Disc
Suspension
Front: Mac pherson strut
Rear: Multi-link
Tyre size
215/60 R17 | 215/55 R18
Ground clearance
175mm
Dimensions
Length: 4455mm
Width: 1875mm
Height: 1615mm
Charging time
45 minutes (via an 80 kW charger)
Colours
Climbing grey, surfing blue, skiing white, parkour red and forest green
Price
Rs 8,990,000
Design
BYD ATTO 3 is a well-designed car with a modern vibe. The EV has an overall length of 4,455mm, a width of 1875mm and a height of 1615mm. The car has a ground clearance of 175mm, which is almost similar to the other electric cars available in the market. It has crystal LED combination headlights which look very nice along with the LED strip making it more aggressive and lively. The backlight is a long one-piece LED taillight strip which looks much more pleasing along with the brake light above it.
The ATTO 3 has a panoramic sunroof with an electric slide and anti-trap, making the passengers able to clear above the sky. It has an electric unlock tailgate and a one-touch open and close tailgate. The exterior mirrors are electrically heated and adjustable which are electrically retractable. The tyres used are 18-inch alloy wheels with signature BYD styling.
Interior
BYD ATTO 3 has a luxurious and modern interior according to its price range. The EV has a muscle-streamlined centre console with a 12.8-inch display for infotainment, which can be rotated according to the user's preference, either portrait or landscape. The car has plenty of storage compartments in small places and the centre compartment. The steering wheel uses an electrical power system. There is also a 5-inch digital display ahead of the steering wheel, which displays the speed, tyre pressure, temperature, range and mileage of the car.
The seats are very comfortable and ATTO 3 has a seating capacity for five people. The door handle on the front is quite unique and different from the traditional door handles. The door handles are mounted on top of the speaker, which can be used to open the door by sliding. The doors also have three strings, which add a unique look and can be used to hold things. It also has a wireless phone charger and USB-C and USB-A ports in both the centre console and the rear console.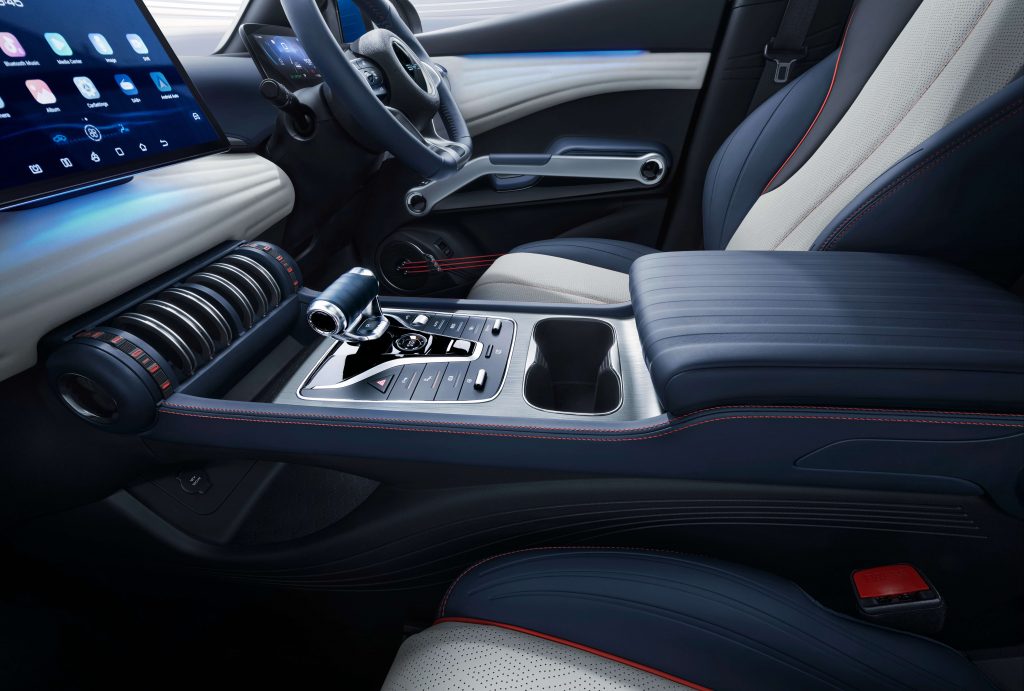 BYD ATTO 3 has funky-looking air conditioning in the front with a unique look. The automatic air conditioning has a CN95 and PM 2.5 air filter. The lighting inside the car is also good-looking with multi-colour ambient lighting in the door handles, giving a futuristic vibe. The boot space in the car with rear seats up is 440 litres and 1340 litres with the rear seats down.
Performance
BYD ATTO 3 uses the brand's own Blade battery which reduces heating in the battery. The battery is of two variants 40.92kWh and 60.48kWh, which give a range of 320km and 420km respectively. It has a permanent magnet synchronous motor which delivers a maximum power of 150k and a maximum torque of 310km. The car supports both AC and DC charging. The car can have a full battery capacity in about 45 minutes using an 80kW charger. The standard AC charger can charge the car to full capacity in about 10 hours.
The brake used in BYD ATTO 3 is the ventilated disc for the front and the disc for the rear brakes. The suspension used is Mac pherson strut in front and multi-link suspension as the rear suspension. It is a really fast electric car having a 150kW motor, reaching a top speed of 160km/h and also can accelerate from 0-100km/h in 7.3 sec. The safety of the car is also promising with 7 SRS airbags – front, front side, full-length curtain and driver's passenger side airbags. It also has an automatic emergency braking system with rear and front collision warnings.
Some key features of BYD ATTO 3 are:
Blade battery
0-100km/h in 7.3 sec
440 litres of boot space
Full charge in 45 minutes with DC charging
Rotating 12.8-inch infotainment display (portrait and landscape mode)
Ambient lighting
The brand ambassador of BYD in Nepal is comedian Hari Bansha Acharya. He became the brand ambassador of BYD Nepal in May of 2022. After that, he also got a BYD E6 and now has recently upgraded to the BYD ATTO 3. He says, "From today, I am also in BYD's "electric car" that runs on the country's water-sourced electricity" on his social media.
The price of BYD ATTO 3 in Nepal is Rs 8,990,000.