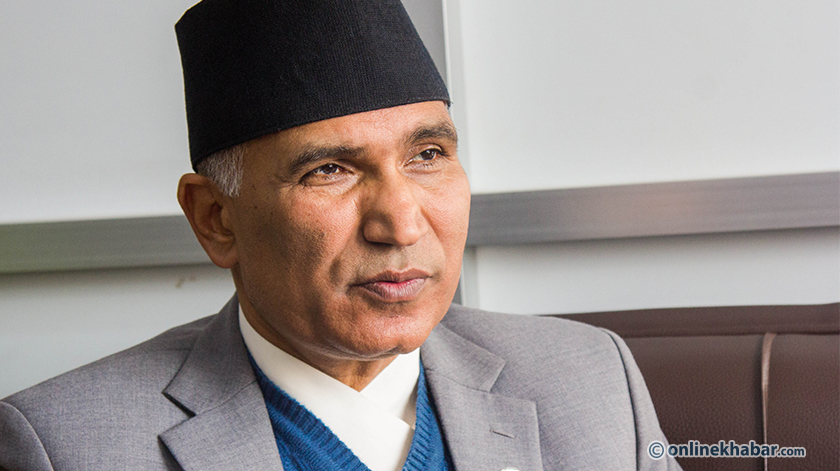 Kathmandu, October 6
CPN-UML Deputy General Secretary Bishnu Paudel says some leaders of the party including himself were making efforts to unify the UML and the CPN-Maoist Centre among other leftist parties for last 10 years.
In an interview with Onlinekhabar, Paudel, believed to be one of the planners of the hyped leftist alliance, says, "We have taken the decision of party unification only after sufficient discussions. The attempts were underway for last 10 years and they have been meaningful now."
Paudel says the UML will not 'swallow' the Maoist party as some analysts have claimed. "The UML never wanted to swallow anyone. We are being unified and the election alliance is its first step."
Discarding rumours that the two parties are talking about unification just to secure their positions in the upcoming polls, he says the merger will definitely take place as the parties are going to voters with the common manifesto.
"The new party's charter is also being drafted. We had already reached a conclusion to take the common election symbol of the sun and contest the elections in the name of Communist Party of Nepal. But, we could not do it due to some legal and technical issues. Hence, we decided to do the merger after polls."
He says the new party will not see any dispute regarding the party leadership and the person to lead the government whenever it gets a chance.
"Our party will have five former prime ministers and who will be the new prime minister will not be an issue for us."
Poudel claims there is no difference of opinion in the UML about the unification plan and all Standing Committee members happily endorsed Chairman KP Sharma Oli's proposal for the merger. Earlier, the Central Committee had authorised the Standing Committee to begin discussions with the Maoist for the alliance as the Congress-Maoist partnership was harmful to the country, according to him.