Jaya Rajbhandari was two years old when her parents parted ways. Since then, her mother, Twinkle Rajbhadari single-handedly raised Jaya and her elder sister Tejita.
As Jaya remembers, her mother, who she says is her inspiration, used to leave for work early morning and come back home late at night. "I got to see her only at night. She used to work so hard to manage our expenses," she says, "Still, on the weekends, she used to take us to orphanages and old age homes to donate things we could and to spend time with them."
Jaya's mother instilled empathy in her and her sister and made them conscious of their social responsibility.
Today, walking on the path her mother showed, Jaya, just 19, runs Twinkles, a startup which she says is her way to explore and support people who have the skill but do not have the opportunity so that they can earn a living. For now, Twinkles sells scrunchies, masks, nightwear, robes and some other garment products made from silk.
Urge to help the people in plight
After the lockdown was announced in Nepal to control the Covid-19 pandemic in 2020, many daily wage workers and domestic helpers lost their jobs. Poonam and Sunita, who were working at Jaya Rajbhandari's house, also could not make it to their workplaces due to restrictions on transportation.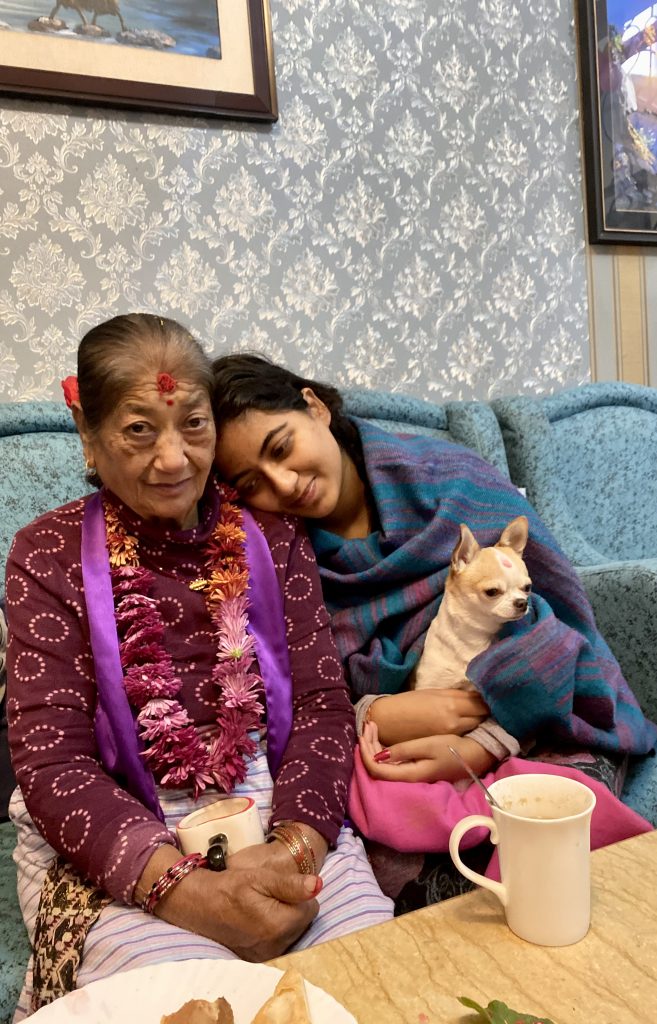 "We paid them during that time also. Besides, we thought if we could indulge them in some sort of work, which they could do from their own house, they would feel better," Rajbhandari says, "Then, we heeded some other work too."
While pondering, both the ladies told Jaya that they have the skill of stitching clothes. Therefore, Jaya told the workers to make scrunchies from silk. "I thought of hopping into the existing trend, and that was scrunchies. But, then I thought of promoting silk as I believe its health benefits were very underestimated in Nepal."
She then started an Instagram page in July 2020 and started posting photos of silk scrunchies made by Poonam and Sunita. Along with that, she also posted behind-the-scenes stories and the benefits of using silk products.
From home to society
Until then, Twinkles was not a business, but just an Instagram account.
"It was also an extension of our social responsibility to help people survive the grim situation. But, when I started uploading pictures, people were so inspired by the stories, the next thing we knew was that it was a business."
Initially, as Rajbhandari says she was paying the workers for each of the scrunchies made, they used to hand her a lot more scrunchies at once. "I didn't know how to sell them. However, I was determined to give them a living, thus determined to sell them all."
Luckily, the sales escalated. In less than a month, they expanded their horizon to more people outside their households as they required more people to manufacture their products.
"I started tracking people through social media. Then, I along with my mother went on the street to find the needy people with skills. This went over many weeks," Rajbhandari shares.
Three generations coming together
Then, the mother-daughter duo invested around Rs 100,000 for the fabrics, inventory, transportation, salary payment and others. They also bought six sewing machines.
Rajbhandari was ready to launch it as a business. Honouring her mother, she named it 'Twinkles'.
Besides Twinkles, the duo also run Twinkles Treats, where Jaya Rajbhandari's mother, who is also an avid cook, shares recipes of different dishes and sells pickles and sweets.
On the other hand, gradually, with the growing number of people working for Twinkles, it introduced a variety of silk products ranges including pillowcases, robes, nightwear, bralettes, and bedsheets.
Meanwhile, for packaging, Jaya Rajbhandari's 83-year-old grandmother makes bags from newspapers and recycled papers for all the products and for some other companies as well. "That's not all, she also makes incense using dried natural flowers, and phone cases using wool."
The sales were blooming until Rajbhandari left for the USA to pursue a bachelor's degree, majoring in business entrepreneurship, seven months ago. The A-level graduate says, "As I needed some time to settle down here, I could not give much time to Twinkles as it required. As a result, our sales went down a bit. But, we are rising again now."
Now, she is committed to continuing the business even though she is away from her family.
The price of a silk scrunchie currently is Rs 85, which was Rs 50 when Twinkles was established. Likewise, the cost of other products ranges from Rs 120 to Rs 2,500.
"As of now, we have 20 people in our team, of which 12 are the needy but skilled people. And, as I am in the USA, I usually work as a social media handler and all other things are looked after by my mother in Nepal," says Rajbhandari.
Rajbhandari along with her mother is looking forward to growing Twinkles and extending their support to more and more people.