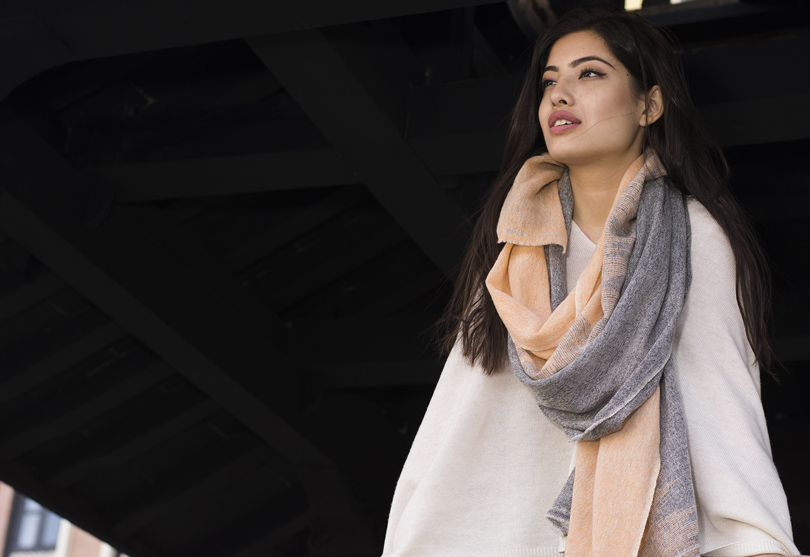 Now the winter is here and it is time to add some winter warmers to your closet. Pashmina is the perfect go-to clothing to beat the chilly winter winds. So why not get a few pashmina items of your own?
Naresh Man Shrestha from Namaste Handicrafts tells us everything that you need to know about pashmina.
What is pashmina?
Made from the wool of 'Pashmina' goats found in the Himalayas, this fine wool is woven into beautiful soft shawls and sweaters that may be costly, but guarantee to keep you warm.
Why pashmina?
Many people may prefer woolen products as it is a cheaper alternative and also because they are unaware of pashmina items. But, pashmina is much warmer, softer and lighter compared to woolen apparels.  The density of pashmina is much higher than wool, and thus its texture is not scratchy. This gives a great feeling—free of any itchiness.
Pashmina clothes are an investment to your wardrobe—not only that quality pashmina is the finest, softest and warmest yarn, but it is also very durable and can easily last 10 years and if taken proper care of.
Here's a list of different pashmina finery, which you must add to your closet this winter.
For Her
Scarves
Shawls, scarves and stoles have become a wardrobe essential for Nepalis; not only does it tackle those chilly autumnal and winter winds, it also adds colour and texture to your outfit. Whether it's a sari, an evening dress or casual jacket and jeans—complementing with pashmina gives your outfit the chic look it deserves. Here are some of the popular pashmina shawls available in the market today to help you choose which shawl to include to your outfits this winter.
Classic
This is an ideal option for those who like it simple and want to avoid making a pother. Pick colours you like, whether its pastel or dark, classic pashmina looks graceful with every outfit.
Multi-coloured
If one shade is not enough, why not go for two? Pick multiple colours and accessorise it with your outfit.  You could also duo-tone by getting a reversible one—with two tones, a colour in each side. It gives a unique look that is definitely worth trying.
Decorated
If plain shawls are not your style, why not get an embroidered or paisley? The impressive handmade works and hue is sure to grab your attention at once.
Checks
Checks still remain one of the hottest trends and ingeniously blend your attire whether its everyday or occasional dressing.
Ponchos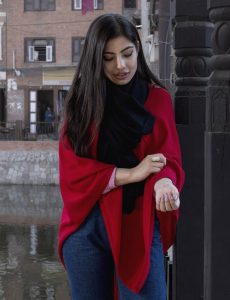 A jacket may be adequate to beat the seasonal chill, but it does not give you the chic and sophisticated look that a poncho shows. The best winter outfits are those that make you feel like you are warming up in the cosiest blanket—and in pashmina, a poncho can be just that. For someone wanting an urbane boho-chic look this season, a poncho should be your go-to layering.
Sweaters, buttoned outers
Whether its buttoned, V-necked, cable knit or turtleneck, a sweater can accommodate just any situation in winter. Not only are pashmina sweaters comfortable and warm, they are effortlessly good-looking
For Him
Shawls
Knotted the right way, scarves can add a lot of charm and personality to your look. Whether it's a chilly winter day, rainy or windy day—a pashmina scarf gives just anyone a crisp and spruced look. Go for the checked ones or even the classics this winter.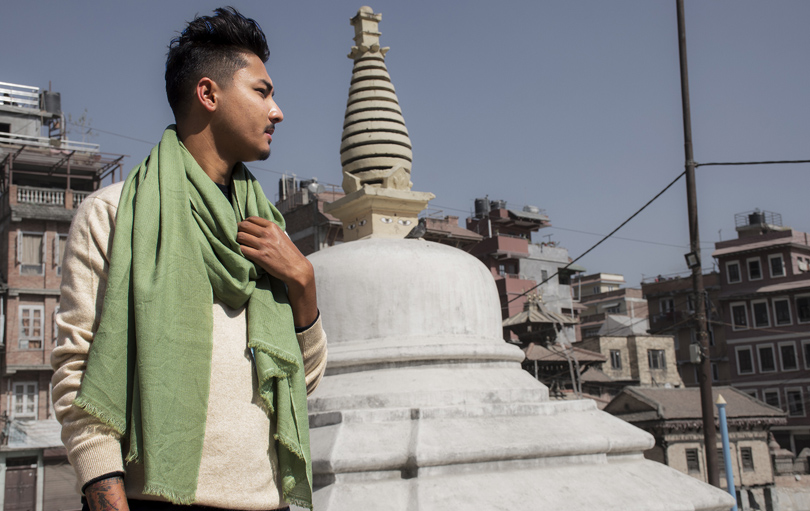 Sweaters
Like the shawls, pashmina sweaters add an effortless charm and personality to your look. Perfect for winter, pashmina sweaters are suitable for any function or situation – whether it is a night-out, a boring day in the office, or a leisurely day at home.
Taking care of your pashmina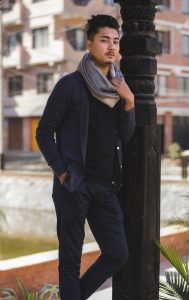 Pashmina attires are an investment to your wardrobe—if taken a good care of, they can last for years or even decades. The advantage of pashmina is that it gets softer and more luxurious after each wash. The preferred way of cleaning pashmina is to dry-clean. You may hand-wash it, but there are a few things one must keep in mind. Firstly, use only cold water and you may add a soft detergent such a baby shampoo; but make sure the detergent is fully dissolved before washing the pashmina in it. Make sure you do it gently and do not ring the pashmina dry; simply lay it flat to dry. Also while ironing, it is advised to put a piece of paper above the pashmina.
Clothing: Namaste Handicrafts Nepal 
Models: Priyanka Rani Joshi, Pranish Adhikari