Nanu Bhattarai had been working as a domestic worker for the past four years. Before the prohibitory order in Kathmandu imposed to control the Covid-19 spread in the last week of April, Bhattarai, who has been living near Ratopul in Kathmandu, used to visit two families near her rented room to work as a 'maid'. But, soon after the lockdown started, her employer told her not to come to work, adding they would call her later. But, they have not contacted her yet.
Bhattarai shares, "As the families where I used to work have senior citizens with chronic illness, I was told to halt visiting." Although Bhattarai is struggling to make ends meet, she is positive about her employers' decision to safeguard the health of their parents.
Bhattarai was left unemployed for seven months during last year's lockdown. However, the relief packages distributed by the local government and various organisations at that time made things easier. After the situation improved last year, she started working. But, with the hit of the second wave of the pandemic and the resultant lockdown, she is now unemployed again.
Bhattarai represents many domestic workers who have lost their only source of income citing the pandemic and the lockdown. The second wave of the Covid-19 pandemic has only aggravated their problem leaving hundreds of them unemployed while some adopting other works for survival.
Different individuals with a similar struggle
Like Bhattarai, Parvati Pandey, a domestic helper for 11 years, has also been unemployed for two months. A single mother of three children, Pandey is now in trouble due to unemployment.
Pandey's daughters are studying in grades nine, seven, and five respectively. Their online classes have already started. But, Pandey has not been able to connect them online.
She grimaces, "The house is all empty. The food is all over. There is no grain. From where can I teach them online?"
She had been working as a maid in four houses. Before the prohibitory order, she used to leave her residence at 6:00 am and arrive at 7:00 pm. After the second wave of Covid-19 started, she is left with no job; she now spends all day in her room with her daughters.
But, she wants to fake happiness and says, "After many years, I am spending all day with my daughters. My youngest one is the happiest. The older ones pretend to be happy as they have understood the problem."
Things were not this bad last year, she remembers. Last year, she worked in a house for five months living there itself even in the lockdown. She did not have to worry about managing meals for her family.
Also, her employer had provided her old mobile phone so that her daughters could study online last year. She had also paid Rs 200 monthly for sharing a wifi connection from her neighbour living next door. But, this year, they have also gone to their village, opens up Pandey.
Among the four families she used to work for earlier, Pandey says she was hopeful that two families who live nearby would call her back to work soon as she has been working there for a very long time. But, her hope soon crashed as some members of both the families contracted the coronavirus.
"One member of the family died and another was hospitalised. One of the family members of another house was also in critical condition at the hospital," shares Pandey, "This has aggravated my problems."
Opting for other manual jobs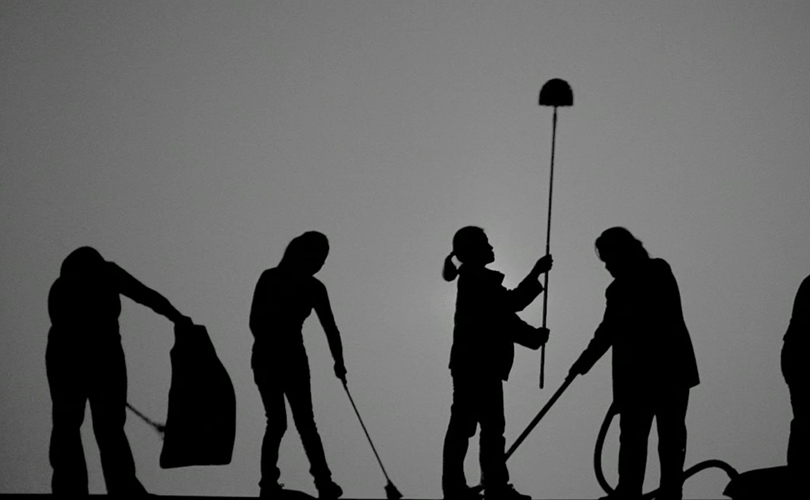 According to the Central Bureau of Statistics Labor Force Survey 2017/18, there are 27.44 million working-age people (15 to 59 years) in Nepal. However, only 79.94 million are working. Of them, 15.4 per cent are working in the formal sector and 84.6 per cent in the informal sector.
In the informal sector too, in domestic work especially, most workers are women. Some of them work living in the employers' houses and some others work living outside. Most of them work as housemaids in the morning and they weave pote, or make bangles, or work in the construction sector in the afternoon. 
According to the General Federation of Nepalese Trade Unions (GEFONT), there are about 200,000 domestic workers in Nepal. And, about five per cent have taken up other professions now due to the pandemic.
Gyanu KC, a member of the International Domestic Workers Federation, says that most of the domestic helpers have become unemployed due to the prohibitory order.
"Now that all sectors are at a standstill, most people are unemployed, "she states, predicting that about five per cent of domestic workers have lost their jobs since last year's lockdown, "No data has been collected. An estimated seven per cent have lost their jobs. After losing their jobs, most of them have started working in the construction sector and selling vegetables."
According to the All Nepal Domestic Workers Union, 90 per cent were unemployed in last year's lockdown. And, 10 per cent worked living in their employer's home. Sangita Baniya, the central president of the union, adds they have not received their full salary.
As the first wave of the coronavirus pandemic subsided, only 70 per cent of the unemployed got work. According to Baniya, the remaining 20 per cent have changed jobs and opted for jobs in the construction sector, and small businesses like selling maize, selling vegetables, and selling tea.
Although the coronavirus cases have been declining, the chances of domestic workers getting employment have decreased," opines President Baniya, "Unemployed domestic workers are less likely to find employment. One reason is the fear of transmission; the other is the economic condition of the employer."
According to Baniya, the economic condition of the employer has also weakened due to the closure of many businesses.