The United Democratic Madheshi Front has accused the KP Oli government of destablising the environment for talks — focused on agendas of the Madhesh movement — by shooting and killing UDMF protesters. The front warned it will not sit for talks with the government if it continues to suppress peaceful programmes.
At Friday's meeting of the Parliament, UDMF leader and Sadbhavana Party co-chair Laxman Lal Karna urged the government to clarify why it opens fire with an intent to kill protesters whenever decisive talks (on Madhesh agendas) are about to begin.
"This happened in Saptari, Birgunj and now in Rangeli too. What is the motive of this government behind such acts?"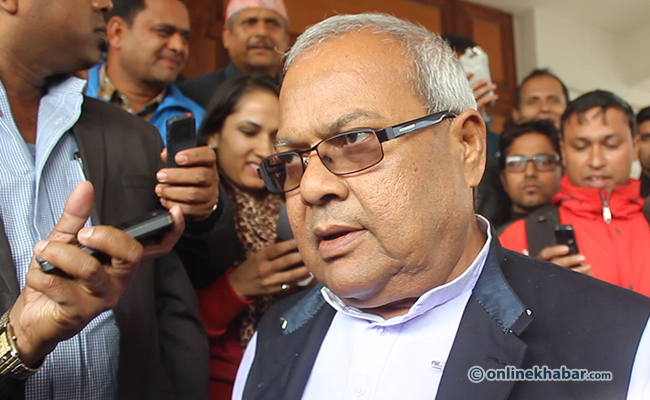 Lawmakers from the UDMF boycotted Friday's meeting of the Parliament, pointing that the Rangeli killings have put a question mark on the utility of talks. After Speaker Onsari Gharti announced start of the meeting, Madhesh-centric parties stood from their seats in protest. Gharti subsequently allowed Sadbhavana Party lawmaker Laxman Lal Karna to put forth his views. Karna said three people died and 30 got injured in the Rangeli firing.
He demanded that amendment of the constitution incorporating Madhesh's agendas. Karna said the Constitution Amendment Bill tabled in the Parliament cannot address Madhesh's demands. On behalf of Federal Socialist Forum Nepal, Tarai Madhesh Democratic Party and Tarai-Madhesh Federal Sadbhavana Party, he announced boycott of the Parliament.
Despite their boycott, the House meeting continued. At the zero hour, lawmakers demanded government's clarification on the Rangeli incident.