Sunil Prajapati, the recently elected mayor, is in his second innings as the mayor of Bhaktapur. The votes he received during the recently held local elections reflected the trust he acquired from the locals of Bhaktapur municipality. In this election, Prajapati secured 29,252 votes while his closest rival CPN-UML's Ranjana Kharbuja garnered 2,988 votes. The number of votes Prajapati secured is a reflection of his success in his first tenure.
Bhaktapur has a unique history as far as elections are concerned. From local to federal elections, the only party–Nepal Workers' and Peasants' Party (NWPP)–secures victory in this ancient town. All big political players in the country hardly find their followers in Bhaktapur. Many people are surprised to see the trend, but Mayor Prajapati says this is not strange.
Onlinekhabar recently held a conversation with Mayor Sunil Prajapati in which he shares his experience and challenges in his previous tenure along with plans for his second tenure. He also highlights why his party achieves landslide victory in every election in Bhaktapur.
Your new tenure has just started, so how would you like to review your earlier tenure?
In our earlier tenure, we fulfilled all the promises made to the public. The public is also very happy with us. The result clearly shows this as we received nine times more votes than the nearest rival. This certainly means we were able to satisfy the locals.
During the interviews, prior to the election, I had also publicly said that the maximum number of votes will be cast for Nepal Workers' and Peasants' Party (NWPP). Then, the work we did in different sectors such as health, education and waste management made the voters believe in us one more time making us victorious. Even, the committed voters of other parties believed in us and our commitment to developing the Bhaktapur municipality.
But, isn't it surprising that the locals of Bhaktapur only have faith in your party only? Why has your party always been overshadowing other parties?
The locals trust us because we have always served the public with true hearts. The only thing that the candidates of NWPP have learnt is to serve the public with loyalty. Politics is just about serving the people; it is not a money-making profession. If somebody has to earn money, rather than join politics, they should start doing business. As we are completely devoted to serving people, they believe in us more than other existing political parties.
If so, why does your party limit itself to Bhaktapur only?
No, we are not limited. Some of our friends have even won the elections in the western part of the country in places such as Kalikot and Jumla.
The candidates of other parties spend millions of money on the elections, but we are totally against it because we compete for the ideologies. Unless the public becomes ideologically aware, a faithful candidate like us will be unable to win the elections. But, we want to disperse our vision and ideologies throughout the country and for that, we have been working for awareness among the public.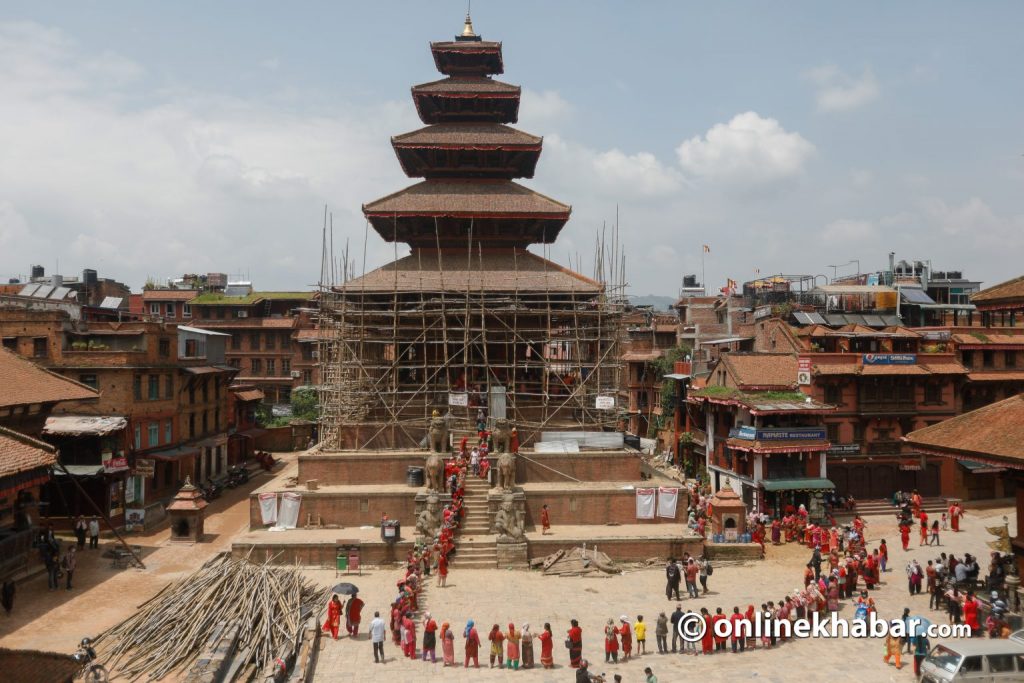 The 2015 earthquake destroyed many of the cultural sites of Bhaktapur. Could you let us know about the updates on the renovation work?
In renovation works, we mobilised the locals. In the last tenure, altogether 124 works of renovation were completed while dozens of sites and buildings are still in the process of renovation. The reason we appointed locals for the renovation is they have skills and are well aware of the local resources that are essential for the renovation of those cultural sites. They have a strong attachment to those cultural sites so they will not compromise on maintaining their originality. We also wanted to spend the budget of the municipality on the public. Doing so would even provide an employment opportunity for the locals. This would also improve the relationship between the public and the municipality.
So, what were the challenges in your earlier tenure?
There were many challenges in Bhaktapur. But among them, the main challenge was the scarcity of drinking water. But, recently, the water from the Melamchi river has reached Bhaktapur. Now, we have been successful to distribute the drinking water in every household and overcome the biggest challenge of Bhaktapur.
All these five years, we put in continuous effort for the availability of drinking water, and now, finally, we made it happen.
What are other remaining things that need to be done for Bhaktapur?
There are still a lot of things. Some of them are parking management, renovation of Hyakunche Durbar, Thantu Durbar and Jagannath area, excavation of Unansaya Chok and many others. For the issue of parking, we are planning to make parking areas in various new places.
Likewise, we also haven't been fully able to use the public land. We also want to improve the nightlife of Bhaktapur so that tourists would even love to visit Bhaktapur during nighttime as well. Locals have been demanding these things since the beginning of my tenure. We are trying our best on it but as these things need a huge amount of budget, we will start working on it after collaborating with the central and provincial governments.

Comparatively, Bhaktapur municipality is seen as better in waste management, what are the reasons behind it?
From the beginning, we were mainly concerned about reducing the waste that is usually produced by households. So, for that, firstly, we adopted the proper waste segregation method. Secondly, to reduce the amount of biodegradable waste, we provided training on rooftop gardening and composting to each house. Thirdly, we also distributed dustbins in every house.
The locals made compost using the biodegradable waste and used it in their own rooftop farming or selling them to others. Likewise, we also buy non-biodegradable waste.
People appreciate the way you have been providing education and health facilities. What can other local governments learn from you?
Loyalty is the most important thing that every municipality should consider while fulfilling its responsibilities. We have been transparent and loyal to our public since the inception of our tenure. Let the public know everything because this will restrain every possible conflict.
Likewise, as far as possible, the other municipalities should focus on utilising their own resources including human resources. This will not only provide employment to the locals but also reduce the cost of the projects. Many things can be done in small amounts.
So, for this new tenure, what are your plans for education and health?
In education, we have been running various colleges, but if everything goes well and if we receive sufficient support from the government, we can also run the Khwopa University. If it doesn't happen, we will add more colleges and new streams to it.
In the health sector, currently, we have a 25-bed Khwopa Hospital, and soon we will make it a 100-bed. At present, around 700 patients get treatment here. Then, we are also establishing health centres in every ward that include a doctor. Likewise, our expert team will continuously run health camps for cancer, dental and other patients. And, the door to door nursing service will be given continuity.
Bhaktapur is very rich in art and culture. But, with the passing of time, the challenges to save those art and culture are also emerging. So, do you have any plans to overcome those challenges?
Yes, there are some ways we have thought for the betterment of our art and culture. We will begin with schools. We will send the cultural experts to schools to teach the students about our art and culture. This can be an effective method to pass our art and culture to a new generation. Similarly, we will teach the students to play our traditional musical instruments. We will not limit our ideas in teaching, but we will create a platform where students can compete to showcase their talent related to art and culture. With that, we will also provide financial aid to endangered art and culture for their preservation.
Lastly, in short, could you tell us about the development that Bhaktapur will witness in the upcoming five years?
Firstly, we will execute all the promises mentioned in our manifesto. There will be no issue with drinking water. Similarly, there will also be no problems related to sewage management. We have already started to work for a wastewater treatment plant. In the upcoming five years, we will also fix the problem of unmanaged wires on electric poles. Those wires will be removed; the process for it has already started. We will also try to make as many traditional model houses as possible.
So on, we will also make our youth more skilled. Classes in various languages such as Chinese, Japanese and others will be provided to them. We want our young to know at least a couple of languages. To ensure the youth's employment, we will conduct free training on mobile repairing, vehicle repairing, plumbing and more. In the previous term as well, we provided free training in carpentry, masonry, tailoring and others.
There will also be some changes in security and the transportation system. As soon as possible, we will form metropolitan police and install the CC cameras in all the places where it has not been installed. Regarding transportation, soon, we will stop vehicular movement in the core city area. There are seven bridges being constructed on the south side of the municipality. The vehicles will use those bridges. Two of the bridges have already been completed.