Dilip Shrestha has a house built on a land plot that is 2,395.75 square feet wide, in Ratopul, Kathmandu. He has grown plenty of vegetables and fruits on the empty space inside the compound, as well as on the rooftop.
It has already been 27 years since Shrestha started growing vegetables and fruits on the rooftop. He claims that most of the varieties of vegetables and six types of fruits grown in Nepal are grown at his home.
"I have to buy jackfruits, potatoes, chayotes, and fiddlehead greens only. Other than this, everything else is grown at my own home," says Shrestha. He informs that all kinds of seasonal vegetables from sponge gourd, black-eyed beans, spinach, garlic, onion to fruits like mango, kiwi, pomegranate, avocado, strawberry, lemon and dragonfruit are grown at his home. With each changing season, vegetables and fruits grown in the garden and the roof are a delight to watch, shares Shrestha.
Sony KC has made a green vegetable and fruit garden on the roof of her three-storey house in Raniban, Kathmandu. She shares that she started rooftop farming being inspired by her neighbour. Now, she does not have to go to the market for vegetables.
"I have to buy potatoes only. All other vegetables are grown on my roof," says KC, "Now, I do not have to rely on vegetables laced with pesticides and also having my own rooftop garden saves my money from the costly vegetables."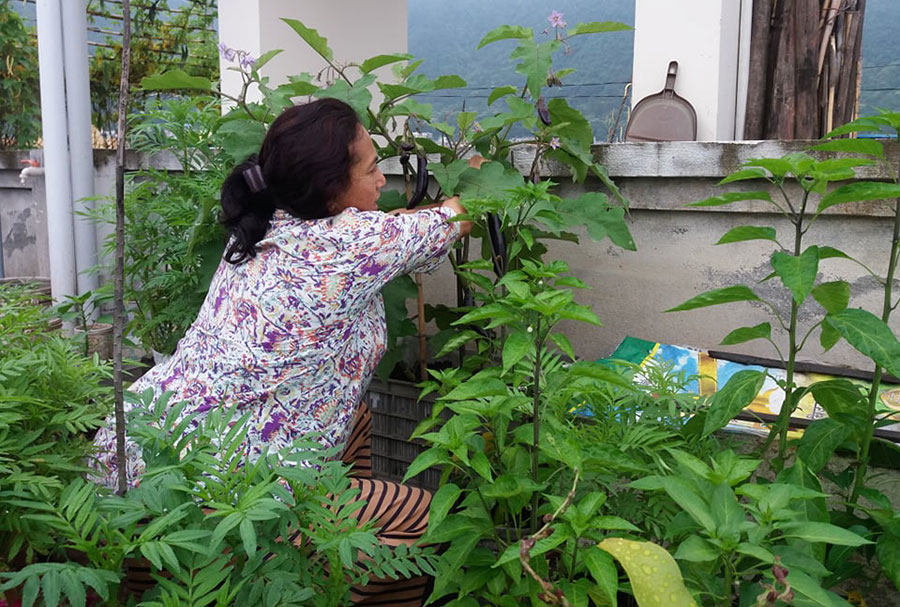 She informs she has been growing vegetables and fruits on the rooftop of her house for the last six years. Her rooftop garden is lush with varieties of vegetables and fruits like cauliflower, cucumber and pomegranate.
Expenses and hard work
Dilip Shrestha of Ratopul has experienced it does not cost much to cultivate vegetables and fruits at subsistence level at home. He claims using kitchen and house waste as compost and old containers as pots to plant vegetables and fruits would be enough for rooftop gardening at a small scale.
"But, if one plans to do it properly and systematically, it may cost around Rs 50,000 or more," Shrestha informs, "The costs include expenditures on loose and fertile soil, flowerpots, seeds/saplings, chemical fertilisers, etc."
According to KC of Raniban, even if you spend only the time set aside for daily exercise, you can cultivate a great rooftop garden. She has the experience of not having to work with a lot of effort for rooftop farming.
"We only have to sow the seeds according to the season and take care of them. Using the time set aside for morning walk is enough for rooftop farming. Or, you can just utilise the time you take a break from regular chores when bored," she informs.
She claims that working hard for just half an hour daily, she cultivates vegetables enough for her family. Sometimes, she has a surplus that she distributes to her relatives and neighbours.
Getting rid of pesticide-laced vegetables and fruits
As per KC, the use of pesticides and chemical fertilisers in rooftop farming is rare as it is grown for domestic use. She also mentions compost can be made from the degradable waste produced in the kitchen and even by buying 'pina' (the residue after extracting oil from mustard seeds) from the market whenever she wants.
According to Shrestha, rooftop farming is the best way to avoid costly vegetables in the market. "When I work hard for an hour a day, I am never bothered by the news that the price of vegetables has increased in the market," adds Shrestha, "Flowerpots are lush with strawberries, kiwis are hanging, and guavas are ripening. Watching all of these makes me happy every day."
He suggests everyone can cultivate vegetables and fruits on the rooftop without hesitation even if it is their own or rented house.
Possibility in Kathmandu valley
Due to increasing urbanisation, the arable land in the valley is being destroyed at an unprecedented speed. There were around 350,000 houses in the Kathmandu valley as per the last census conducted nine years ago. But, it is estimated that around 1 million houses were added to the capital since.
Kathmandu Metropolitan City is confident that rooftop farming, coupled with kitchen gardening, can address a large part of the domestic consumption of vegetables and fruits if most of the locals practise it. There are 254,292 houses in the KMC alone. Its spokesperson Ishwor Man Dangol informs that the practice of rooftop farming has thrived in the metropolis after the 2015 blockade and the recent lockdown.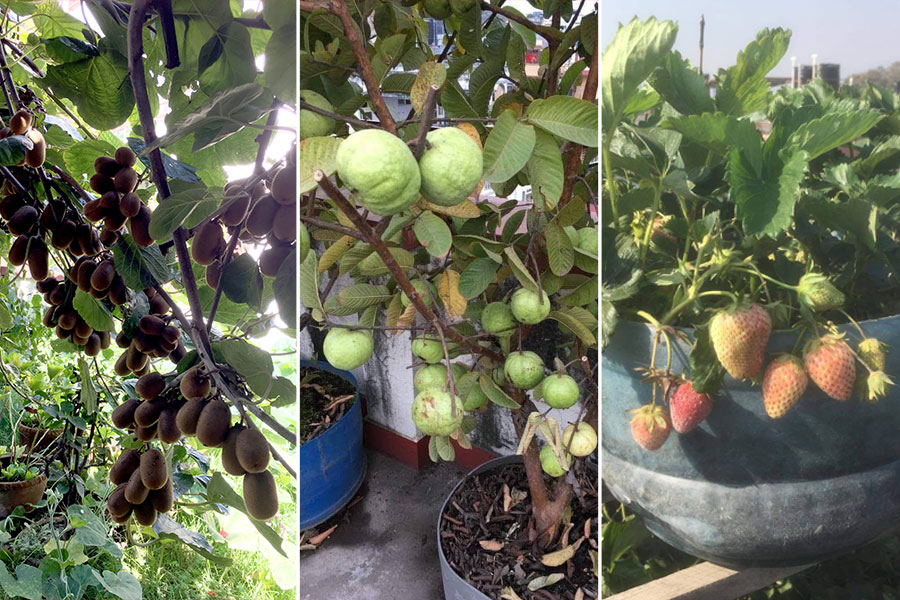 Local government's incentives
The KMC has stated that it is supporting 500 households to do rooftop farming this fiscal year only. Spokesperson Dangol says that people willing to practise rooftop gardening can submit applications at their ward offices to received training on rooftop farming.
"The city wants the general public to be able to grow the basic vegetables they need for their homes," Dangol says. According to the metropolitan city office, 1,200 people have already participated in the training conducted by the metropolitan city office.
According to the Ministry of Agriculture and Livestock Development, rooftop farming has been included in the government's policy and programme to increase vegetable and fruit production. A joint secretary of the ministry, Hari Bahadur KC, explains that provincial and local governments will implement the concept promoted by the ministry.
"As the concept of rooftop farming is not clear, there are no definite statistics. However, most of the states and municipalities are conducting programmes," KC says. "The ministry is ready to prepare the definition and concept of rooftop farming soon and make it result-oriented."