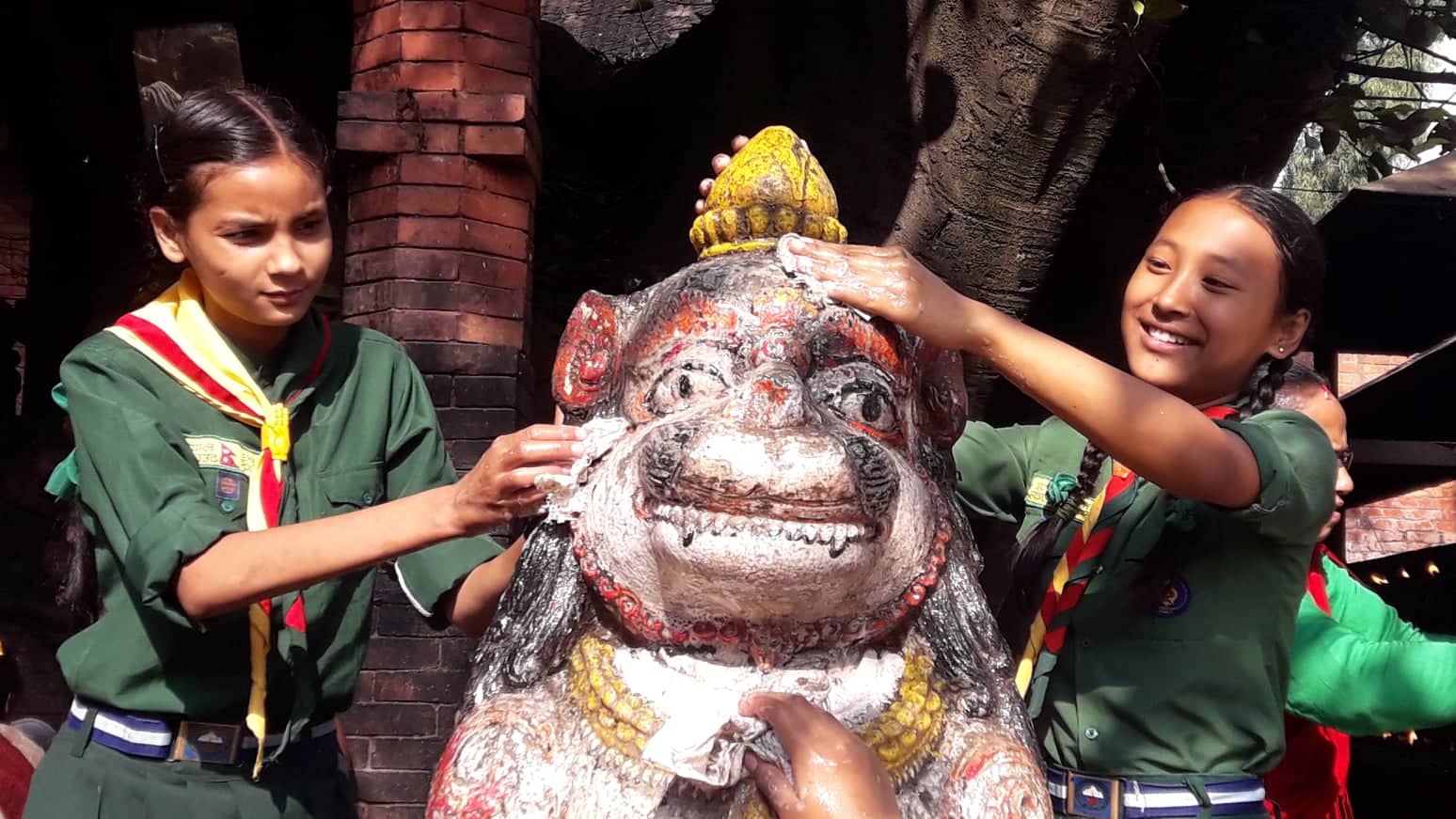 On a calm autumn morning as the school bell rings, around 30 students from Everest English School in Bhaktapur are outside the school premises. Leeza Shilpakar, 14, along with her classmates from the ninth grade, is cleaning an old Ganesh temple near the school.
When asked why she was doing this she says, "It's our responsibility to do this. If we don't take care of our heritage, who will?"
Shilpakar is part of the hundreds of students taking part in the 'One School, One Heritage' campaign launched by the school in 2004, and adopted by the ancient city of Bhaktapur fifteen months ago.
"We started this with help from WWF and Nepal Heritage Society in 2004 when we decided to do something to conserve heritage buildings in Bhaktapur city," adds Bhakta Rajbhandri, Principal of Everest English School.
Having seen children from a few schools doing it, the newly elected Bhaktapur Mayor from Nepal Workers and Peasant Party Sunil Parajapti decided it was time the municipality scaled up the work.
"The One School, One Heritage campaign started when we saw the work done by schools like Everest. This gave us an idea to mobilise all 92 schools in Bhaktapur," adds Prajapati.
"When we called the representatives of all 92 schools and told them about our idea, most of them decided to help us with this initiative. Our request was simple, one school had to look after one monument. They would have to do things like cleaning centuries-old stone spouts or maintain temple premises," adds the Mayor.
Upon the Mayor's request, the schools started looking after one heritage each. "Initially I had thought that most schools would object to the idea, but none did. Everyone was happy to commit to this cause. But we haven't had all 92 schools participating because some of these schools don't have adequate resources," adds the Mayor.
One school that did answer to the Mayor's call was Bageswori Secondary School. "When the Mayor asked us to join this initiative we were happy to help," adds Krishna Prasad Dhancha. "We have been looking after Chyamasing Pokhari, a 13th-century pond in front of our school along with another pond in the area called Kamal Binayak Pokhari."
"We clean it regularly, add water when the level decreases, pluck the grasses around the pond and make sure the fishes survive in the pond," adds Dhancha who says that they are working to make this pond a living heritage.
Everyone seems to have helped to make this campaign a success as other schools have cleaned stone spouts, ponds and plucked grasses and cleaned temples.
Importance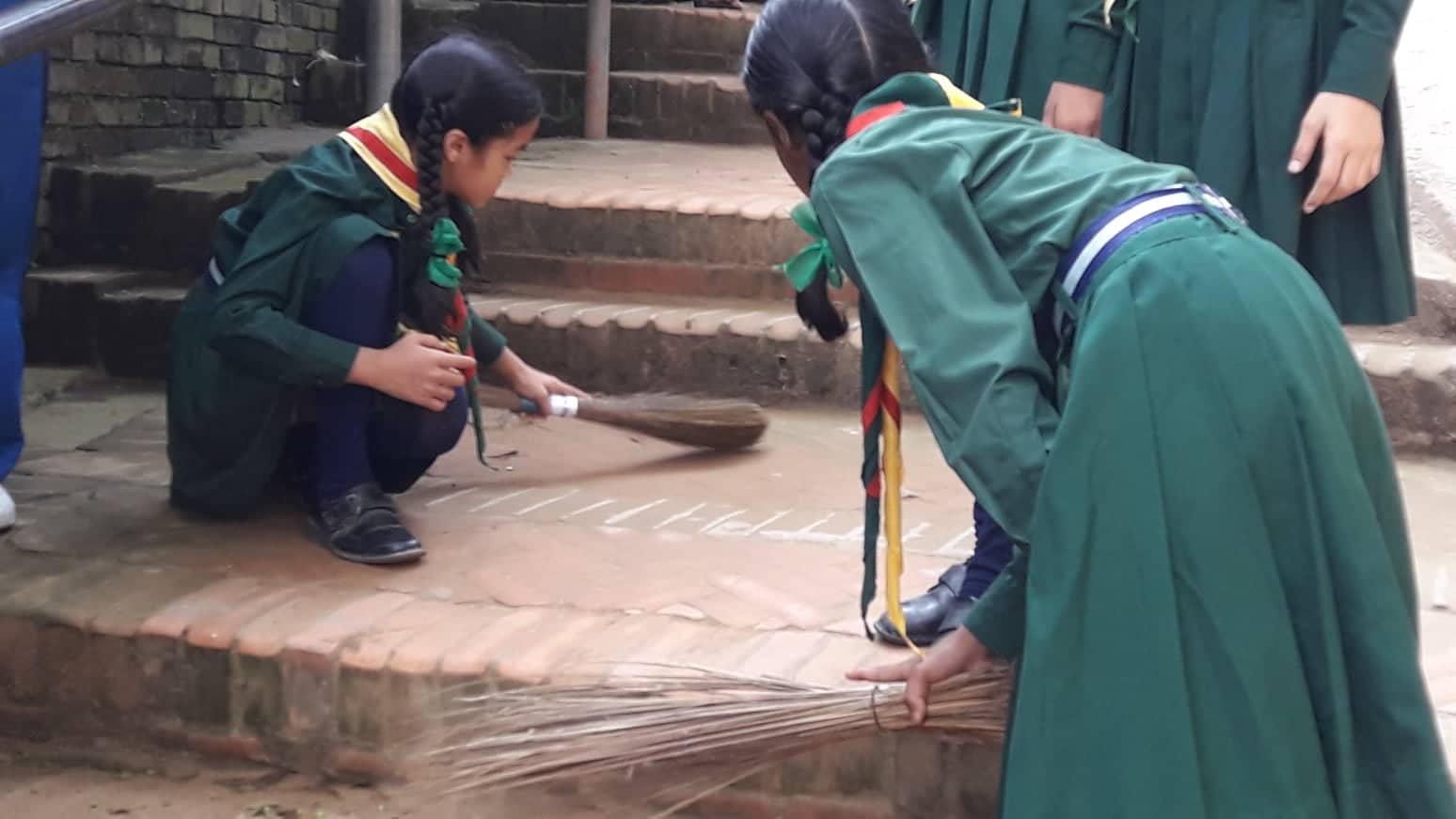 It is safe to say that our heritage is what defines us. It tells us about who we are and how we came to be and this is something that is young kids need to learn and that was the general idea behind this initiative.
"It is important to involve young children and teach them about the importance of heritage because if we don't they will never relate to them. If they understand its importance, they will definitely help us conserve it in the future," adds Rajbhandari.
Principals from both the schools think this initiative has been a boon to their students who seem to have learnt to respect and preserve our culture and heritage. "It was quite common to see kids ride on statues in temples and draw on walls, but I personally feel that has stopped drastically," adds Rajbhandari.
How are kids involved?
Every fortnight the municipality team goes to clean one specific ward and that is where some schools join in. "By involving kids it has helped us spread awareness about cleanliness too," adds Mayor Prajapati.
But Everest English School does not limit itself to just one heritage monument. When taking their students on an excursion, they also clean some heritage monuments around the site. They are provided with masks, and rubber gloves and other cleaning equipment.
"We also clean the neighbourhood around our school," adds Rajbhandari. "Every Monday we assign a class who are led by a team of scouts and teachers who clean the Ganesh temple and also neighbourhood."
Bageswori Secondary School is also actively involved in this. "Cleaning is part of our extra-curricular activity. We regularly maintain this 800-year-old pond every Friday. Along with that we also clean our school premises," adds Dancha.
"Chyamasing Pokhari is also used by our students for academic purpose. The pond has helped them learn about the ecosystem in the water which is quite has helped a lot of students know mot about the ecosystem in the water," adds Dancha who continues that students are aware that the pond has a lot of importance. "The students are aware that the pond brings a lot of positive vibes in the place."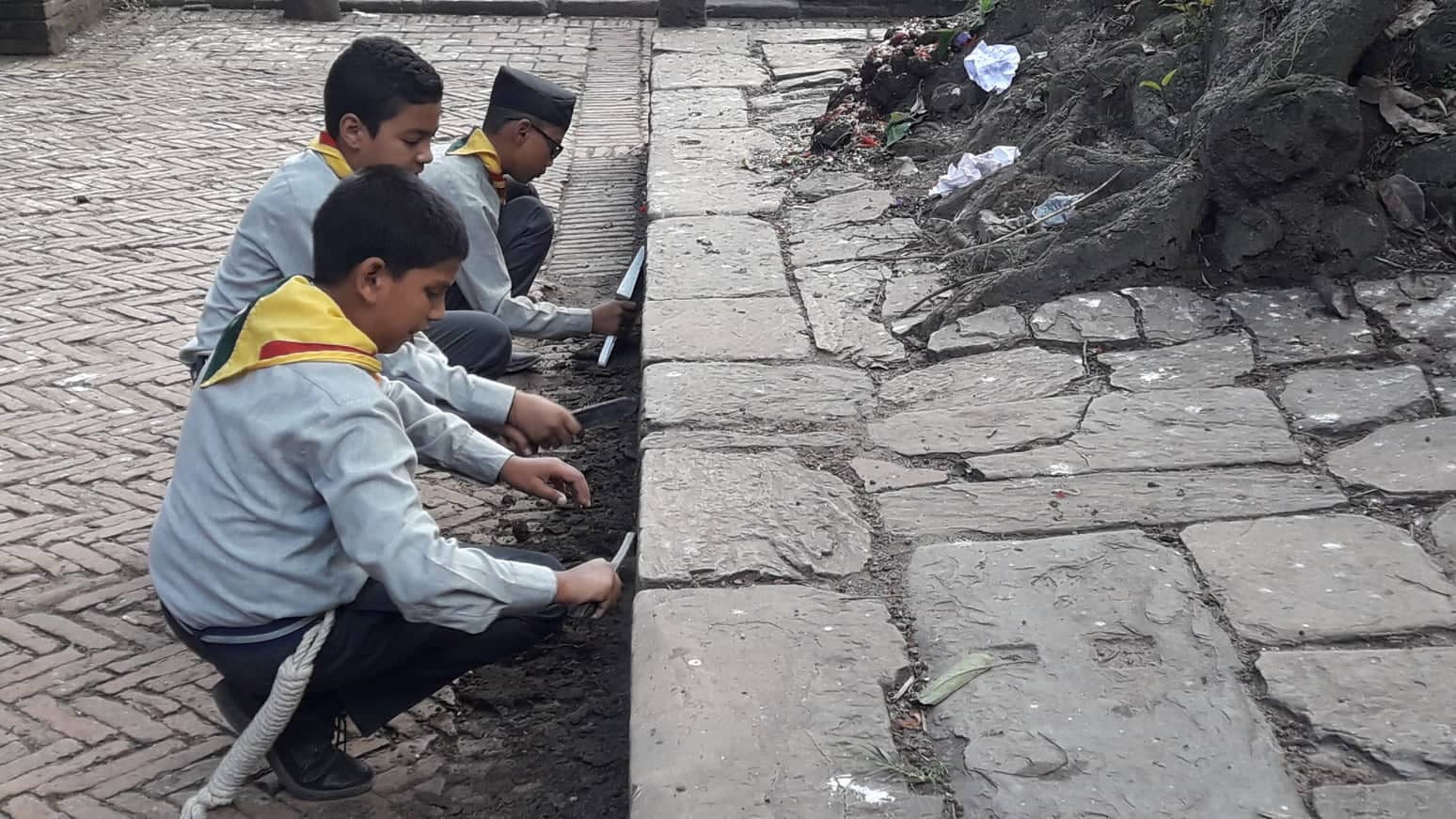 Taking it forward
The need to continue this campaign is important not only for the conservation of heritage but also for tourism purpose.
"The heritage is our identity. We come from the city of temples where thousands of tourists come to visit every year. These tourists come here not to see the silky new houses, they come to see the work done by our ancestors," adds Rajbhandari.
"We need to create awareness so that we can involve as many people as we can. Scholars need to be invited to schools and colleges come to schools and explain the importance. We need to create a love for heritage amongst the kids who will then help spread the word," he continues.
This campaign is a good start to make the kids aware of the importance of our culture and heritage. But what is happening in schools in Bhaktapur also needs to be replicated in Kathmandu and Lalitpur.