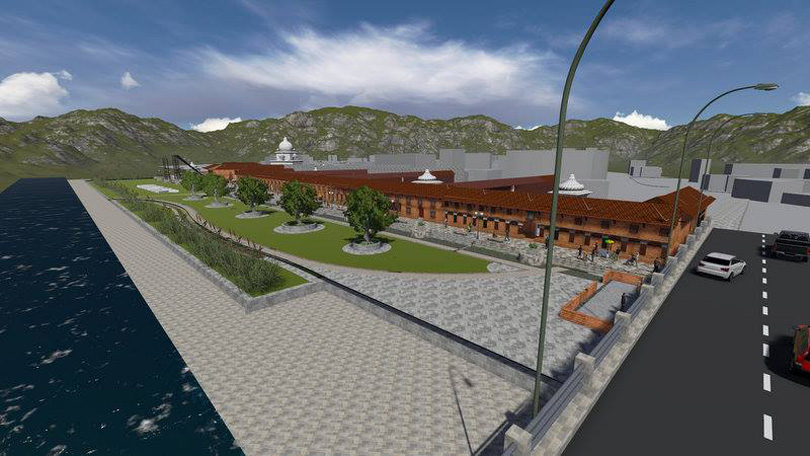 KMC
The proposed 'Bagmati Heritage Walkway' is gradually taking shape as construction work reaches its final stage.
The 2.5 km route, which starts near the confluence of the Bagmati and the Bishnumati in Teku, was proposed by Kathmandu Metropolitan City (KMC) a few years ago. The project is scheduled to be completed by end of this year.
"The walkway will help conserve of various sites of historical and cultural significance along the Bagmati river," said Rudra Singh Tamang, CEO of KMC. "It was along the banks of the Bagmati that the valley's civilisation once flourished."
Once completed, the walkway will pass through numerous temples like Teen Dewal, Dhaneshwor Mahadev and Laxmeshwor before ending at the Kalmochan temple in Thapathali.
"These sites of historical and cultural significance are strewn along the river just 500m inside the busy Teku road," said Tamang. "They are a living museum of our rich history and culture. The walkway will not only offer respite to the local from the chaotic Teku but will also be of interest to tourists and scholars alike."
The 2.5 km stretch from Teku Dovan to Thapathali is a natural choice for a heritage walkway. This stretch is densely packed with old temples, ghats, dewals and sattals some of which are centuries old. KMC had earlier planned the walkway in light to preserve the rich diversity of religious sites in the area.
As part of the ADB-funded Kathmandu Sustainable Urban Transport Project, KMC plans to build the walkway as a pilot to a larger heritage walkway project. Once completed, the walkway will encompass all the major heritage sites of the valley.
The walkway will be promoted as a tourist attraction, and will serve as an important part of educational tours for children.
After the completion of the walkway in Teku, it will be further extended to Basantapur Durbar Square via Pachali Muchali, Lagan and Om Bahal.
"We zeroed down on Teku for the pilot project because it can be further extended to most other areas of the valley," said Tamang.
KMC
The walkway project also plans to increase vegetation and the make it more aesthetically pleasing. The total cost of the pilot project is estimated to be Rs. 80 million.
***
Also read