On Sunday, Satya Mohan Joshi, the man of the century, passed away at the age of 103. But, his body was not cremated as he had signed a body donation agreement previously. It received quite the attention of Nepali society.
Joshi's body has been handed over to KIST Medical College in Lalitpur. According to Suraj Bajracharya, the director of the college, Joshi had signed an agreement to donate his body after death.
"Although Joshi had signed the agreement, it would depend upon the family's decision whether they wanted to donate the dead body. Accordingly, we informed his family and they decided to fulfil Joshi's wish," says Bajracharya.
The family agreed, and the body has been handed over to the college now. But, what happens after this is still a concern in Nepal as body donation is a new concept here.
Body donation decision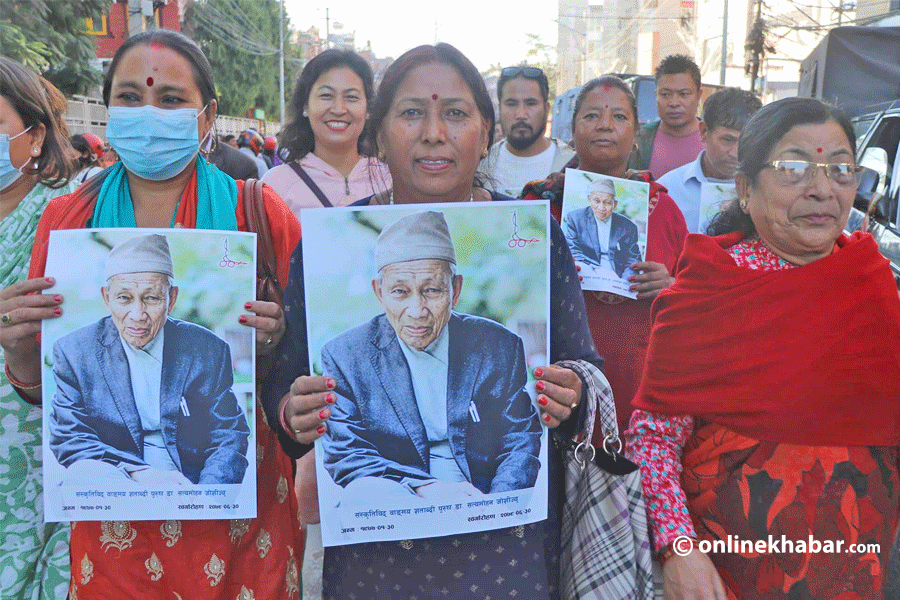 Satya Mohan Joshi's family were worried before donating the body. They had a dilemma while making the decision. After a discussion with Krishna Singh Basnet, the head of the Anatomy and Forensic Department at the college, the family agreed to abide by the late man's wish.
Joshi announced the donation of his body amid a programme on February 12, 2021. Along with him, his wife Radha Devi also signed the consent to body donation. Their son Anuraj also signed in the paper for approval.
According to people close to him, Joshi was worried that he would be accused of going against his religion and culture for deciding to donate his body. During the event, he even offered clarification, "I am not against our religion and culture. Both of us decided to donate our bodies for medical study to discover how our life span ran for such a long time."
According to Jagdish Agrawal, a former dean of the Tribhuvan University Institute of Medicine, medical students are mostly compelled to depend on unattended bodies as there were no provisions for body donation in Nepal before 2017. Some institutions would bring the bodies from India.
"An unattended body is not preserved correctly at the beginning, but a donated body is taken care of from the start and is preserved well," says Agrawal. "That's why the donated bodies are considered good for the study."
For the first time, the Civil Code of 2017 permitted people to legally donate their bodies. Section 38 (1) of the code has the provision to donate the body.
Before this legal provision, if someone wanted to donate a body, the consent of the family and an agreement to not file a complaint for legal action used to be made. However, it was insignificant in terms of legal validity.
According to Agrawal, earlier, people were not ready for body donation, thinking it would disrespect the culture and religion. But, now, things have changed. The number of people donating their bodies for the study is increasing, says Gopal Chaudhary, a forensic expert at Tribhuvan University Teaching Hospital (TUTH).
Others who donated their bodies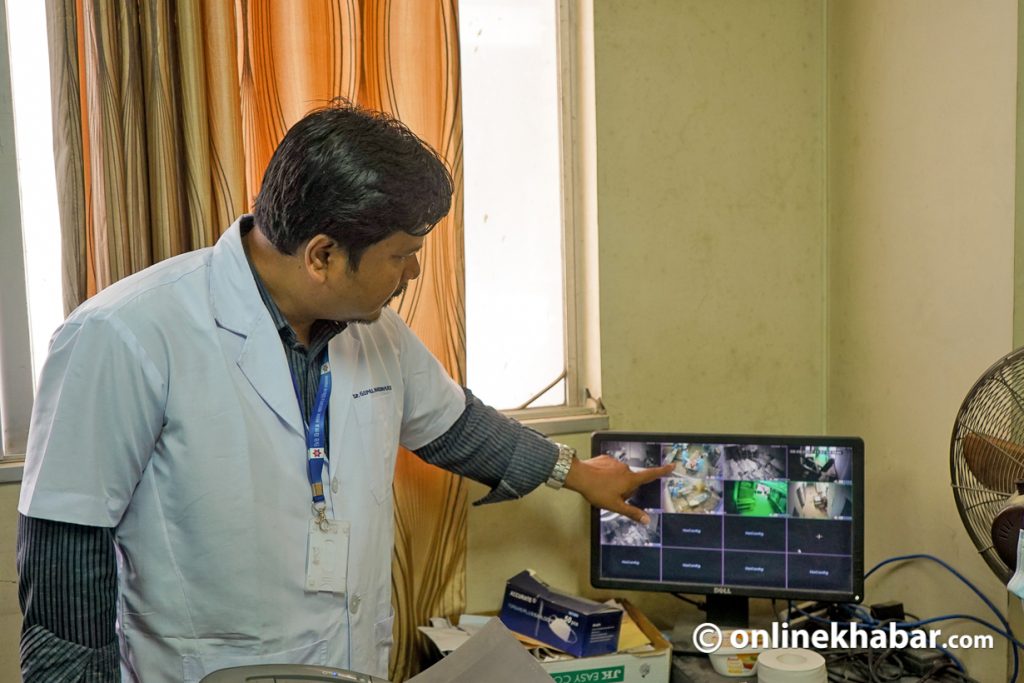 A month before Joshi announced the body donation, Bagmati Province Chief Yadav Chandra Sharma and his wife also announced that they would donate the bodies after their death.
"My body is as valuable as gold for the students. There is a strong pacemaker in my heart. Likewise, due to the blockade of blood vessels, there are also three nets," Sharma says, "It can be a special case for studies."
Littérateur Dahal Yagya Nidhi, who passed away in 2018, also signed consent to donate his body. According to his wish, the family members handover the body to the TUTH for study.
Some months ago, political analyst Narendra Jung Peter also decided to donate his body to Nepalgunj Medical College. Making his family understand the value of body donation took him four years.
Journalist Bhairav Risal and his wife Sushila Risal announced that they would donate their bodies to the Patan Institute of Health Sciences, eight years before the legal system for body donation was introduced in Nepal.
The body of former justice Bharat Raj Uprety, who died of suicide in 2015, was also donated to a hospital for the study. In the letter, which was written by Upreti before their death, he made a request for his body donation.
In February, former health and population minister Birodh Khatiwada and Chief Secretary Shanker Das Bairagi also announced the donation of their bodies for study purposes. Likewise, former foreign affairs minister Pradeep Gyawali also decided to donate his body.
What happens to the donated body
Harihar Wasti, a former head of the TUTH forensic department, says the donated bodies are purely used for study and research. "The bodies are preserved for a long period by using various chemicals," says Wasti. 
According to him, a human body is compulsorily needed for MBBS first and second-year students to study anatomy dissection.
Chaudhary informs that the hospital usually receives two bodies a week these days. "Maybe due to growing awareness about body donation, the number is increasing. Nonetheless, the TUTH never had a shortage of unattended bodies," he says.
The TUTH even provides the bodies to other colleges. Meanwhile, unattended bodies are kept in refrigeration for a certain time prescribed by the law. Afterwards, they are moved to a temporary mortuary. Then, those bodies are used for study, says Chaudhary.
According to Kishor Singh Basnet, the forensic department head at KIST Medical College, the body of Satya Mohan Joshi will be used for both general medical research and students' regular research.
"A chemical to prevent decomposition has been used in his body and it is used in our research immediately. We will study more about what can be studied from his body. Joshi himself wanted to study what factors caused him to live for a long time. We will study it as well," says Bajracharya.
According to Chaudhary of the TUTH, those interested in body donation can register their names in any medical college. Afterwards, the college will give permission as necessary. But, there must be acceptance by family members too. Even after death, they are brought to the hospital only after holding a meeting with the people's representatives and signing documents to ensure that the body is not suspicious.
Lately, there are many people willing to donate bodies, but due to a lack of resources, the hospitals, despite their necessity, do not accept their proposal. BP Koirala Institute of Health Sciences hardly accepts the bodies as there are enough bodies in the hospital.
---
This story was translated from the original Nepali version and edited for clarity and length.