To cut open a dead body is no easy task. Maybe that is why many doctors do not get into autopsy. The pay is low; there is not enough recognition and there are hardly any growth opportunities. On top of that, it is haunting, it is dirty, it is dangerous and most importantly, it is complicated.
Despite that, people like Dr Gopal Kumar Chaudhary, who know the importance of the profession have been persisting as they want to break the stigma in hope that more people get into autopsy and strengthen this field of forensic medicine.
The hard job
"It's not easy and there have been times where I've felt like quitting," says Dr Chaudhary. "But, when the work I do helps make a difference, I feel a lot of satisfaction."
Dr Gopal Kumar Chaudhary has been doing postmortems for over 12 years. After passing out from Kathmandu Medical College in 2004, he worked there for four years. There, he learned how Nepal did not have skilled professionals in forensic medicine. After talking to Dr Harihar Wasti, a forensic expert and his mentor, he decided to dedicate his future to forensic science.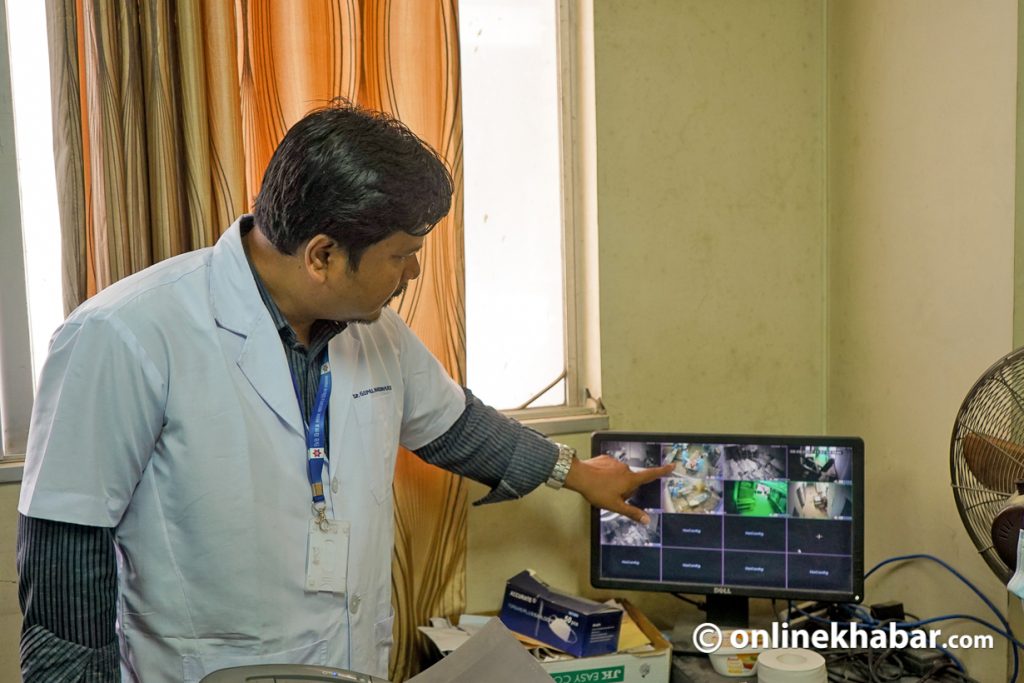 He knew why people did not get into forensic medicine. Most doctors, after working a few years, open their own clinics to earn extra. But, people doing postmortem were not allowed to do that as the government does not hand out licences. This did not appeal to many and the same concerns worried Dr Chaudhary.
"I must say it was very hard initially," he says. "My family and friends questioned my decision to choose forensic medicine."
That made Dr Gopal Kumar Chaudhary insecure. He even thought about shifting. But, gradually he understood the importance of postmortem and forensic science and after that, there was no looking back.
Good and bad times
He started to get a hang of it when he was getting his master's degree in forensic medicine. There, he dissected many corpses. But, dissecting decaying bodies of people who were murdered or those who died in an accident or those who died via suicide sometimes made him sick to his stomach.
"There were days when I couldn't even eat properly. It made me sick," he says. "Maybe I've got used to things, which is why I don't feel what I felt a few years ago."
Dr Gopal Kumar Chaudhary has done over 5,000 postmortems. Out of them, his favourites are the ones that have helped an innocent person from going to jail. Days like that give him added motivation and make him very happy.
But, there are downsides too.
"Some days, I dream about sleeping with corpses. It's very haunting," he says.
He also fears that he might get into depression due to this. But so far, he has not had issues related to mental health.
Dr Gopal Kumar Chaudhary's hands have not trembled once. They have remained firm during the countless postmortems he has done. But one day, a body came into the morgue and his hand shook like never before.
"It was a friend's body. I did do it, but I don't think I'll ever forget it," he says.
Making a difference
Thanks to his hard job, Dr Gopal Kumar Chaudhary's family which was once embarrassed now sees him differently. They have understood why he chose it and its importance.
"They used to be embarrassed to tell people that I'm a postmortem specialist. But now, they are proud of what I do and tell people with a big smile on their faces," he adds.
Yet, he has not told his kids that he works with dead bodies.
During his early years in MBBS, Dr Gopal Kumar Chaudhary wanted to become a heart specialist. He idolised Dr Bhagwan Koirala and wanted to emulate him.
"I felt if I do what he did, a more people would know me."
But, after a few years of working in forensic medicine, he realised this stream of medical science also had a lot of potential. Since the TU's Teaching Hospital was the only place in Kathmandu where postmortems take place, people started to know who Dr Gopal Kumar Chaudhary was.
"I thought no one would know me. But with time, they did and it feels good."
---
This story was translated from the original Nepali version and edited for clarity and length.