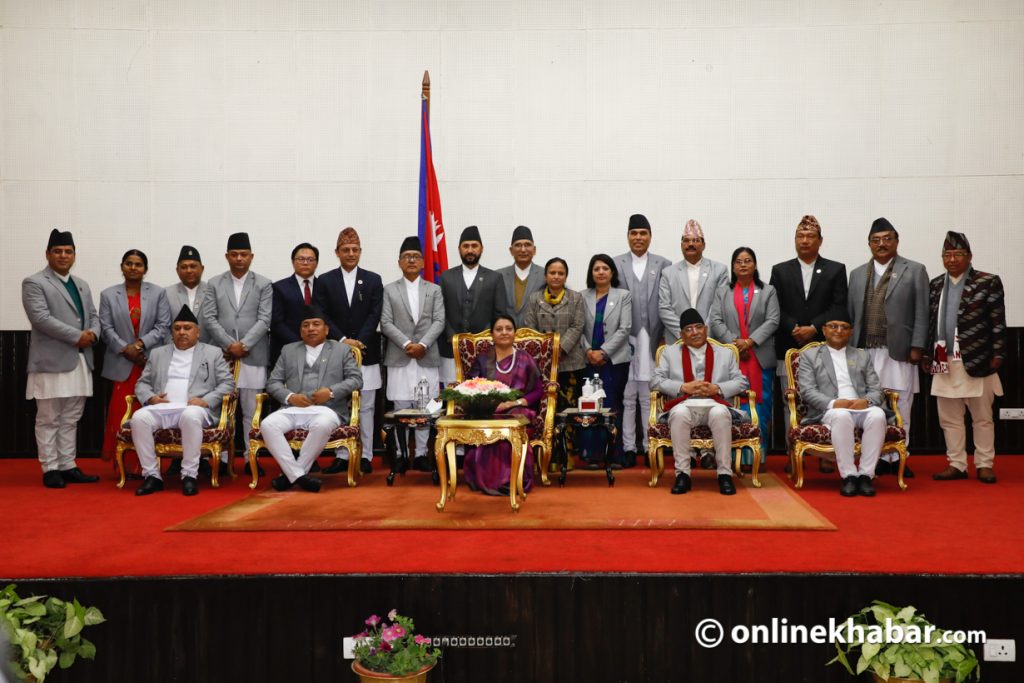 Kathmandu, January 17
Prime Minister Pushpa Kamal Dahal has given the full shape to his cabinet after around three weeks of its formation.
The cabinet expansion was delayed due to different reasons including a lack of understanding among members of the ruling coalition.
Dahal initially had appointed three deputy prime ministers and four ministers; these eight members of the cabinet including himself had been administered the oath on December 25.
Then, on Tuesday, PM Pushpa Kamal Dahal appointed one deputy prime minister, 11 ministers and three state ministers, making the number 23, two less than the highest allowed by the constitution for the federal cabinet, informs the President's Office. Dahal himself has taken over two ministries.
The newly inducted officials took the oath of office and secrecy today.
Here is the full list of the ministers in the Pushpa Kamal Dahal cabinet according to their rank.
| | | | | |
| --- | --- | --- | --- | --- |
| SN | Name | Position | Portfolio | Party |
| 1 | Pushpa Kamal Dahal 'Prachanda' | Prime Minister | Forests and Environment/Youth and Sports | Maoist Centre |
| 2 | Bishnu Paudel | Deputy Prime Minister | Finance | CPN-UML |
| 3 | Narayan Kaji Shrestha | Deputy Prime Minister | Physical Infrastructure and Transport | Maoist Centre |
| 4 | Rabi Lamichhane | Deputy Prime Minister | Home Affairs | RSP |
| 5 | Rajendra Lingden | Deputy Prime Minister | Energy, Water Resources and Irrigation | RPP |
| 6 | Rekha Sharma | Minister | Communications and Information Technology | Maoist Centre |
| 7 | Bikram Pandey | Minister | Urban Development | RPP |
| 8 | Jwala Kumari Sah | Minister | Agriculture and Livestock Development | CPN-UML |
| 9 | Damodar Bhandari | Minister | Industry, Commerce and Supplies | CPN-UML |
| 10 | Rajendra Kumar Rai | Minister | Land Management, Cooperatives and Poverty Alleviation | CPN-UML |
| 11 | Abdul Khan | Minister | Water Supply | Janamat Party |
| 12 | Bimala Rai Paudyal | Minister | Foreign Affairs | CPN-UML |
| 13 | Padam Giri | Minister | Health and Population | CPN-UML |
| 14 | Bhagawati Chaudhary | Minister | Women, Children and Senior Citizens | CPN-UML |
| 15 | Hari Uprety | Minister | Defence | CPN-UML |
| 16 | Sudan Kirati | Minister | Culture, Tourism and Civil Aviation | Maoist Centre |
| 17 | Aman Lal Modi | Minister | Federal Affairs and General Administration | Maoist Centre |
| 18 | Shishir Khanal | Minister | Education, Science and Technology | RSP |
| 19 | Dol Prasad Aryal | Minister | Labour, Employment and Social Security | RSP |
| 20 | Dhruva Bahadur Pradhan | Minister | Law, Justice and Parliamentary Affairs | RPP |
| 21 | Sushila Sirpali Thakuri | State Minister | Culture, Tourism and Civil Aviation | CPN-Maoist Centre |
| 22 | Toshima Karki | State Minister | Health and Population | RSP |
| 23 | Deepak Bahadur Singh | State Minister | Energy, Water Resources and Irrigation | RPP |