PURE EV is an Indian electric two-wheeler company that has made its way to Nepal. The company defines PURE as the acronym of power using renewable energy.
The introduction of PURE EV scooters in Nepal means more choices for people and also a transition to sustainable energy, which apparently matters to all of you.
Authorised distributors like Nepal Roaming Bird are currently offering two models of PURE EV in Nepal, ePluto 7G and ETrance Neo. The TWO have identical specifications and power figures. The ePluto 7G has more of a classic look while the ETrance Neo has a sporty look.
We have already provided you with a review of ePluto 7G and today, we will get into the details of ETrance Neo.
Technical specifications
Motor
1.5 kW nominal and 2.2kW peak BLDC motor
Controller
60V 20 tube vector looped
Battery
60V 2.5kWh Li-ion Portable
Battery casing
Metallic
Cells
NMC 18650 3C ultra performance
Battery management system
Smart active balance 50A
External charging port
Yes
Regenerative braking
Yes
Brakes
Front: Disc
Rear: Drum
Tyre
Front: 90/100 Rear: 3.00-10
Rim
Cast alloy
Mileage
116 km on a full charge
Top speed
60kmph
Design
The PURE scooters do not look like typical electric scooters at all. At the first glance, ePluto 7G resembles the look of the classic Vespa whereas ETrance Neo has more of a sporty look resembling the typical combustion-engine scooter. The scooter gets a four-inch backlit digital LCD display that displays information about speed, distance, turn indicator, battery and parking status.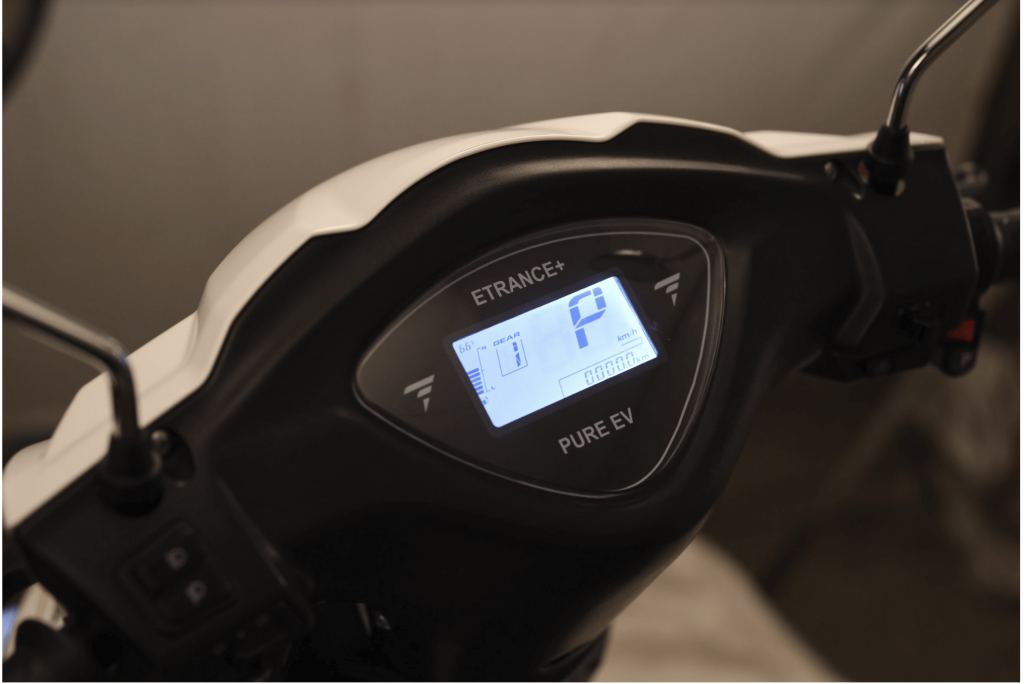 There is an LED headlight and indicators at the front. The footboard of the scooter is a bit cramped and you will only be able to have small packages there. Meanwhile, the seat on the scooter is also pretty comfortable and there is a grab rail for the pillion rider. At the back, there is a LED taillight along with Halogen indicators.
Under the seat is where the battery of the PURE EV scooter. This means there is no boot space on this scooter where you can put your helmet and your belongings. The scooter also comes with an anti-theft alarm system and wheel lock system.
Performance
PURE EV ETrance Neo can be a great commuter vehicle and is perfect for city rides. You cannot expect it to be fast, but also remember you should not and cannot go fast in the city anyway.
There are three modes of ride on the scooter. The first mode allows you to reach a top speed of 30kmph, which can be great if you are riding in traffic. The second mode allows you to pace up a little and reach a top speed of 45kmph while the third and last mode allows you to reach the top 60kmph speed of the scooter. You can toggle between the modes easily with the help of a switch button which you can easily reach with your right thumb.
The speed determines the mileage of the scooter as well; the more you are on a higher mode, the quicker is the battery consumption. So, if you ride your scooter at a full speed for a long time, your mileage may be reduced accordingly. The ideal speed for the scooter would be in the second mode.
The scooter also has a regenerative braking system.
Battery and charging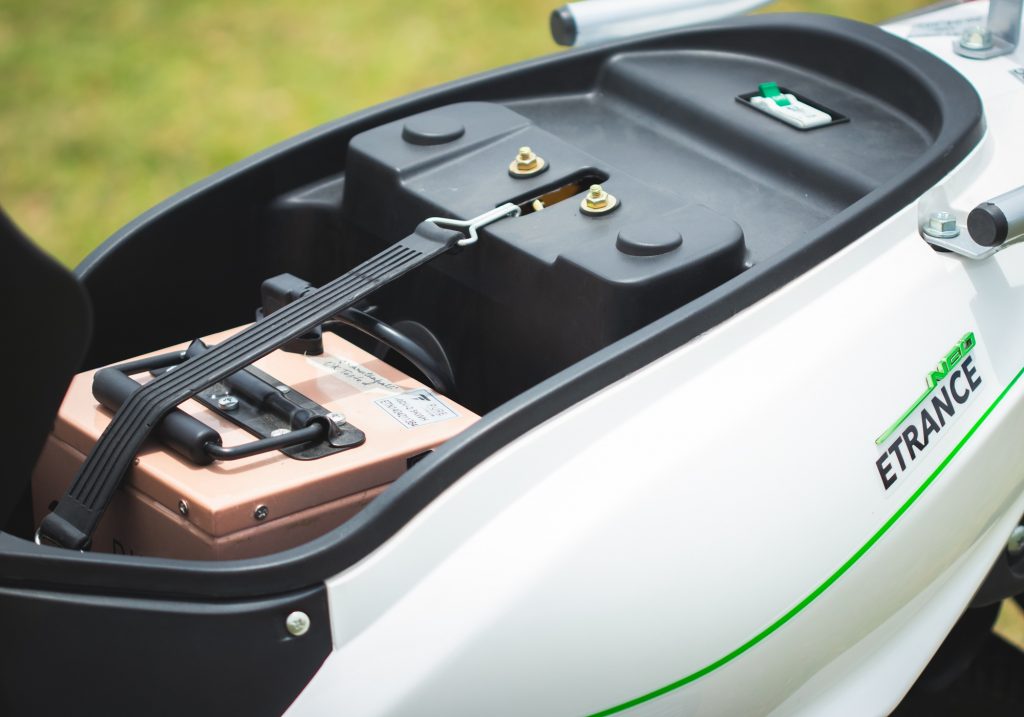 Powering PURE EV ETrance Neo is a portable 60V 2.5KW Lithium-ion battery. Since the battery is portable, you can charge them at your convenient outlet. This is very handy if you do not have your own garage or a charging outlet in your parking area. You can also plug the charger directly into the scooter as well. The battery charging time is stated to be around four hours and the battery life is limited to 1,000 charge cycles.
The range is claimed to be 116 km, but again that completely depends on your riding style.
Some of the notable features of PURE EV ETrance Neo are:
2.5kWh portable battery pack
116 km mileage
Three speed modes
4 inch LCD dashboard
30Nm torque
The price of PURE EV ETrance Neo is Rs 229,000. For this, the company is providing you with:
Three-year/4,0000 km warranty on the battery
One-year warranty on motor controller and charger
Festive offer:
Rs 10,000 sure-shot discount
Scratch coupon: a) Another discount up to Rs 10,000, b) Pokhara tour for two persons, c) Autonix electric cycle, d) iPhone 12.3
Lucky draw offer: ETrance Plus which is also a PURE electric scooter