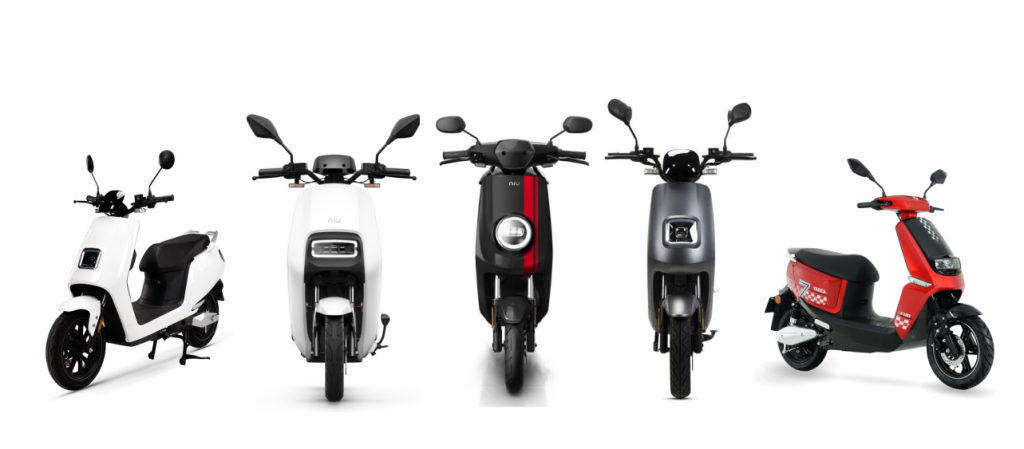 With a consistent increase in petrol prices, the demand for electric vehicles–both four-wheelers and two-wheelers– has surged in Nepal in recent months. Since then, there is a positive ratio in the electric vehicle market in Nepal. Many people are seen changing to electric vehicles from fossil fuel-powered vehicles and searching for budget-friendly two-wheelers.
Among two-wheelers in the electric market, electric scooters are more popular in Nepal than electric motorcycles due to their budget. So, here is a list of seven electric scooters costing less than Rs 300,000 in Nepal as of January 2023.
| | | |
| --- | --- | --- |
| SN | Model | Price |
| 1 | LVNENG LX04 | Rs 209,000 |
| 2 | Yadea S-Like | Rs 255,000 |
| 3 | Komaki SE Pro | Rs 274,000 |
| 4 | Pure EV EPluto 7G | Rs 275,000 |
| 5 | NIU MQI+ Sport | Rs 276,000 |
| 6 | NIU GOVA G-03 | Rs 277,000 |
| 7 | Segway Ninebot E100 | Rs 291,000 |
1. LVNENG LX04
The Chinese company LVNENG has few models available in Nepal. Among them, the cheapest is the LVNENG LX04. The small and stylish electric scooter is an affordable find with a range of 75 km and a max speed of 45 Kmph.
It is powered by a 1.44kw Bosch motor and has a battery capacity of 48V26Ah, which depending on the number of batteries can provide a range of 75–150km. LX04's top speed is 45km/h as well. Additionally, for safety, it incorporates disc brakes on both the front and rear sides as well as an 80/100-10″ tubeless tyre. Additionally, it has a 150mm ground clearance.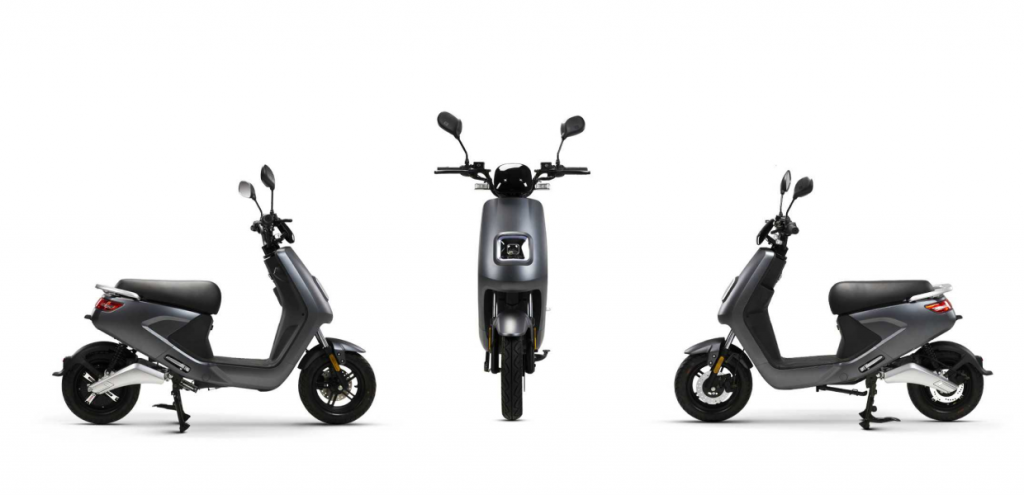 Specifications
Dimension
Length: 1,700mm
Width: 700mm
Height: 1,050mm
Wheelbase: 1230mm
Tyre
80/100-10-inch Tubeless
Battery
2* 48V26Ah lithium battery (portable)
Motor
1440W Bosch motor
Top speed
45 km/h
Charging duration
6 hours
Max loading
217kg
Brake
Front and rear disc brakes
The price of LVNENG LX04 in Nepal is Rs 209,000.
2. Yadea S-Like
The Chinese company Yadea started its journey in 2020 in Nepal. Within a short period of time, Yadea gained popularity in Nepal. Currently, Yadea sells three models in Nepal, out of which, Yadea S-Like is a budget-friendly scooter.
S-Like, which is marketed as an urban city commuter, is made to help you manoeuvre through congested city streets. With features including a 4.2-inch LCD panel with automatic light adjustment, the scooter is well-equipped.
It also has an IP65 rating for resistance to water and dust. A 2000W lithium-ion battery powering the scooter can be fully charged in six hours. The scooter's maximum speed is 50 km/h, and its range is 60 km.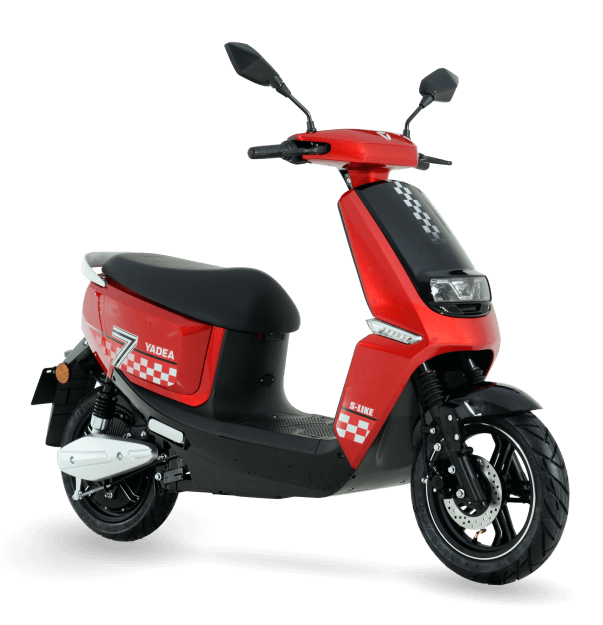 Specifications
Dimension
Length: 1,752mm
Width: 680mm
Height: 1,450mm
Wheelbase: 1,300m
Ground clearance: 180mm
Motor
GTR 3.0
Battery
ATL lithium
Top speed
50 km/h
Range
60 km(single battery)
Charging time
6 hours
Brake
Front: Disc
Rear: Drum
Storage box capacity
18L
Tyre
12-inch Tubeless
Max power
2000W
The price of Yadea S-Like electric scooter in Nepal is Rs 255,000.
3. Komaki SE Pro
Like other electric scooters, the Indian electric scooter company Komaki has provided some outstanding electric scooters and the first electric cruiser bike in Nepal, Komaki Ranger. Komaki electric scooters and bikes are sold by Unity Trading Concern Pvt Ltd in Nepal.
Komaki Se Pro is a sporty electric scooter with a top speed of 65km/h. The scooter has some notable features such as the TFT screen. The screen has a real-time surround view, real-time navigation, android applications and other smart features. Found mostly in heavy-duty bikes, Komaki has provided a double disc brake system in this scooter.
Specifications
| | |
| --- | --- |
| Rated motor power | 2000W |
| Peak motor power | 3200W |
| Top speed | 65km/h |
| Range | 85-100km |
| Charging time | 4-5 Hours |
| Battery capacity | Lithium-ion(LiFePo4) |
| Battery capacity | 72V 30Ah |
| Charging cycles | 2000 times |
| Front brake | Disc |
| Rear brake | Disc |
The price of Komaki SE Pro in Nepal is Rs 274,000.
4. Pure EV Pluto 7G
A classic retro-style electric scooter is the Pure EV Pluto 7G. Sold officially by White Lotus Motors in Nepal, Pluto 7G is a popular electric scooter in Nepal and can be seen on the roads quite often.
Pluto 7G has eye-catching looks and is probably inspired by the Vespa or Bajaj Chetak. With classic vibes and a modern system, Pluto 7G has a variety of features. The scooter has alloy wheels with a high torque motor with rear suspension.
The scooter is also provided with an anti-theft provision with a smart lock and regenerative braking. It has a wide LCD screen with multi-speed modes. Pluto 7G has a top speed of 60 km/h and 90-120 km of range.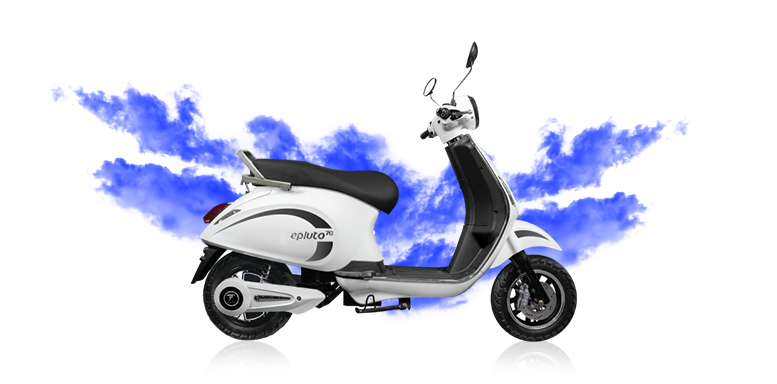 Specifications
Tyre
Front: 90/100-10
Rear: 3.00-10
Motor
1.5 KW nominal and 2.2 KW Peak BLDC motor
Battery
60V 2.5 KWh (Portable)
Range
120km
Display
5-inch MF LED
Brake
Front: Disc
Rear: Drum
Top speed
60 km/h
Charging time
4-6 hours
Charger output
CC-CV portable 67.2V 10A
The price of Pure EV Pluto 7G in Nepal is Rs 275,000.
5. NIU MQI+ Sport
The Chinese company NIU was launched in Nepal at the end of 2017. After the launch, NIU released some absolute beasts in Nepal. NIU captured the market quite fast in Nepal due to its wide range of options, quality and looks. Eco Infinity Pvt Ltd is the authorised distributor of NIU scooters in Nepal. Among some of those, NIU MQI+ Sport is one of the most affordable versions available in Nepal.
NIU MQI+ Sport has a standard NIU design with a steel chassis and a titanium-aluminium alloy swing arm. The scooter has front and rear hydraulic shocks and disc brakes. It takes about 6-7 hours to get a full charge and has a top speed of about 45km/h. The scooter has a range of about 55-65km after a full charge. The scooter also has the feature of cruise control.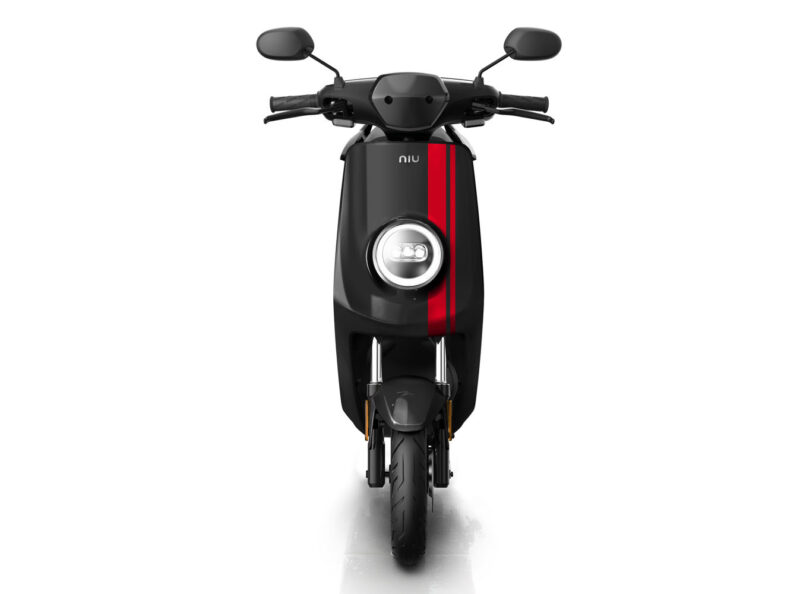 Specifications
| | |
| --- | --- |
| Top speed | 45km/h |
| Range | 45-55km |
| Tyre | 90/90-10 tubeless |
| Charging time | 6-7 hours |
| Battery | 48V31Ah lithium-ion |
| Ground clearance | 126mm |
| Weight | 72kg |
| Motor | 1500W |
| Peak power | 1488W |
The price of NIU MQI+ Sport in Nepal is Rs 276,000.
6. NIU GOVA G-03
Another NIU masterpiece is the NIU GOVA G-03 electric scooter. The GOVA G-03 is just slightly more expensive than the MQI+ Sport. The scooter has the feature of EBS (energy recycling system), which converts the braking energy into battery power. It uses 100 per cent smart lithium battery technology and cruise control.
The GOVA G-03 has a 2000W motor giving 2200W peak power. It gives about 60-70km in full charge. The top speed of the scooter is 60km/h. It has a ground clearance of 110mm and a seat height of 745mm.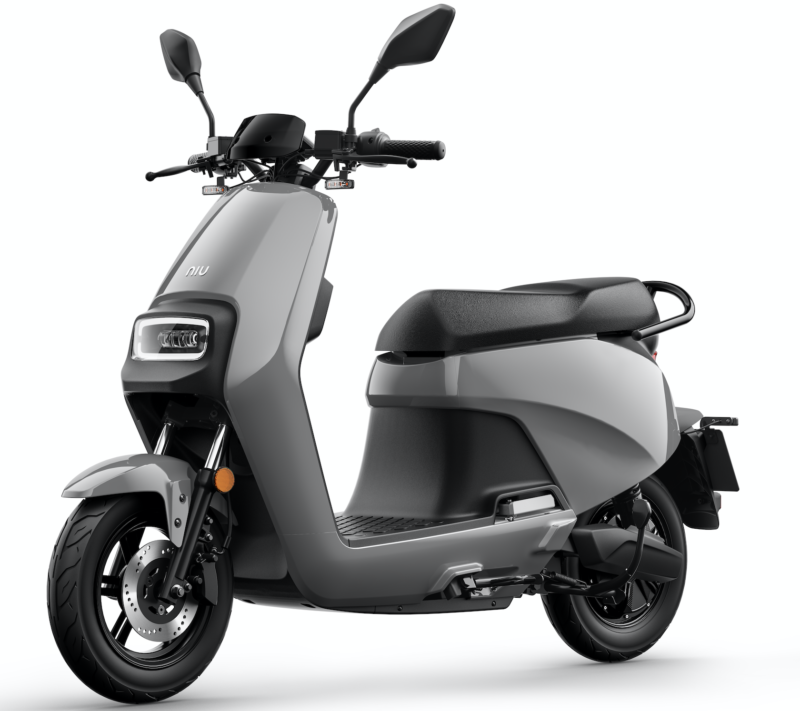 Specifications
| | |
| --- | --- |
| Range | 60-70km |
| Top speed | 60km/h |
| Charging time | 4-5 hours |
| Motor | 2000W |
| Battery | 60V40Ah lithium-ion |
| Max power | 2200W |
| Weight | 72kh |
| Tyres | 3.00-10 – Dual disc |
| Seat height | 745mm |
| Ground clearance | 110mm |
The price of NIU GOVA G-03 is Rs 277,000.
7. Segway Ninebot E100
Segway is a widely known company all around the world with the introduction of the original Segway. Delivering some of the best electric transports, Segway also has various products in the Nepali market. Ihub Pvt Ltd, led by Lokesh Oli, also known as Bijuli Dai, is an authorised importer and distributor in Nepal for Segway-Ninebot.
One of them is the famous electric scooter Segway Ninebot E100. E100 comes with some of the best features including safety, a keyless system and many more. E100 has a top speed of about 58km/h and a range of about 60-100km. The scooter has a Matrix LED headlight with six lenses that uses intelligent sensor technology to automatically adjust the brightness in response to the environment.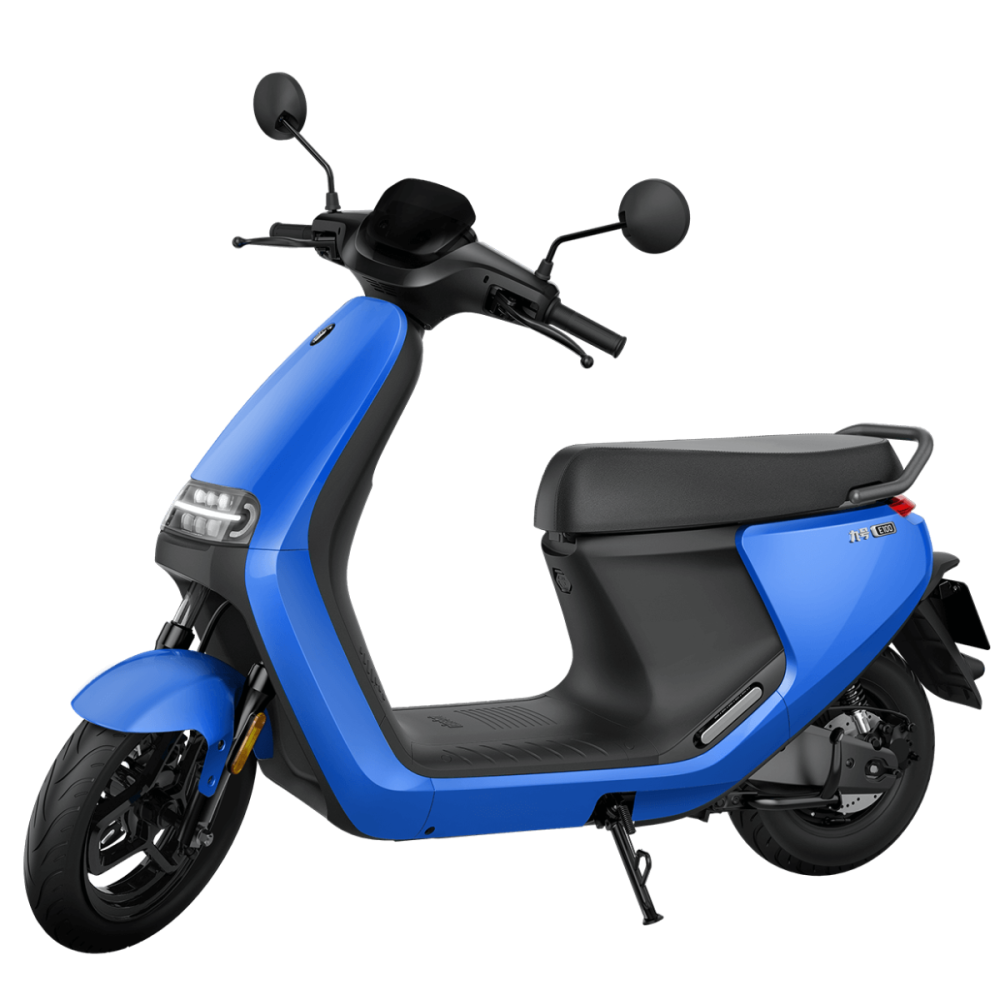 Specifications
Dimension
1755*675*1135*mm
Weight
80kg
Top speed
58km/h
Range
60-100km
Max power
2400W
Brake
Front: Disc
Rear: Disc
Charging time
7-8 hour
Ground clearance
130mm
Tyre
Patented anti-skid tubeless tyres
Motor
Tailored brushless motor
Loading Capacity
150kg
The price of Segway Ninebot E100 is Rs 291,000.