On June 17, the Clean Environment Protection Nepal Pvt Ltd, a waste management company, handed over Najina (name changed), a Baber Mahal native, a bill of Rs 300. As the company had not picked up waste a single time throughout May, she refused to pay. After that, a company representative hung the bill on her door.
"If we don't pay as per their demand, they will stop picking up the garbage. We don't have an option to not pay. Even if we're not satisfied, we still have to pay," says Najina.
Most of the households in Kathmandu are facing the same problem as Najina. Waste management companies that do not pick up garbage are still collecting fees, telling people that it is not their fault. Putting the blame on the Kathmandu metropolitan city and the locals of the landfill sites—Sisdol and Bancharedanda— they continue to charge people money without providing any sort of service.
The dispute between locals of Sisdol and Bancharedanda and the KMC has been going on for years. Locals complain they are suffering due to the chaotic and unscientific garbage dumping process, due to which the dispute flares up time and again. Yet, it has never been resolved completely.
The government was supposed to use Sisdol to dump the garbage for only three years. However, it has been 17 years now that the area has been used as a landfill site. Yet, nothing innovative has been done for solid waste management. Bancharedanda is the newest landfill site, but it still dumps waste in an antiquated manner, which is now generating issues for everyone.
Overall, looking critically into the issue, it seems politics and money-mindedness are even dirtier than the waste management problem itself as far as Nepal's capital city is concerned.
Companies working without an agreement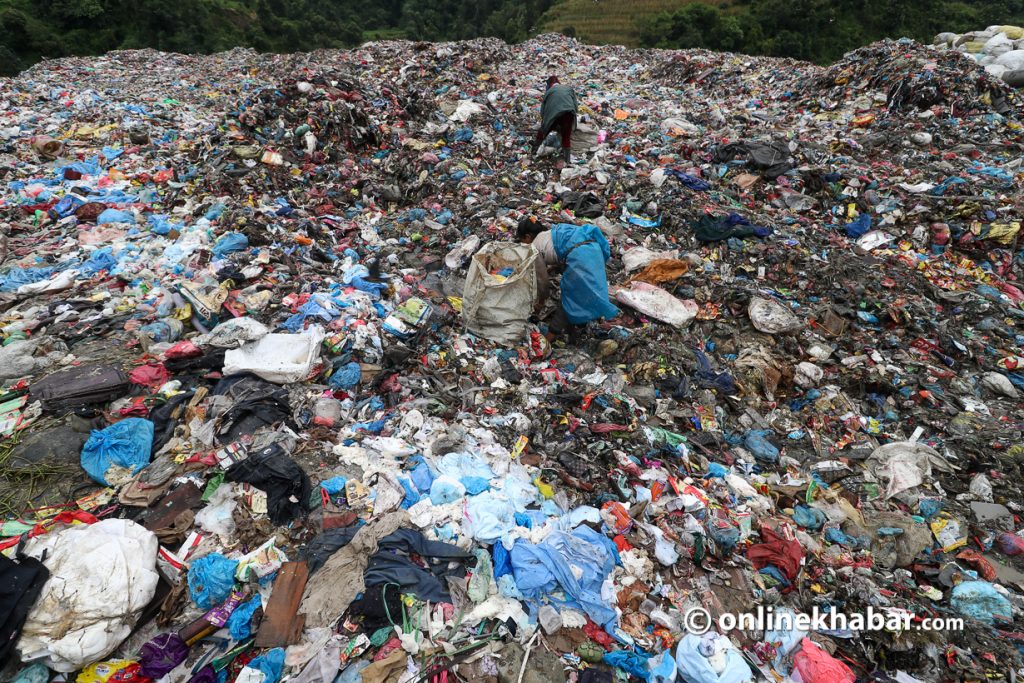 There are dozens of waste management companies in the Kathmandu valley. According to Sarita Rai, acting head of the Environment Department of Kathmandu metropolitan city, such organisations and companies–either private or community-run–have not entered into any agreement with the municipalities including Kathmandu and Lalitpur.
Some of them are running their companies according to the Association Registration Act and some are in accordance with the Company Act. However, there is no government body to make these organisations accountable for their actions. Some organisations and companies have even reached an understanding with some municipalities to pick up garbage, but with no monitoring, these agreements are restricted to paper. Even though these private companies collect fees, no one has data regarding the amount of waste they collect or the money they earn.
The Kathmandu metropolitan city is aware of 32 such organisations active in waste management within the city. However, apart from these, other organisations and groups are also collecting waste on their own.
"Those companies in our watch pick up garbage in coordination with us," says Rai, "In some wards, we also pick up garbage ourselves."
The economic side of the waste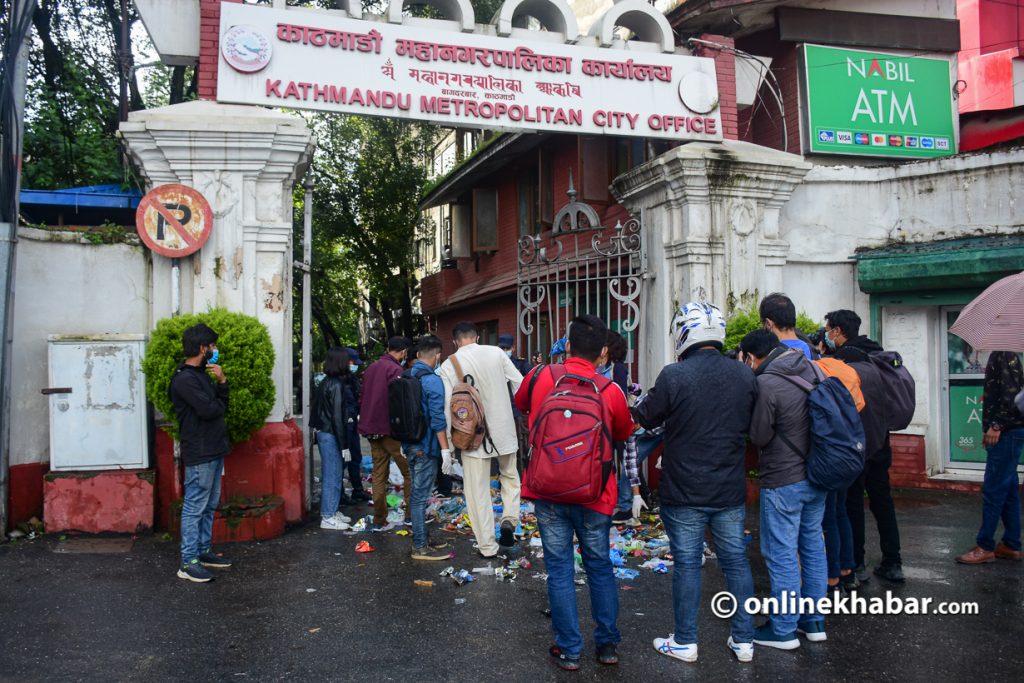 The tactic of 'earn cash from your trash' has been in trend in Nepal for a long time. However, the capital city itself has failed to pave the way for it. Instead, the new tactic of 'politics over garbage' has found a place.
Experts say that the current situation of chaos in Kathmandu's waste management is the result of the inability of both the public and the government to understand the economics of waste and negligence in the process of solid waste management.
Urban infrastructure specialist Ashish Gajurel claims that if practices like waste sorting, organic (manure) utilisation, reuse, recycling, and processing are not implemented, society, ecology, and health will suffer. "Using the scientific method of solid waste management is the solution to some of the existing problems," he says.
According to government statistics, the share of Kathmandu metropolitan city in the garbage collected in the valley is more than others. But Lalitpur metropolis and other municipalities also account for more than half of the total waste amount.
Under normal circumstances, an average of 1,100 tons of waste reaches Sisdol daily from Kathmandu and surrounding municipalities. An average of 511 tons of rubbish is produced daily from Kathmandu and 523 tons from other nearby cities including Lalitpur. Waste from Banepa and Mandandeupur of Kavre also goes to Bancharedanda.
There are about 500,000 households in the Kathmandu valley. Most of them come out with some kind of waste on a daily basis. Various government offices, community, commercial and industrial associations in the city are also waste producers and a minimum of Rs 350 is charged as the fee to collect their waste. Hence, more than Rs 2 billion is collected annually by picking up the waste in the valley.
Moreover, an official of the Kathmandu metropolitan city's Environment Department adds that income from solid waste management will be more than the amount charged by the organisation to the customers. "Even if you can't separate everything from the garbage, there are a lot of things that can be sold as soon as it is taken out," the official says.
However, Mitra Prasad Ghimire, the general secretary of the Solid Waste Management Association of Nepal, says that private companies are collecting waste from only 200,000 households. "We are collecting money at an average rate of Rs 350. The government's claim of private companies picking up trash from 500,000 households is not true," he says.
According to Ghimire's claim, the public has been paying around Rs 1 billion annually for waste management. He adds the companies collect waste from Rs 50 to Rs 420 per customer. However, he adds that they also have to spend on workers' salaries and garbage trucks.
"We spend up to Rs 28,000 on salary facility including the contribution to the social security fund for the employees. We have also provided insurance," he says. "We have provided direct employment to 2,315 people."
He claims that sorting waste is another way that companies make money. By sorting the waste collected by charging the price of Rs 3.5 million, they can get an average income of Rs 600,000. Ghimire, however, claims that the companies' earnings do not match what the government authorities have claimed. "The government has no justification to overlook our contribution to trash management."
The Kathmandu metropolitan city alone has been spending around Rs 350 million annually on waste management. Adding the cost of other cities, such expenditure is estimated to reach Rs 1 billion. Despite spending Rs 3 billion annually from consumers and the government, waste collection, management and transportation are chaotic in the valley.
The political unwillingness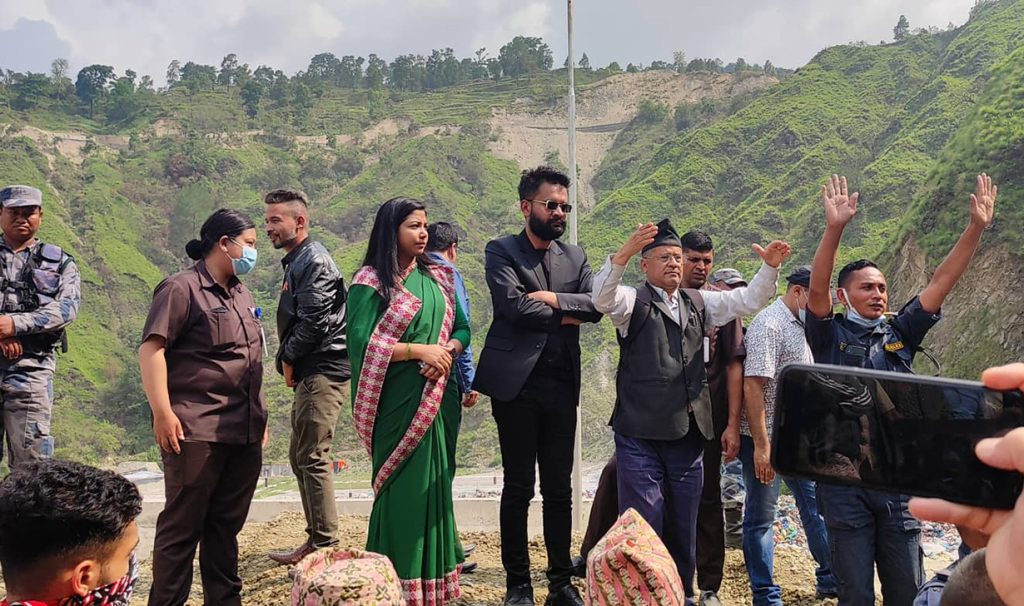 An official of the Kathmandu metropolis' Environment Department further says the waste management problem is not only an economic one, but it has some political nature too. "It's not just about money, it's about politics," he says.
He is of the view that there is no need to abuse the garbage collection company. He adds that discouraging them would make waste management more complicated.
"We have been urging the metropolitan leadership for years to move ahead in a scientific way. People must be encouraged to at least segregate their waste at source," he says. The situation of taking away will not end the problem."
Kathmandu and Lalitpur metropolitan cities have committed to collecting waste by sorting decomposable and non-decomposable garbage from the household from July 17. So far, there is no preparation for the same as committed to locals of landfill sites. If such an arrangement is made mandatory, it is expected that the result of waste will be reduced and its management will be easier.
It has not been decided how the companies and organisations will be working to collect the garbage on July 17. However, if waste is sorted out at the source, the efforts of private companies are likely to decrease and the income from non-decomposable waste is also likely to increase.
Foreign companies are also attracted to invest in solid waste management in the Kathmandu valley due to the possibility of a good income. It has been 11 years since the process of bringing in foreign investment was launched to make the waste management of the Kathmandu valley scientific, systematic, return-oriented and environment-friendly. However, due to government indifference, the plan has not materialised yet.
The Kathmandu metropolitan city has already signed a preliminary project development agreement with a company ready to take charge of waste management, but the full project development agreement (PDA) has stalled.
Thus, the previous leadership of the city government was reluctant to bring in foreign companies. It is unclear at this time whether Balen Shah's leadership will lead this project further or will come out with a new idea.
According to the preliminary agreement, private companies will be able to pick up waste within a year of the PDA, and it is estimated that it will take another two years to build the infrastructure to benefit from the garbage. Three years after the PDA, the metropolis will start earning income from the waste. The metropolis is estimated to receive up to Rs 50 million in the first year and up to Rs 180 million annual royalty till its last year.
According to the proposal, Nepwaste will set up a processing and production site at the landfill site of Bancharedanda under the project. Teku is planned to be used as a transfer station. The company has also asked for another transfer plant. According to the preliminary PDA, the company can only dispose of 20 per cent of the waste, and 80 per cent must be reused and reused in some way.
"For now, the proposed project is the easiest way to manage waste in the valley," says Saroj Basnet, the former vice-chairperson of KMC's City Planning Commission. "If we move forward accordingly, waste management would not be a problem, as waste could become an opportunity for us to learn management and technology along with a chance to earn."
---
This story was translated from the original Nepali version and edited for clarity and length.