In December 2020, Utsah Joshi aka Uniq Poet released his album 'Kaalo' on the Liveasily website. The reason he said he had to do that was that there weren't any local platforms on which he could sell his music. He even integrated eSewa into the site and offered a discount for the first few buyers.
With cassettes obsolete, CDs gradually phasing out and pen drive still expensive, local album sales for artists in Nepal has become quite limited. Most sell them during their shows while some try to do what Joshi did and sell them digitally via their respective websites. There are also a lot who do not even bother selling them and put the entire albums up on YouTube for free.
But, things are changing in Nepal. A group of musicians have started a platform on which the artists will be directly able to sell their singles and albums along with their merchandise to their fans.
The application named Noodle, launched on April 10, has been designed and managed by musicians themselves and is a part of the bigger picture named Noodle Rex. The core team includes some of the stalwarts of Nepal's emerging music scene like Ritavrat Joshi, Bartika Eam Rai, Sushant Roy, Avishek KC and Suzeena Shrestha.
The new music market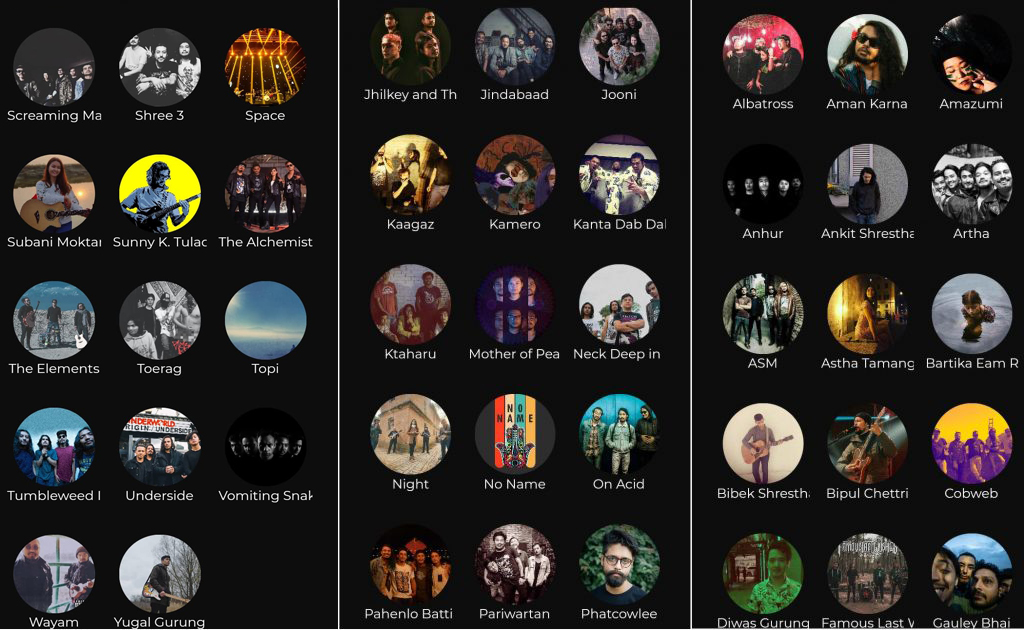 "This was something that's been in all the artists' mind. I know many have wanted to start something like this for a while," says Ritavrat Joshi, one of the co-founders of Noodle. "The main aim is to change the listening culture – to shake up things a bit – to spice up the music scene in Nepal."
The app so far has over 50 artists affiliated with it. These artists range from bands like Albatross and Jindabad to individual singers like Bipul Chhetri and Bartika Eam Rai. People can buy entire albums or songs of their choosing from any corner of the world.
"Everyone in our team knows how hard it is to produce and release a single song. We just want to make it easy for the artists to recoup some amount they've spent on producing the song," says Joshi, who looks after the acquisition, content creation and finances in the group.
The app has an extremely user-friendly interface due to Sushant Roy's tireless dedication and a knack for visual presentation and appeal. After one logs in, they can listen to 30-second normal quality previews of songs from various artists. The full HQ song, priced at a minimum of Rs 99, can be purchased in HD straight to one's phone.
Artists now have much more freedom and security too because direct support and communication is possible with Noodle as this is a local platform. One can pay for the single or the album using various payment platforms. VISA, Mastercard and Unionpay will also be added to the platform soon.
The team says that they have kept Rs. 99 as minimum taking into consideration the price of making a song or an album and to provide a fair share to the artist. Furthermore, they (musicians) can choose a higher price as well.
"We wanted to make it as simple for the audience and fair for the musicians," say the team.
As it is built by and for musicians, the app does not charge money from artists who are interested to upload their songs. There is one criterion, however: The songs have to be original and must be provided to Noodle in high quality.
"People will be shocked to see how better the sound quality of songs downloaded from Noodle is compared to YouTube," said the team, who add that they have not limited the app to a specific genre as they welcome all types of music.
Mannu Shahi from Jaire says that this is platform is great news for small bands like theirs.
"We hadn't even imagined that a small local band like us could be included amidst the country's most iconic outfits. It feels great to have our work featured alongside some of the biggest names in Nepal's music scene," says Shahi.
Response and reception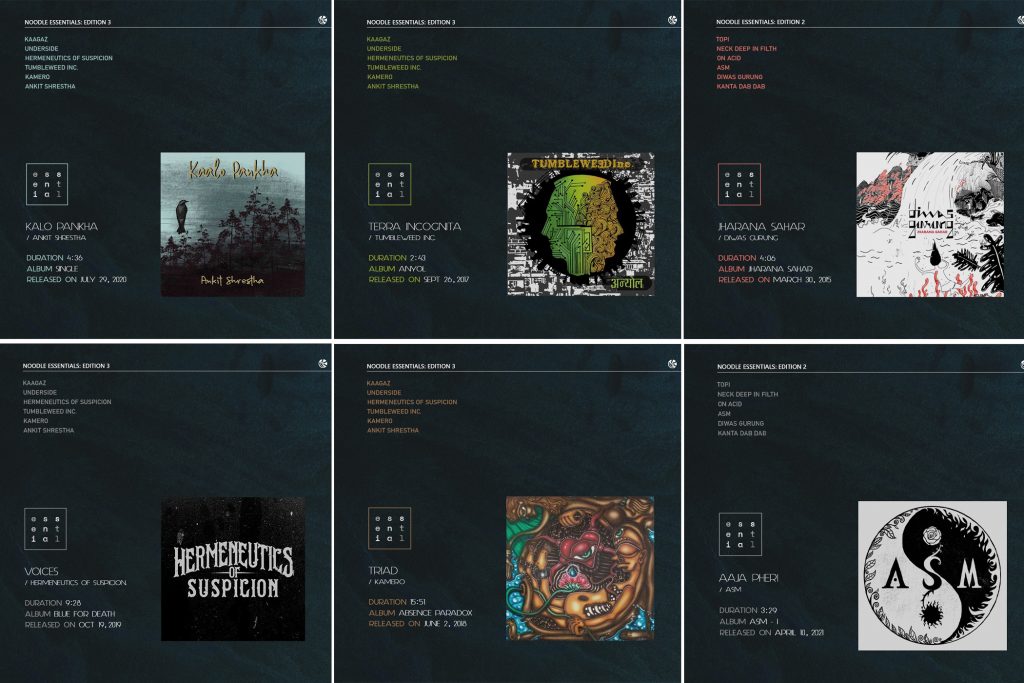 This platform has been welcomed by many musicians as they feel that many peers have been exploited in the name of giving exposure.
"This is exactly what we needed because artists need money to fund their art," says Abhishek S Mishra from ASM, whose recent album was launched on Noodle itself through an event at Beers N' Cheers, Jhamsikhel. "I know it's going to take time, but if we can replicate the cassette and CD days when artists actually had a medium of independent sales, we will have a good ecosystem which can sustain itself for a time being."
Mishra says that many artists have had to quit doing original music because it was not enough to sustain themselves. There are only a few musicians who can make a living out of music and music alone. That is why many resort to side hustles or a proper day job while continuing to pursue music on the sideline.
The only money musicians actually make from doing music is by doing gigs around Kathmandu valley and in different parts of the country and from merch sales that adds a lot of hassle to their already tedious market. But, that too is quite far and few, which has emphasised a need for a platform like Noodle.
"It takes months and even years to compose and write an album, not to mention the practice sessions and the process of recording it," says Nikita Shrestha from Space. "Many even tell us how incomplete their lives are without music. I hope that through this, they can support artists which can give us the motivation to continue doing that we love."
Ishan Onta from The Elements also feels that this is what the music scene has needed. "The community has always talked about a gap in the music-buying culture because of the lack of an accessible bridge between the audience and the artist. Noodle has flawlessly created this possibility and we cannot be happier enough," says Onta, who adds he feels motivated.
So far, the app has over 2,000 downloads and has been getting some good responses from the users. In its first month, Noodle has sold 79 albums, 21 EPs and 389 singles. Albatross, on May 14 released their new album 'Suchana Suchana' which in its first week sold over 200 copies.
Sustainability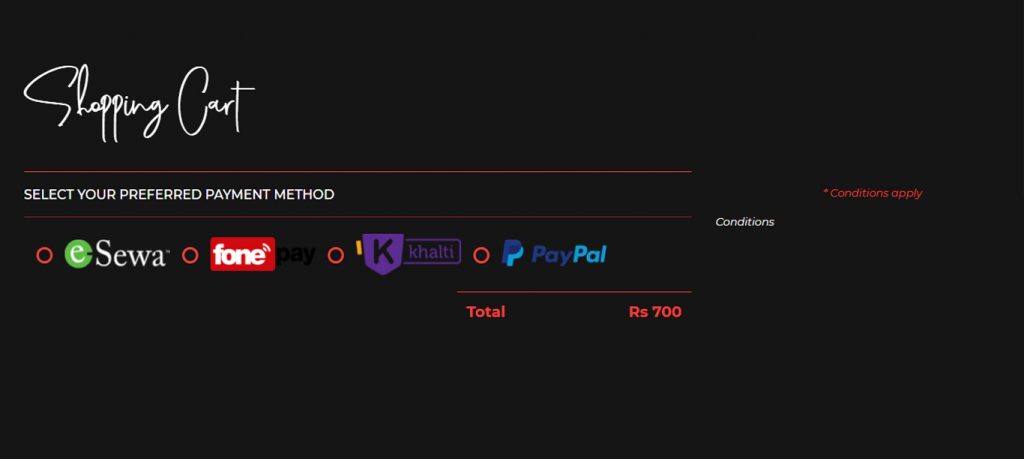 This goes to show that people are willing to buy music. But, with streaming platforms like Spotify now available in Nepal and with musicians already using YouTube to put their music out there, there are questions if these numbers will increase.
"Our message is very clear. We are not against the streaming culture in any way. YouTube and Spotify and many more have played a pivotal role in making many of our artists reach their true deserved success. But, our principle is that – not every artist will get to achieve that and everything shouldn't be based on views, likes, streams and subscribers. Nothing benefits the artists more than direct music purchase," add the team.
Rajan Shrestha, a music producer and member of popular Nepali band Jindabad, says that people who truly want to support musicians will definitely buy their albums.
"People who say–the song is on YouTube so I will not buy–are people who never support musicians. Those who really care will want to buy, I'm sure about that," says Rajan.
When asked if Noodle will ask the affiliated artists to stop posting on YouTube, Joshi says they will do no such thing.
"This is completely up to the artists. We just wish to promote the culture of buying songs and getting genuine copies – something that has always been almost non-existent in our scene. We aren't an authority. We're just a platform," says Joshi. "But, everyone knows that 30 album sales will give artists more money than they earn from YouTube and Spotify combined. But, definitely, there are some exceptions. We just hope that people will look into the payment ratios and audio quality of such platforms. More importantly, artists now have the option for exclusive purchase releases in HQ."
Shrestha also feels that the artists should have the final say but adds that it needs to be a bit strategic.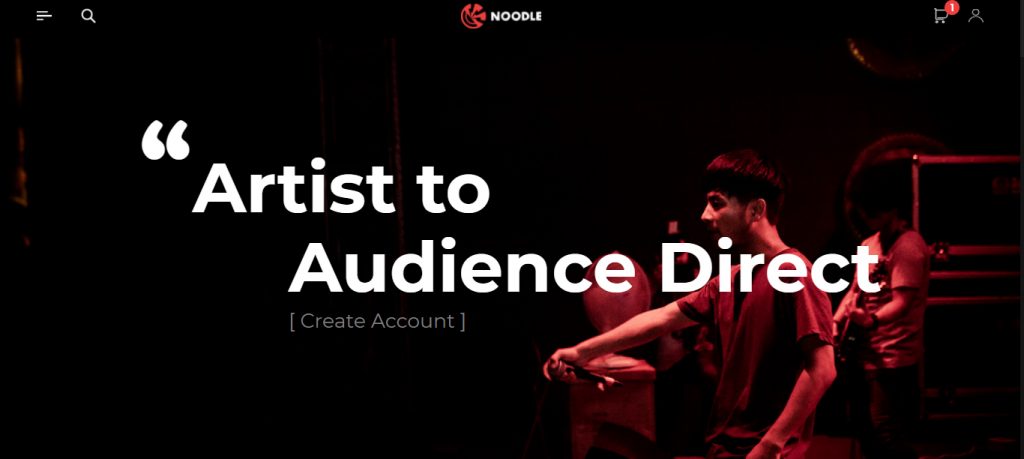 "People who say they'll listen to it on YouTube are the people who will never buy albums or singles. Now putting out music on YouTube is good, but we strategically plan what to put on YouTube," says Shrestha.
The app also has a space to sell merchandises and that, to many, is an exciting prospect. Ankit Shrestha, a singer and songerwriter based in New York, says he is very excited that he will be able to sell both his albums and merchandise through the app.
"It's quite good because this can be a good side income for musicians who mostly rely on live events for income," he says. "With Noodle taking care of most things, musicians can now focus on making music."
Crowdfunding, studio deals, tours, gigs and much more – Noodle has multiple features to be unlocked still.
"We've been doing gigs and tours in direct coordination with the musicians as well," says Joshi. "We recently carried out the Kathmandu tour of Retro Rockets and Zero Brains, bands from Itahari and Dharan respectively, around five venues. We want to give space to new artists and empower the community. Noodle is much more than just a music sales portal."