When Utsaha Joshi aka Uniq Poet, donning an 'Underdog' t-shirt, came out to battle Asis Rana aka Laure at a Raw Barz event in 2013, everyone was psyched.
There were about 200 people, maybe even more. This was the battle everyone wanted to see: the underdog versus the pro.
And, it did not disappoint them. The rap battle has been watched nearly 16 million times since it was released seven years ago. Even Rana, who won that battle, looked impressed at how unfazed the then 19-year-old Joshi looked. It was evident that, like his rapper alias, the dude (Joshi) was unique.
Fast-forward to now, Joshi has become a stalwart in Nepal's ever-growing hip-hop scene. He has released over 40 songs and is working on his debut album. But he doesn't want to stop at that. He is determined to do more.
Learning from Eminem, applying to 'nep-hop'
Joshi got into hip-hop when he was around 16. But, the rapper in him was awoken even before that. Growing up in a house with a poet, a young Joshi developed a love for writing. He regularly wrote poems and recited them at home and at school. But, his first encounter with rapping and hip-hop came thanks to rap legend Eminem.
"I was browsing through MTV and stumbled upon Eminem's Just Lose It," he says. "I was hooked. He was amazing. After watching that, I wanted to explore more and maybe do it myself too."
He wanted to learn, but he did not have anything to go by. The rap scene in Nepal, which had made a mark thanks to Girish and Pranil, DA 69 and others, was dead in 2010. So Joshi took to the internet to learn techniques.
"I learnt a lot on the internet. I was inspired by rappers like 2pac, Biggie, Kendrik Lamar, J Cole and others," he says. "I was aware of Nepali rappers, but back then, their work did not really appeal to me."
Learning from them, Joshi kept on motivating himself to do better. He kept on posting videos on a Facebook group for rappers. Watching his video was Yama Buddha.
"I messaged him one day, telling him what I wanted to do. He was very supportive and called me to record a mix-tape at his studio," says Joshi. "Soon after, he shared how he wanted to build a community for rappers so that it would be easy for the future generation and asked me to come to perform at Raw Barz."
Joshi says Raw Barz has been huge not just for him, but for 'nep-hop' in general. He says it did two things: create a space for new rappers and give them the audience base for the future.
"I think everyone benefited from Raw Barz. The audience that me, Sacar or even Laure get is thanks to that platform," he says.
Tough balance between risks and returns
But, getting into rap in a country like Nepal where most families are conservative was (and is) not easy. Joshi soon learnt that.
When his rap battle with Sacar was aired, someone showed it to his mother. Watching her son use derogatory words upset her. His other family members were not pleased either. The situation got so out of hand; Joshi had to ask Yama Budhha to take the video down.
"He agreed. I think the video was down for two to three weeks."
Another challenge he had was to balance his study and his newfound passion. Growing up, Joshi was very studious. Not wanting their child to ruin his studies, his family always told him to drop rap and asked him to focus on his studies.
"Initially, they felt that this was just a hobby. But, when they realised how invested I was, they got a bit agitated," he says. "I even dropped out of studying public health. I felt I could do better."
In a bid to make up, Joshi then left for Australia in 2014 to pursue an undergraduate degree in application development.
Going to Australia, leaving rap behind, only fuelled the fire in his belly. He missed rapping. Having to manage between making a living and going to college, he missed music.
"I realised how much music meant to me," he says.
After two years, he came back. At first, his parents were sceptical, but they agreed. He transferred his credits to Nepal and completed his bachelors. He even went to Austria for an internship at an IT company.
"Balancing my studies and my passion has not been easy," he says. "There were times that I used to think if I was making the right choice. Sometimes, I still do."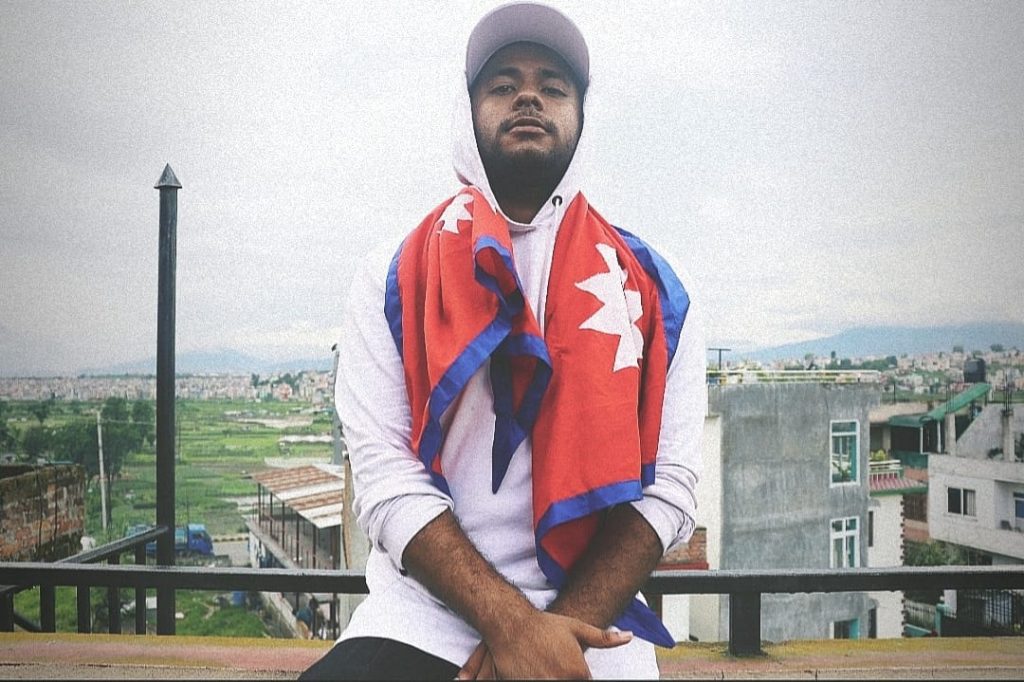 Pushing boundaries
But, he has been getting a lot of love from his fan base. Most of the videos he has released have done well. Some songs have even reached as high as 3.5 million views.
One of the reasons for that is that his songs have great flow and rhythm and are lyrically powerful. Unlike other rappers, his songs have a message in them. Some are so upbeat that you can dance to them. Some are so articulate, it will make you think. And, that is what he is trying to do.
"I don't want to limit myself and do just one type of rap," he says. "I want to do different things and push boundaries."
That is exactly what he has been doing since he started. He has worked with Albatross, Robin Tamang, Rohit Shakya among others. Recently, he collaborated with 34 other rappers and did a rap cypher.
"I've always learnt a lot doing these projects. It's been great so far. But there is more I want to do," he says.
By more, he says he wants to learn the art of production and also work on his hooks. "I have some flaws that I want to work on. I'm always open to learning."
Then, he wants to improve the culture of unity in the Nepali hip-hop community.
"There is a 'dis-culture' prevalent in the hip-hop scene in Nepal," he says. "Someone will not like something and dis the other. But, I feel that good in a way because I feel hip-hop is very ego-driven and sometimes we need that kick-up the backside."
He believes that has pushed rappers to produce more songs and albums.
"If you look at the music industry in Nepal, other genres aren't producing as many albums as us rappers. Yodda released a new album, I'm releasing mine, and I think Nasty's coming up with a couple so I think we're evolving slowly."
When asked if he felt Nepal had creative freedom, he says it does. But, he is aware that once a content scales up and reaches the mass, then things can go south.
"I think we need to be smart when releasing songs. If we want to criticise the government, we need to do it in a subtle way. There is sure to be friction between us and them because they have a lot more power than we do. This has happened even in the developed countries," he says.
He does say he is a bit anxious about what the future holds for hip-hop. He says that for hip-hop to reach the next step, Nepali rappers might have to sign up with an international record label.
"We are making a name internationally, especially in India. But, for us to reach the international level, a lot of work needs to be put in."
—
You can pre-order his debut album Kaalo here.