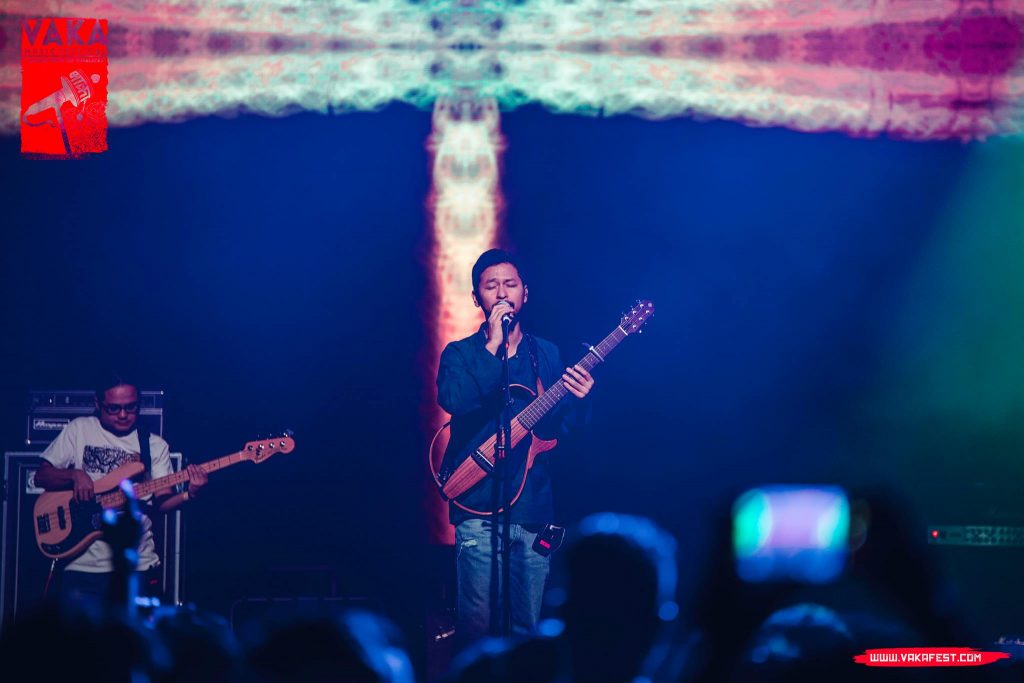 Bipul Chettri is a widely known singer who is famous for his unique style of music. He uses the fusion of Nepali folk tunes with western musical elements. Chettri is also considered a trendsetter in singing folk songs with a contemporary touch, earning a lot of fans for his work.
He has contributed a diverse genre of songs to the Nepali music industry and we have picked the 10 best songs among them.
1. Wildfire/Dadhelo
Wildfire/Dadhelo is the first ever song written by Bipul Chettri, in 2013. He published the song on YouTube in 2014. The song garnered immense popularity because of its style. Wildfire/Dadhelo from Chettri's debut album Sketches of Darjeeling has a unique sound and is hence more appealing than other existing Nepali songs. It has easily captivated the audience in larger numbers.  
2. Mountain High
Mountain High is also a song from the album Sketches of Darjeeling, but unlike Wildfire/Dadhelo, the song has heavy music that gives a flavour of rock music. The song sounds energetic and is even good to listen to if you want to do some headbanging. 
3. Deurali
Beginning with a lovely guitar plucking, Deurali is another popular song by Bipul Chettri. The work of sarangi in the song is another thing that makes it additionally lovable. This song is also from the Sketches of Darjeeling. In this song, the singer says he wants to live his life again, going far from all, leaving all the chaos. 
4. Junkeri
Junkeri is from Chettri's second album Maya, which is easy on the ears. This song is entirely arranged in melodious guitar pluckings, shaker and sarangi. Its lyrics tell that the singer wants to fly like Junkiri (fireflies), but he is not sure about the destination. The song was released in 2016 on YouTube. 
5. Ashish
Aashish (Blessings) is a very personal song for Bipul Chettri as he wrote this song after his daughter was born. He believes that every person who has been blessed with a child can relate to this song. The song has strong and emotional lyrics for the child asking them to enjoy life.
6. Syndicate
According to Chettri, Syndicate is a simple story of two ordinary people. They are sharing a public space yet have their individual fantasy world that they enjoy imagining sometimes. The song has a funky rhythmic pattern that propels you to move your body. Syndicate won Hits FM Music Awards for Best Pop/Rock Composition and Best Male Pop Vocal Performance in 2015.
7. Asar
Chettri was inspired by the monsoon season to write Asar. The monsoon season is called Asar in Nepali vernacular. Chettri says, "The monsoons in my hometown have always been special to me and therefore the inspiration for this song. The sound of the rainfall on tin roofs is the sweetest noise I have ever heard."
8. Katai Uslai
Katai Uslai is one of the latest releases of Chettri that hit YouTube in 2021. According to the singer, this song is about a yearning for closure, forgiveness and absolution of a person who wishes to go back in time and set things right.
The music video of the song features people from different walks of life ranging from singers to models to senior citizens and others. 
9. Ram Saili
Ram Saili is another popular song by Bipul Chettri. The beauty of this song can be found specifically in its composition, which has soft and soothing tunes. It is all thanks to Narendra Mohan Chettri, the composer of the song.  
10. Gahiro Gahiro
Gahiro Gahiro is one of the most soulful songs by Chettri. The major thing that makes this song soulful is its arrangement, which is accompanied by a cello, Irish tin whistle, and flute. The song was released in 2018.