Ankit Shrestha, carrying a guitar, often frequents the subway stations in New York City. He is not there to board any train. The 27-year-old is there for something else.
He picks a spot, places his bucket in front of him and starts busking. This is his routine whenever he is free. "I've been doing this since I came to the US from Nepal in 2013," he says. "It's helped out a lot as it's made me a better singer and a musician."
Sometimes he does it for two hours, sometimes six. Having done music all his life, to him this is more than just a means to earn money, it has become a place to show his talents and learn.
Using the skills that he learnt through busking and in the class at the Truman State University, he has released two albums and is in the course to do more as in half a decade, he, through his soulful melodies and relatable lyrics, is touching the hearts of Nepalis in Nepal and around the world.
Into busking in the US
Shrestha started music when he was 10-years-old. As an elective, he chose a guitar as he was drawn by it. Seeing his passion, his mother bought him a guitar, after which he and his guitar were inseparable. By the time he was 13, he was listening to popular English rock bands and by 15, he was deeply engrossed in metal and heavy metal.
In high school, he was a part of Wings of Spasm, a metal band and took part in various competitions that took place in the valley. With the vocalist of the band moving to the US, Shrestha along with a few others formed another band Plan Aftermath in 2012 releasing an EP called Abomination.
"Soon, I moved to Kirksville, Missouri to pursue a bachelors degree in music."
Life in the US was different. Having been part of a band in Nepal, he tried to look for people he could play with. But, with college work and everyone busy, he hardly found anyone to play with.
However, soon, an opportunity came along. It was the summer of 2013 and he had gone to Ocean City in Maryland to work. There, he saw people on the beach playing songs to passers-by. That gave him an idea to do the same.
"What did I have to lose?" he recalls, "I got to play music as a part of a job. That is what I've always wanted to do. I loved doing it. That year I played as much as 8 hours a day earning a decent amount in the process."
Moving beyond busking
But, he did more than just earn a few bucks. He started to learn how to perform. Having been the lead member of Plan Aftermath, he had already started to sing. But, busking gave him a chance to get better at singing and introduced him to the indie genre. Busking also helped him write songs as not a day went by without something interesting happening around him.
"I used to listen to a lot of singer-songwriters in Nepal too but never really played their songs," he says. "At Ocean City, I saw how much people enjoyed listening to that type of music. I quite liked playing it too."
As he continued his studies, he started to write and compose songs in his apartment in Kirksville. With the US indie music now well within his veins, he started to produce a similar type of songs, both in English and Nepali.
Going to Ocean City became a regular thing for Shrestha as did busking. He says busking shaped him from a guitarist into a singer as he started to see changes in his voice.
"My vocal tone started to get better. It also became a good place to practise new songs."
Learning a lot through busking, in 2015, he released his first album Fingers and Fables that comprises both Nepali and English songs.
"It was recorded in my room with a help of a friend."
Taking the show ahead
Busking wasn't always easy. There were days when people used to run away with his hard-earned money. Some days, he would return with little to no money. But, to him, it was all a part of the learning curve, he says.
By 2017, he was done with his undergrad. Wanting to make it in the music scene, he knew he had to move away from Kirksville. After looking at few options, he decided to relocate to New York City.
"It was a whole different place. You could busk anywhere, given you were not disturbing people and the crowd too were quite receptive. The busking scenario is so great that it was a no-brainer to move here."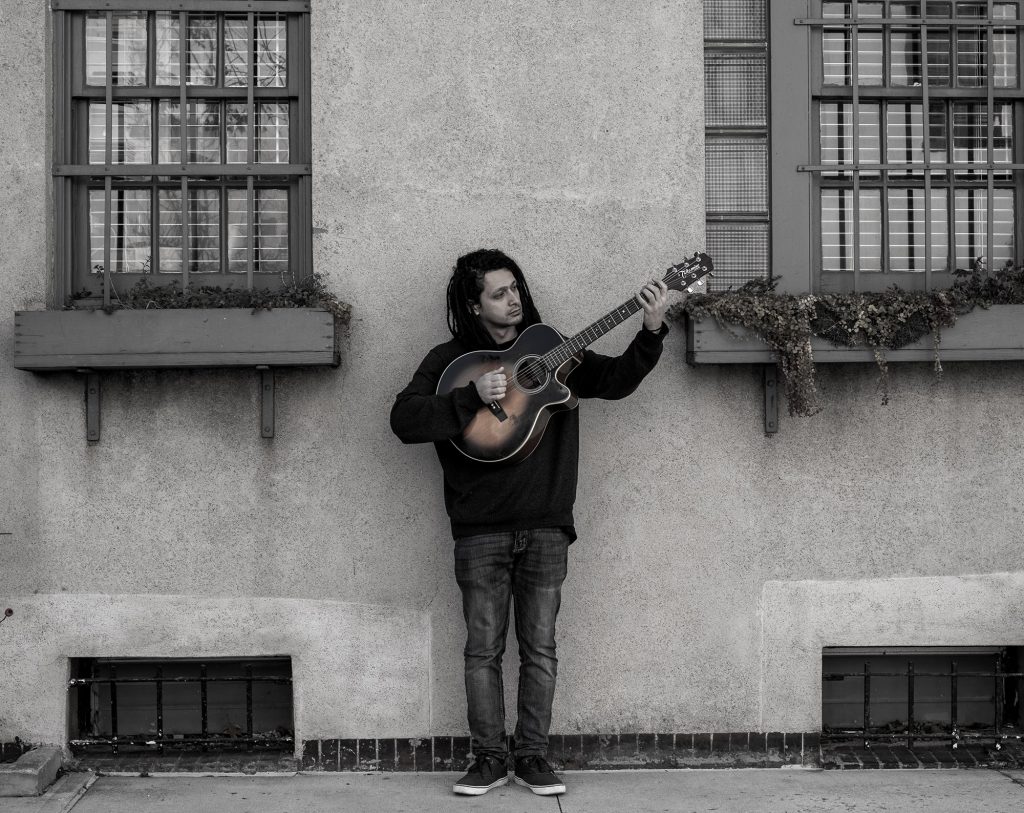 The same year he went to Dallas of Texas to record his second album Kathmandu Saharma with the help of his friend Davin Shakya. The album he says has songs centring around his life in Nepal and in the US and his relationship with people.
But with his visa expiring, he moved back to Nepal in 2018. But, his stay here did not last as much as at the end of 2018 he was back in New York to study a course in audio engineering.
"I wanted to learn more about mixing and mastering. In Nepal, there is not a course in this, which is why I came back to New York where I could do a lot."
He is now graduated and is on course to release a new album. He has been releasing singles sporadically but wants to release an album. He wants to do so because a lot of his peers, who are spread across the globe, inspire him to do so.
This is why even though he struggles writing Nepali lyrics, he tries and wants to keep releasing Nepali songs because he knows that there is a demand for the type of songs that he releases.
"I've released around five in 2020, but this year, I want to release a few more but in English. I want to compile it and release it."
He says that he does not plan much for the future, but, that said he has planned what he is going to this year.
"I've been fascinated with vinyl for a while. After I complete recording all these songs, I'll make a vinyl."