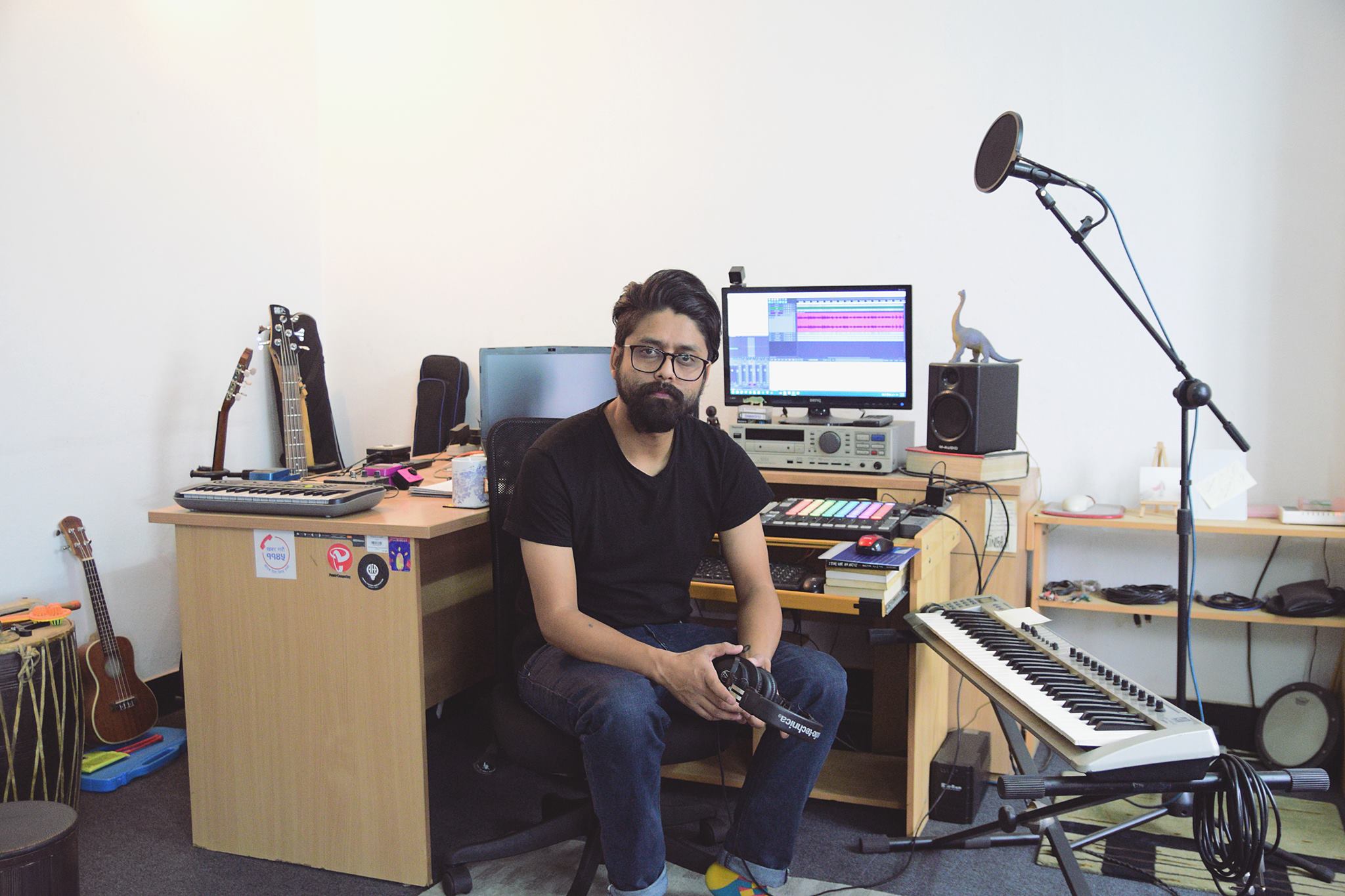 Over his two decade long musical career, Rajan Shrestha, 37, has engaged himself in a number of projects. He's been a bassist at some of Nepal's top underground bands like Jindabaad and Atomic Bush; and has also done a lot of video projects mainly as an editor. But in 2013, Shrestha decided to do something for himself and started to produce and sing songs under his alias, Phatcowlee.
"Phatcowlee is my expression, it is the music buried inside me," he says sitting in front of his 'system' which has a computer, a push, a few guitars, a keyboard and a microphone.
Phatcowlee and freedom
The name Phatcowlee, according to Shrestha, doesn't really mean anything. "One day, my mom brought home a massive cauliflower. On the same day, I had clicked a photograph of a fat cow. While playing on Photoshop, I replaced the head of the cow with the cowlee (cauliflower in Nepali) and that gave birth to Phatcowlee."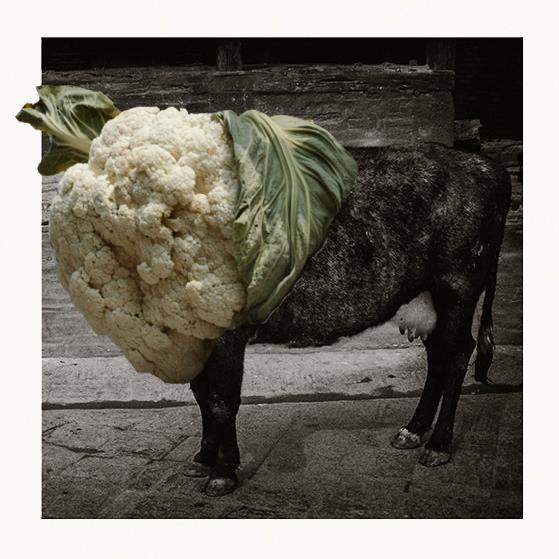 "I was trying to do something different. Playing in a band was getting monotonous as working at a recording studio. I also took a two-year sabbatical from music to see I could become a photographer. I also worked as a freelance video editor to make money."
But he returned to his one true love – music. "It was going okay, but I had to come back to music. Going solo meant I had artistic freedom and as Phatcowlee, I could do anything."
Not singing for money–then what?
He calls his music left-field electronica and also adds that his music doesn't really have a commercial value. " I don't think I "have" a commercial value as Phatcowlee but that's okay. I have my band to make money. Phatcowlee is my form of art. If people appreciate it, it's good; but if they don't, there's nothing to feel sad about," says the ethnomusicology graduate from Kathmandu University.
He released his first album named 'Cinema' in 2017. Shrestha was inspired to make the album when he was watching TV during lunch one day. Going through the TV, he stumbled across TV Filmy which broadcasts old Nepali films. "It made me quite nostalgic and I decided to create something and started recording, basically, with a recorder."
His ambient, lyrical and minimal and sample-based music has touched a lot of hearts on SoundCloud where some of his songs have been played over 10,000 times. His song Kusume Rumal is particularly good along with this most popular one, Achal.
"Never in my wildest dreams did I think that I would get such good reviews. I played a show at RS Moto as soon as I released the EP and around 100 people showed up. This was something completely new for me because I'm no Rohit Shakya or Sunny Tuladhar if you know what I mean," he adds.
Shrestha's use of folk instruments, original lyrics and classic Nepali songs has given his audience something new to listen to. However, his album did put him in an odd spot. "Apparently, Music Nepal owns most of the rights of these Nepali songs, but I didn't face much trouble because, 'Cinema' which I released with help from Bengaluru-based record label Consolidate, is a free release. As long as it's not monetised, I think I should be okay," says Shrestha.
Learning solo and together
Shrestha, who has played for popular bands, feels that working solo, he has learnt a lot more about music as it is completely different to working with a band. "I feel working in a band is easier. You have 4-5 opinionated people telling you what to do, what sounds good or even what sounds bad. But when you're producing music all by yourself, you do doubt yourself sometimes."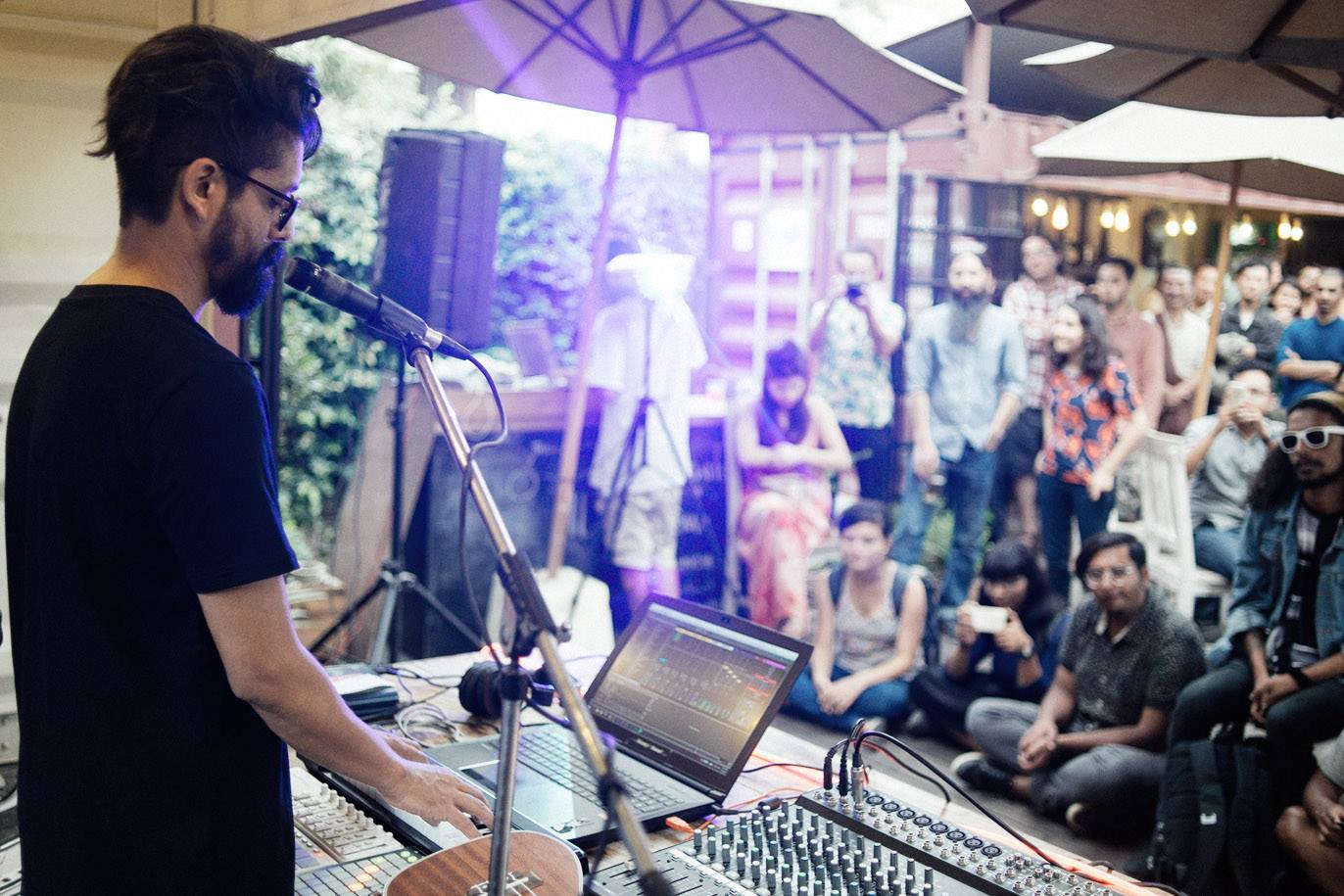 He shares that there are days he spends in front of his computer not knowing if what he is producing is good. "Even though I have my doubts sometimes, I do feel free when I play alone," he adds.
Shrestha is also part of Fuzzcape with his Jindabaad bandmate Rohit Shakya and video/photographer Prasiit Sthapit. The trio collaborates with locals from different parts of the country and produces short musical documentaries. Their videos over the past year have caught a lot of attention and have been liked by people, both old and young.
"We are trying to do something good with Fuzzscape. The music we have been producing collaborating with locals is good, but there are a lot more stories we haven't told yet."
Shrestha shares that he, Shakya and Sthapit have launched fuzzcape.com to share stories of people which don't appear on the 8-10 minute long documentaries. "We want Fuzzscape to be something substantial. We want to share what we research to people who are interested. For example, we want to share our samples of traditional instruments, the things which will help others. With this, I hope we can make sure that old instruments don't vanish. We also want to work on research-based materials and archive things," he adds.
However, Shrestha does feel that the scope of the type of music he plays isn't much. "The music scene in Kathmandu is slowly changing so I do have hope that in a few years' time, things will change. There are a lot of good youngsters coming up and with them, there are a lot of music producers who are itching to make good music so I feel there is hope."
But for now, he sits in his room and makes music.
Photos: Courtesy Rajan Shrestha