Doctors and nurses at Bheri Hospital are working tirelessly every day. Understaffed, they know that they cannot give up as in the way the government did. That is why they persevere in a bid to save the lives of people diagnosed with Covid-19.
Things look bad this year, but due to preventive measures used by the hospital in the past year, things are not as bad. Had the pandemic hit Nepal last year as hard as it has this year, things would have been quite different, say doctors at the hospital.
"It would have been a disaster," says Dr Raj Pandey, consultant physician at the hospital. "But due to a few things we did right in the past year, we're proud to say that we're doing a better job than hospitals in Kathmandu could do if they had such an influx of patients."
Preparing for the tsunami
Dr Pandey calls the rise in Covid-19 cases a 'tsunami'. Since April 17, around five to seven people have been dying here due to Covid-19 every day. If you add Nepalgunj Medical College, an average of 10 people die due to Covid-19 every 24 hours in the Banke district. Had the facility had the same infrastructure they did a year ago, the number would have been 10 times more of what it is right now, says Dr Pandey.
Doctors of Nepalgunj Medical College are calling for more help as cases continue to increase. Serious patients are only getting beds in the ICU after people die, which has left the doctors completely helpless.
Both hospitals, due to the rising number of Covid-19 patients, fear they will soon have to deal with a shortage of oxygen. But for now, they are doing all the right things to make sure they save the lives of people diagnosed with Covid-19.
So what did Bheri Hospital do that hospitals in big cities like Kathmandu can emulate so that it too can deal with the virus?
"What we did was preparing for the worse," says Dr Prakash Thapa, Bheri Hospital's medical superintendent. "If we hadn't prepared, we'd have had to give up."
Learning from neighbour
Observing what was happening in India keenly, Dr Thapa said he knew that the virus that was plaguing India would eventually come to Nepal which would break a non-existent health system.
"We emptied store rooms and set up Covid-19 wards in them. We knew that the fight against the pandemic was far from over even though India claimed that the 'battle was won'," says Dr Thapa.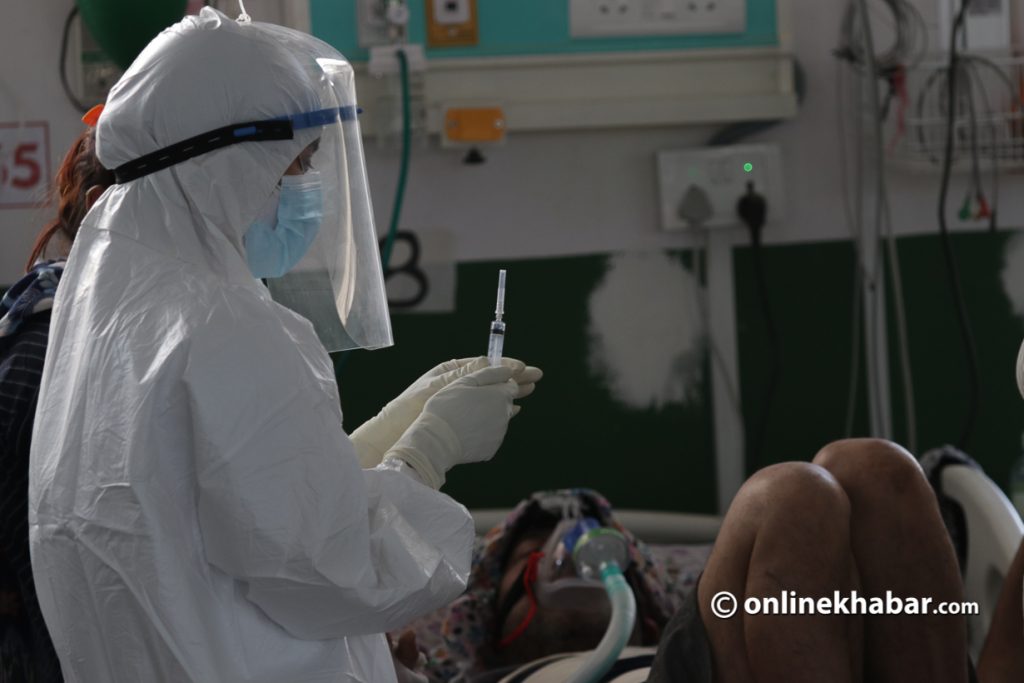 Last year, Bheri Hospital had only six beds with oxygen. Currently, around 250 patients are on oxygen support.
"If we had stopped preparing the high dependency unit (HDU) by getting on the bandwagon that Covid-19 was over, the situation would have been unmanageable. A lot more people would die every day," he says.
Last year, Banke's Narainpur became a Covid-19 hotspot. To treat patients, 50 beds were set aside for Covid-19 patients at the Khajura Cancer Hospital. Thankfully, that was enough as the first wave of Covid-19 did not do as big damage it is doing currently.
"It was hard to manage things in the early stage last year," says Dr Pandey. "We realised that situation could get worse so started to prepare for it and also started a prepration to make an HDU which could cater to over 200 patients."
Three buildings of Bheri Hospital is being used to treat Covid-19 patients. At one of the buildings, a storeroom was emptied to make an additional ward. Even though it lacked space, it adjusted as many beds as it could because the officials had seen red flags across the world.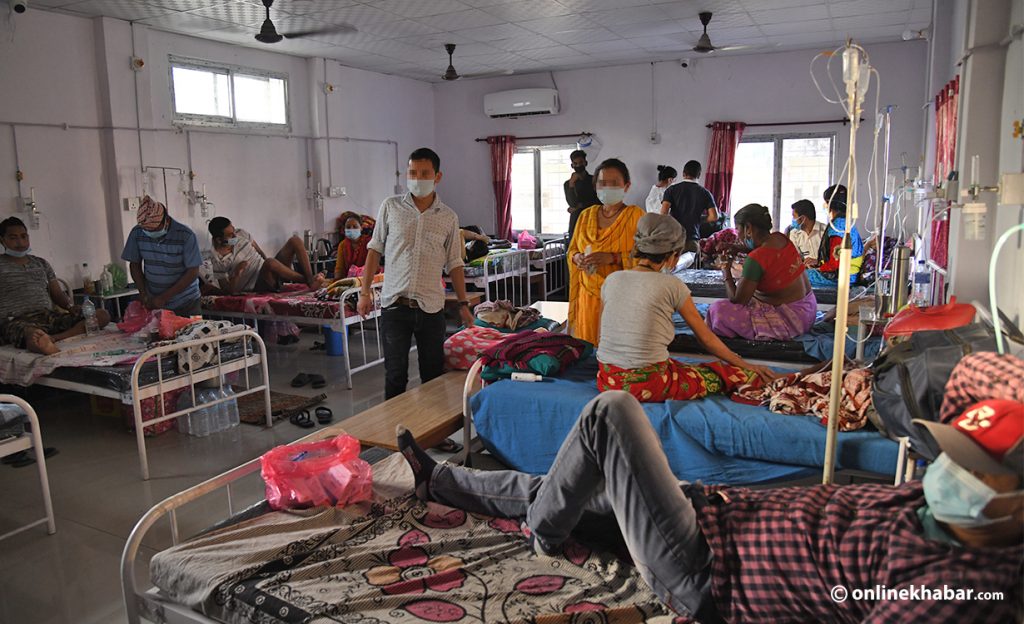 Leading by example
No hospital in Nepal has that many beds dedicated to treating Covid-19 patients. The Tribhuvan University Teaching Hospital in Kathmandu can only treat 196 patients while the APF Hospital in Balambu, Kathmandu can treat 140 patients. Bir Hospital and Shukraraj Tropical and Infectious Disease Hospital can only look after 96 and 60 Covid-19 patients respectively.
Even though Bheri Hospital is treating more patients that any other hospital in the country, it only has six medical officers and 39 nurses for Covid-19 patients. In order to ensure people recover, the hospital is using other doctors too.
To date, 70 health workers in the hospital have contracted the virus, according to Dr Pandey. "We've asked health workers who've contracted Covid-19 to stay home. But, they know what the situation is at the hospital so that when they feel better, they come. This has motivated everyone at the hospital."
Dr Pandey says that the hospital was only able to cope with the virus due to the passion shown by the medical workers along with predicting that the virus could hit Nepal and planning accordingly.
"Imagine what would have happened if we only had six beds like we did in April 2020," he questions.
But, things are the same as they were last year at all the Covid-19 hospitals in Kathmandu and other major cities in Nepal. With cases increasing every day, only now have Kathmandu's hospitals started to add beds to its HDUs.
The Ministry of Health and Population, in October 2020, had given Bir Hospital, TU Teaching Hospital and Patan Hospital a budget of Rs 2 million per bed to make an HDU that could accommodate 100 beds.
"APF, Army and Maternity Hospital were also given Rs 1.75 billion to make an HDU with 50 beds," says Health Secretary Laxman Aryal.
Now, even though it is too late, all these hospitals have started to emulate Bheri Hospital to ensure that it too, like Bheri, could cope with the rising cases of Covid-19.