As oxygen is running out at KIST Medical College Teaching Hospital in Patan, the hospital's chief operating officer Amish Pathak is doing everything he can. He is calling oxygen plants, but they tell him they do not have any. A similar answer comes from the Health Ministry and the Covid-19 Crisis Management Centre as Pathak, for the patient's sake, does all he can to get two cylinders of oxygen.
For this day, the two cylinders are going to save people from dying, but if things continue at the same rate, it is going to be disastrous, he says.
"If this continues, a lot of people are going to die. There's going to be a disaster and the state will have to take the blame for it for not being prepared," says Pathak.
Lack looms large
This is a problem all private hospitals treating Covid-19 patients are facing. On Friday, May 7, two Covid-19 patients at Bhaktapur International Hospital in Kaushaltar died after the hospital ran out of oxygen. It is not that the hospital did not try to get oxygen, but like Pathak, the hospital management got no help from oxygen plants and government bodies as it had to ask 10 other Covid-19 patients to find another hospital to treat them.
Soon after this, four hospitals in Kathmandu–Medicare Hospital, Helping Hands Community Hospital, Nepal-Bharat Maitri Hospital and Dirghayu Guru Hospital and Research Centre–on Saturday released a statement saying that they would not be admitting any more Covid-19 patients. The hospitals say that they were compelled to do so in order to save the lives of patients already at the hospitals.
"Due to difficulties in oxygen supply and management of alternative resources, we cannot take any more patients," the statement read.
On Sunday, Om Hospital and Ganesh Man Singh Memorial Hospital and Research Centre issued similar statements stating that even though they had the resources, they could not treat any new Covid-19 patients for the want of oxygen.
With limited production, other hospitals also run the risk of being without oxygen. This, according to various hospitals, will be disastrous as the number of patients who need oxygen is rising every day. Despite having beds, hospitals have to turn people away as they do not have enough oxygen to treat new patients.
KIST's COO Pathak says the hospital only admitted 57 Covid-19 patients even though it could easily take care of 200 due to the lack of sufficient oxygen. The hospital's daily oxygen need is around 250 oxygen cylinders. But, due to a recent influx in the demand, the suppliers have not been able to supply enough oxygen.
Unwilling service refusals
"We can't save people when we only get 15 to 20 cylinders a day. If anyone dies in the hospital due to oxygen shortage, the government must take the blame because we, as a hospital, are doing everything in our power to save lives," says Pathak.
He says that it hurts him to not take more patients even though it has signed an agreement with the government to keep 200 patients suffering from Covid-19. But, due to the lack of oxygen, over half of these beds are empty.
"We can admit more people, but wouldn't it be a crime if something happened to them because we didn't have oxygen," questions Pathak. "Instead, we tell them the truth so that they can go to a hospital which has adequate oxygen which can save their lives."
Lalitpur's Patan Hospital is also facing a similar crisis, says Dr Bimal Pandey. Patan Hospital, like KIST, has stopped admitting new patients due to the shortage of oxygen.  Currently, there are 300 Covid-19 patients at the hospital who on an average need around 500 oxygen cylinders a day.
"It's an everyday struggle to manage oxygen for those that are already here. If we take in more patients and even one of them dies due to the lack of oxygen, we, as a hospital, will look very bad," says Dr Pandey. "We are managing with only 20 to 25 cylinders a day. But, we know that things can go from bad to worse."
Like Patan Hospital, government-run hospitals such as the TU Teaching Hospital and Bir Hospital are also running a similar risk while the situation in Shukraraj Tropical and Infectious Disease Hospital (Teku Hospital) is a bit better.
"Our plan has received the liquid for our oxygen plant, so we're sorted for a while," says Dr Sagar Rajbhandari, the director at Teku Hospital.
But, other hospitals are not so lucky. Green City Hospital also needs around 25 cylinders a day. But, like other hospitals, it is also not getting the oxygen it needs. As a result, the hospital's chairman LB Tandon is scared that patients might lose their lives due to it.
ALSO READ:
Green City currently has 40 critically ill Covid-19 patients while its emergency ward is also full of people, most of them on oxygen support. But, Tandon says that the hospital is only getting around 25 cylinders a day, which is why it has also stopped taking new patients.
"We've been begging for the oxygen that we've been getting. But, how long can we do this," he questions. "The government has made it hard for private hospitals to obtain oxygen. This is foolish and wrong and will result in the death of a lot of people."
He says that even though they are facing an oxygen crisis, they are still taking care of patients who are already admitted to the hospital out of humanity. If somebody dies because of the unavailability of oxygen, the government should be blamed, according to him.
Reasons for shortage
The reason for the shortage, according to Dr Jyotindra Sharma, the executive director at Hams Hospital, is the rise in demand due to all the positive coronavirus cases. He says that the demand in recent times has gone up four-fold.
Dr Sharma says around 100 people, which includes Covid-19 patients also, need oxygen support at his hospital currently. In the past, a Covid-19 patient needed one-litre oxygen, but now, a similar patient might need up to 15 litres in a day.
"Hospitals in the entire valley are facing this problem. Everyone needs oxygen, which is why the suppliers are only giving 10 to 20 cylinders a day. This is not enough for us and for many hospitals. As the demand is more than what they can supply, the oxygen plants are also in a fix," says Dr Sharma.
Hams has its own oxygen plant. But, as the demand for oxygen is high, the plant has not been able to produce enough oxygen, informs Dr Sharma.
"The plant produced oxygen for normal days. The plant is run all day, yet it hasn't been able to produce the amount required."
With a rise in cases, more and more people started to get hospitalised. Almost everyone who has been hospitalised has needed oxygen support. Even though the production of oxygen has not gone down, the demand for it has skyrocketed.
Another reason is the lack of oxygen cylinders. Even though oxygen plants can produce more oxygen, there are not enough cylinders in the market.
"We've heard about people going to these plants and hoarding oxygen cylinders. This is another reason why there has been a shortage," says Dr Pandey from Patan Hospital.
Dr Rajbhandari from Teku says that this is a result of hospitals not having their own oxygen plants and having to depend on others for it.
"If all hospitals had an oxygen plant, things would have been different," says Dr Rajbhandari.
Trying to help: Health Ministry
Hospital operators also blame the government for issuing notices to oxygen plants to only give oxygen upon permission from the Health Ministry. "They don't understand the hospital's point of view," says Tandon. "We need 250 a day and we're only getting 25. How do they expect us to operate like this?"
"We need to do something quickly to figure out how to increase production," says Dr Sharma.
In its other bid to solve this problem, the Health Ministry on Monday released a statement requesting the hospitals to coordinate with the CCMC if they want oxygen.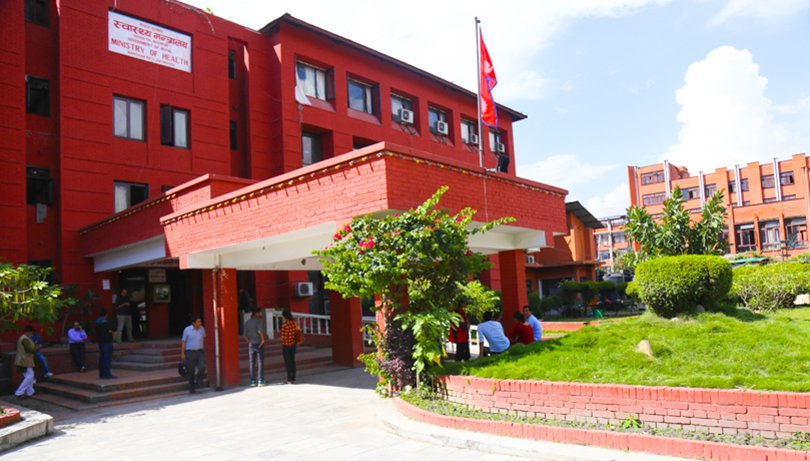 The ministry says it is trying to manage the distribution part as all hospitals need oxygen.
"We want to make sure that all hospitals get oxygen," says Dr Samir Adhikari, the ministry's co-spokesperson. "The demand it higher than what the plants can produce and we don't want any wrongdoings and fraudulent activities going on at such a tense time. The rule has been brought out to help the hospitals who're working tirelessly."
He says that they were commpeled to do it so that everyone could utilise whatever little resource they have.
"When there is enough oxygen, no one will be silly enough to bring such a rule," he says. "We'd been telling concerned government bodies that such a day might come and asked them to plan accordingly, but no one listened to."
Dr Adhikari says the ministry is trying to manage more cylinders and liquid gas to help those in need. But, that might not solve the issue entirely.
"Even if we get cylinders, we might have to face a shortage of equipment that needed to produce oxygen," he says.