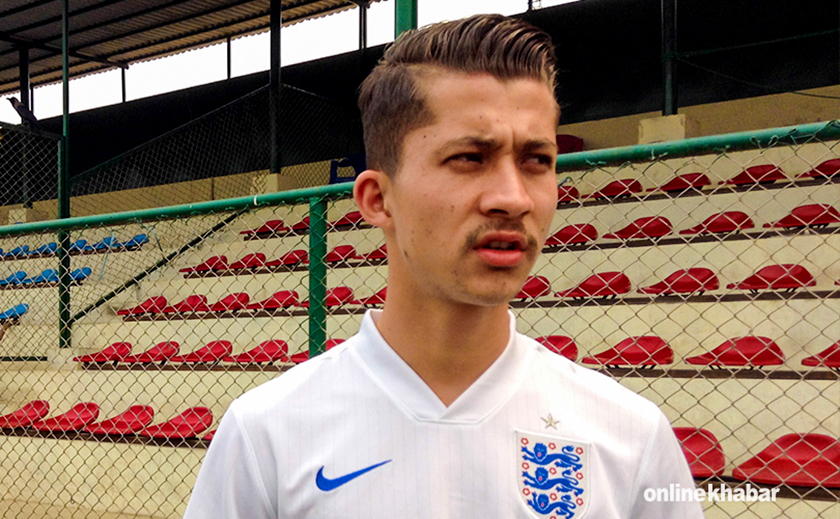 When Nepal's football won the Bangabandhu Cup in January 2016, and then the gold medal in the South Asian Games in the preceding month, the spotlight was on the team's finishers like Nawayug Shrestha, Anjan Bista and Prakash Budhathoki.
The fans were saying that Nepal's forwards have come of age, and it will no longer face a goal drought that has disappointed supporters for a long time. But away from the limelight, another performer in another role was also making his presence felt.
Ananta Tamang, the 18-year-old who has been touted as the next Sagar Thapa in terms of his playing style, played a crucial role in Nepal's wins in both the tournaments. Tall, athletic and cool in the head, Tamang is a defender any striker would not like to take on when he makes those fierce tackles and clearances.
"I have been manning the defence ever since I started playing football back home in Jhapa," says Ananta, who was picked up by the ANFA Academy at an early age.
He says since the day he stepped into the academy, he was dreaming of playing for the national side. Ananta trained alongside striker Bimal Ghartimagar, who was also his room-mate, at the academy. But it was Ghartimagar who would get the national call, that too at a tender age of 14, in 2012.
"When I saw Bimal play, my desire to play for the national side peaked, and I was raring to take the field," remembers Ananata, who returned to Nepal for a few days from Spain, where he is playing for the Spanish side Marbella FC.
His dream was fulfilled in January 2016 as he was selected for the Bangabandhu Cup, despite the poor performance of his U-23 team that failed to qualify for the final round of the AFC U-23 Cup.
"In Europe, I saw that international teams play football that is of a higher level than ours," he says. "There I saw what we as Nepali footballers lack, and I am working on it."
The work that he is putting in right now won't be able to help his team win in big tournaments, a realist Ananta points out. "But I am positive that we will win the SAFF tournament next year. That is my dream for the moment."