Kathmandu, April 6
The ambassador of France to Nepal, Yves Carmona, said on Wednesday that Nepal's constitution is more progressive than the French constitution.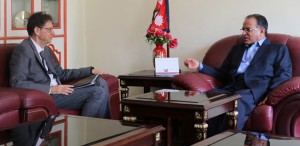 The diplomat said this during a meeting with UCPN-Maoist Chair Pushpa Kamal Dahal 'Prachanda' at the latter's residence in Lazimpat on Wednesday morning. When Dahal inquired about the French stance on the recent EU-India joint statement on Nepal's constitution, Carmona said France has fully supported Nepal's constitution. In the statement issued during the EU-India summit in Brussels, India and the European had described Nepal's constitution as incomplete, urging Nepal to address political demands in a timebound manner.
At the meeting, Dahal pointed that Nepali people have always been solving problems facing the country on their own. The new constitution has incorporated exploited and backward ethnicities, communities and regions, he said, pledging to address different issues while implementing the constitution.
On the occasion, Ambassador Carmona said French companies want to invest in Nepal. He suggested Nepal to create an investment-friendly climate.