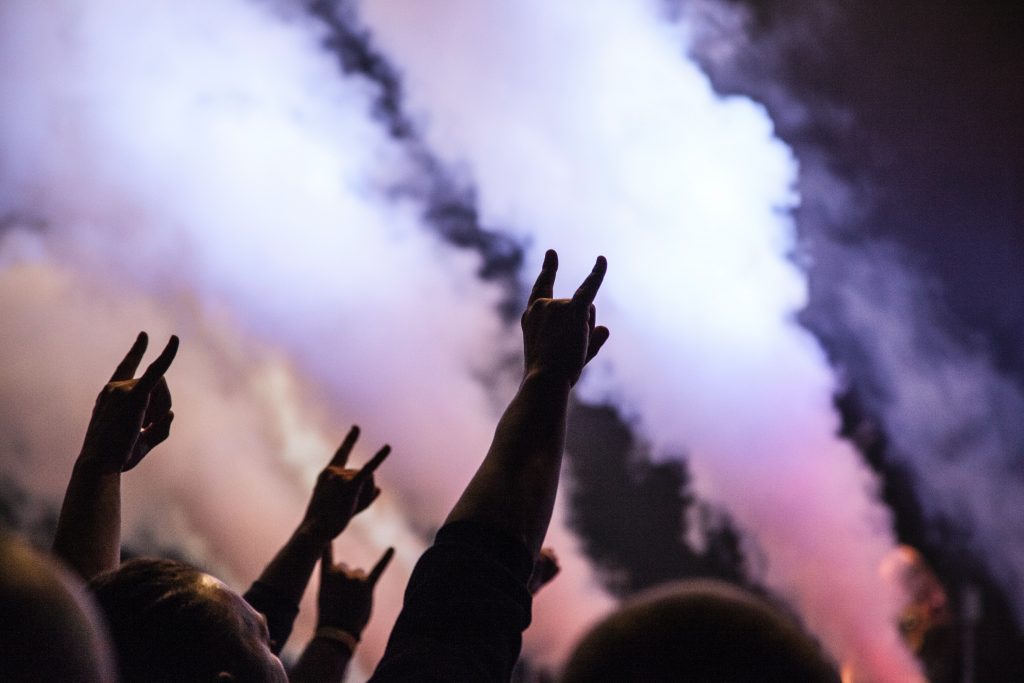 Beyond the pop music genre, Nepal also has a promising platform for the metal scene. Lately, Nepali metal bands are not as active as they used to be, but it would be wrong to not appreciate this genre. Moreover, there are some Nepali metal bands that have shared the global stage, collaborating with international bands letting the presence of Nepali metal bands known to the world.
This week, Onlinekhabar has handpicked the 10 best Nepali metal bands that you should not overlook. That is to say if you want to headbang, listen to these amazing bands.
1. Ugrakarma
Ugrakarma are the pioneer in bringing death metal music to Nepal. The band started their journey in 1999 by releasing their demo called Himalayan Metal of Death. In 2001, they released their first album – Blood Metal Initiation. But, the band had to split in 2003. After a decade of its split, in 2012, the band revived and played at the NepFest— headlined by Decapitated, a well-known Polish death metal band.
As one of the best Nepali metal bands, Ugrakarma are affiliated with a French record label Legion of Death, which released the band's 2015 Mountain Grinders EP. During their 2018 Europe tour, the band had four gigs in France, including a date in the label's hometown of Poitiers.
Since then, they are also signed up with a French record label company Legion of Death, which produced Mountain Grinders and will also be producing their new album.
2. Antim Grahan
Antim Grahan are another pioneering black metal band in Nepal who have recently made their comeback after a decade, releasing a song from their seventh album, Goat Legion.
Unlike a decade ago, Antim Grahan now want to make the most of it as they are back with new members and renewed energy. They want to leave a mark in Nepal's black metal scene, play shows abroad and in doing so create an impact internationally.
Formed in 2002, Antim Grahan were one of the premier underground bands in the country with many coming to shows just to listen to them. Their popularity gained through their single Forever Winter and an EP of the same title, after which they became one of the best Nepali metal bands.
3. Underside
At present, Underside are one of the biggest and best Nepali metal bands. Formed in 2010, the band have toured across Europe and Australia to make themselves the first and only band to perform in top-notch international music festivals like Download Festival (2019) and Bloodstock (2018).
The band, with their first official music video of Disconnect, created a buzz in the Nepali music scene. It was the first time that a metal song got so much attention. Currently, the music video has over 600,000 views. The band have also been featured in Metal Hammer, the biggest heavy metal magazine in the world.
4. Binaash
Binaash label themselves a "ramailo" death metal band. The band are popular for their songs Momo Pasal and Disco Death Kaila. They have also headlined and co-headlined numerous live shows and shared the stage with international bands like Nepalm Death, Testament, Vader and a few others.
5. Kaal
Formed in 2008, Kaal are a brutal death metal band based in Pokhara. So far, they have released two albums: Angha Bhanga Nepal and Dismembered. Their songs Angha Bhanga Nepal, Blood of Blasphemy and Lethal Greed are popular among listeners, establishing themselves as one of the best Nepali metal bands.
Kaal are still actively doing gigs.
6. Vhumi
Vhumi are a melodic death metal band who released their self-titled debut album in 2007, exhibiting raw and powerful sounds. Bhariya, Aatanka, and Stoned Hunter are some of Vhumi's popular songs.
7. Screaming Marionette
Formed in 2016, Screaming Marionette won the Inter College Music Competition (ICMC) in 2017. After winning the competition, they released their debut EP Corrupted Society. At present, Screaming Marionnette are one of the most admired Nepali metal bands as their songs talk about the socio-political context of Nepal.
8. Nude Terror
Nude Terror are a grind metal band formed in 2013. Banana Song and Personality Disorder are the band's well-known songs.
They released their debut album Personality Disorder in 2016.