Getting into the Sacred Soundz Studio in 1999 to record their demo, UgraKarma never thought they would be starting a wave of death metal bands in Nepal. In their late teens, the band just wanted to have fun and play the music that they wanted. While the rest of Nepal was playing covers of hard rock and metal bands, UgraKarma were into something different.
Drawing inspirations from bands like Sarcofago, Macabre, Cranium, Sodom, Kreator, Unleashed, Von and Slayer, they were playing music that was rare in Nepal. It was loud, unapologetic and a tad wild, but they were having fun. With them was a group of death metal-loving fans who did not miss a show.
"We were doing what we loved. There were sceptics, but we didn't care," says Sunil Dev Pant, who plays distorted bass and does growls, grunts and barks.
Twenty years on, the band have been through a lot. They have taken a hiatus of 10 years, have had to change members and had to reflect a lot of what they wanted to do in life. But even after 20 years of having started this, the members are full of energy and have stayed true to their roots which will no doubt leave a legacy for years to come.
Being the country's first death metal band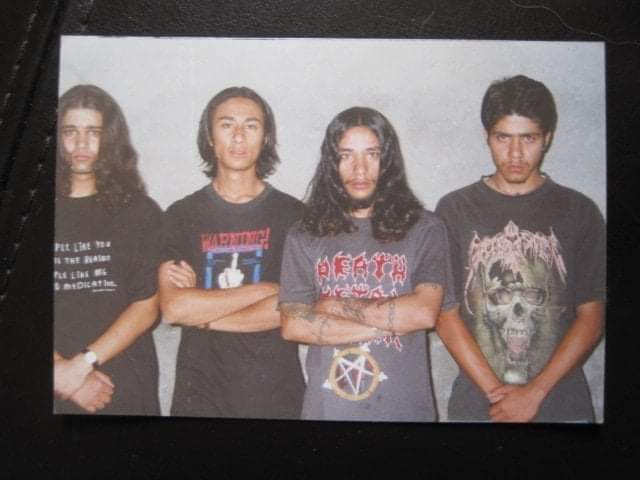 "We didn't have hopes and dreams. Just wanted to play and have some fun," says Pant, adding that they did not even know that they were probably the first death metal band in Nepal when they started.
The band started their journey in 1999. Pant, during his teenage years, was playing death metal music with his college band. That was 1996 and they were only doing covers. Soon Pant's brother Subash Dev and his friend Aayush Maskey joined Pant and they started their death metal journey along with Prateek Neupane.
Pant recalls the formative years as fun and challenging. Gigs were rare as places in Thamel did not really support death metal music. Whenever they played shows, one thing or the other happened, after which the police would come down and stop it. The equipment was not good nor was the venue where they played, but disregarding everything, they carried on doing what they loved.
"Death metal was an anomaly. Only a niche crowd enjoyed what we did. Others were probably cursing us," he says.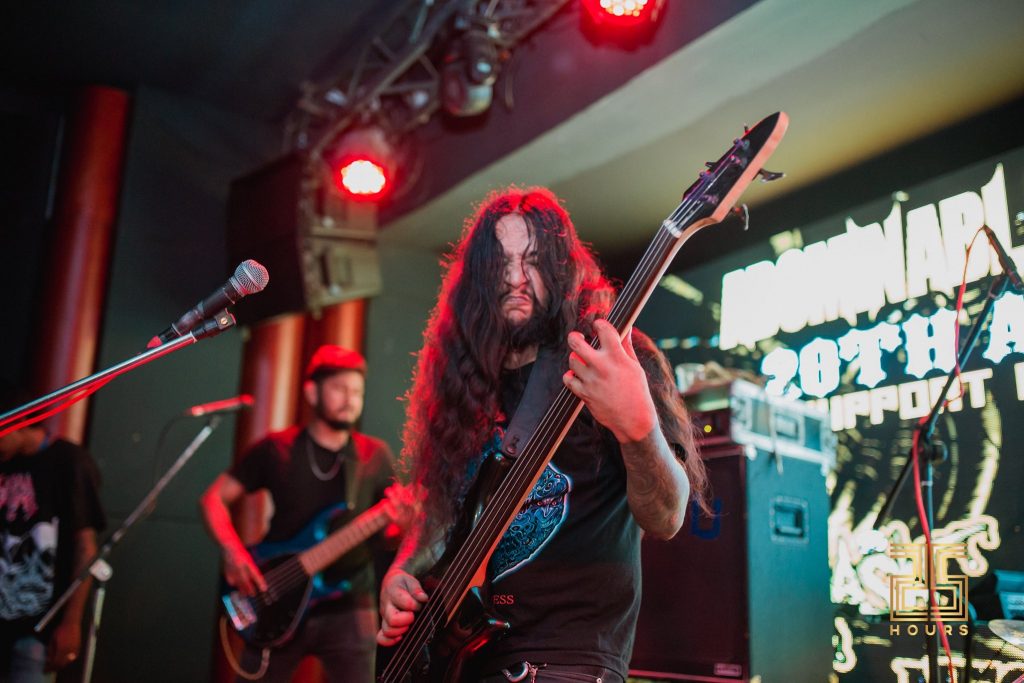 In 1999, they released their demo called Himalayan Metal of Death. But, recording that was quite a pain, recalls Pant, as they could not find a sound engineer or a studio that understood what they were planning to do. After looking around for months, they finally found a studio and a sound engineer who understood them and what they were trying to do. Iman Shah of Sacred Soundz had just returned from the US having studied sound engineering and got what the group wanted.
"When we met Iman dai at his studio, we knew we'd come to the right place. He was wearing a Slayer shirt at his studio which, to us, was a sign that this was it," he says.
Getting a roaddblock and growling again
They continued doing gigs whenever they got a chance. In 2001, they released their first album – Blood Metal Initiation. For the listeners, that album was oddly pleasing. Abhishek Bhatta, who picked up the album in 2005, says the album was dark but melodious. Their sound was unique and different from popular death and black metal bands he had listened to, growing up. What attracted him the most was their lyrics.
"Even though I have nothing against people's faith in a non-existent god, I was and still am against religious repression and dogmatic practices and wrote songs based on how I perceived it," says Pant, who says that his writing has not matured much over the years. "We are still doing the same kind of uncompromising savage Death Metal."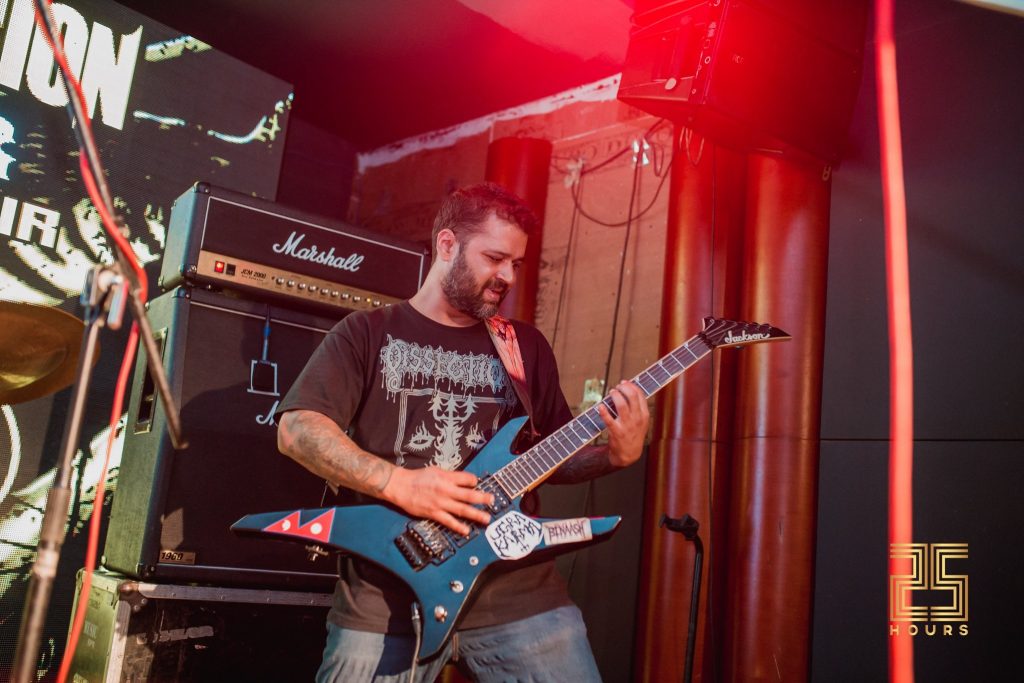 But, the band had to split in 2003. Aayush Maskey and Sunil Dev Pant left for the US for higher studies, after which Subash Dev Pant and Prateek Neupane discontinued it.
"Life happened back then. We all went our different ways, but deep down, I always knew that we'd come back to play again," says Pant.
In 2012, that is what happened. After hiatus of almost a decade, the band got reorganised and played at the NepFest which was headlined by Decapitated, a well-known Polish death metal band. But, they did so with a new lineup. With most of their previous members scattered across the globe, the new lineup had Sunil Dev Pant and Aayush Neupane but also included Bikram Shrestha and Bijaya Shrestha who play the drums and bass respectively.
"We're quite a tight bunch, so it was great playing as UgraKarma after so long," he says.
Old technology, old hope
Playing together regularly and doing several tours for a few years, the band released their second album titled Mountain Grinders in 2015. But, unlike other bands, they released it on vinyl only.
"I'm old school and hate CDs and other digital forms because I grew up listening to the tape. I think we did release a few CDs, but those were for friends. The next album we're working on will also be on vinyl."
The band is signed to a French record label Legion of Death that released the band's 2015 Mountain Grinders EP. During their 2018 Europe tour, the band had four gigs in France, including a date in the label's hometown of Poitiers.
Since then, they are also signed up with a French record label company Legion of Death that produced Mountain Grinders and will also be producing their new album.
When asked what they were hoping for from the next album, Pant says "same as always". He understands that being a death metal band does not pay well and is well aware he needs to have a proper job to sustain his passion.
"All I want to do is make music and do what we do best – perform live for who love the kind of death metal that we do."