Kathmandu, January 7
The Nepali Congress has tabled at the Parliament three proposals related to the Constitution Amendment Bill. On behalf of the party, Farmullah Mansur, Bimalendra Nidhi and Minendra Rijal tabled the proposals.
Thirty-eight lawmakers, including Mansur, tabled the proposal related to proportionate-inclusive representation, whereas Nidhi and Rijal tabled proposals related to delineation of electoral constituencies.
Nidhi has demanded delineating constituencies on the basis of population, whereas Rijal has proposed regarding each district as one constituency (at least) even when delineating constituencies on the basis of population.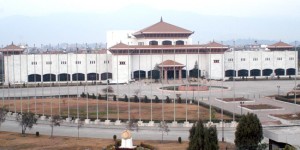 Thirty lawmakers have supported Nidhi's proposal, whereas nine lawmakers have backed Rijal's proposal.
Talking to the media after tabled the proposal, Nidhi said they tabled the proposals after talks with the agitating parties and the Congress leadership as there was not enough time for constitution amendment, though talks with the United Democratic Madheshi Front were heading in a positive direction.
Before tabling of the amendment proposals, NC lawmakers representing Madhesh had held a meeting at the NC's parliamentary party office in Singha Durbar. Most of the lawmakers were present at the meeting.
Prem Suwal of the Nepal Workers' and Peasants' Party, Durga Poudel and Mina Pun of Rastriya Janamorcha, Hari Charan Sah of Nepali Janata Dal and Ramkumar Rai of Khambuwan National Front have also tabled amendment proposals.