Nepal is a patriarchal society; this is a known fact. Yet, there have been some moments in history when the women of Nepal have witnessed revolution and changes in their status in society. These revolutions included many women's rights movements that have restated the image of women or made their lives better for good.
Women and men are always called the two wheels of the chariot, yet patriarchal society deems women as second-class citizens, always behind their male counterparts. But, with many women's rights movements, the women have seen a ray of hope and changed their status and revolutionised the ways of life.
Here are 10 milestones of the women's rights movement in Nepal's history so far:
1. Abolishment of the Sati system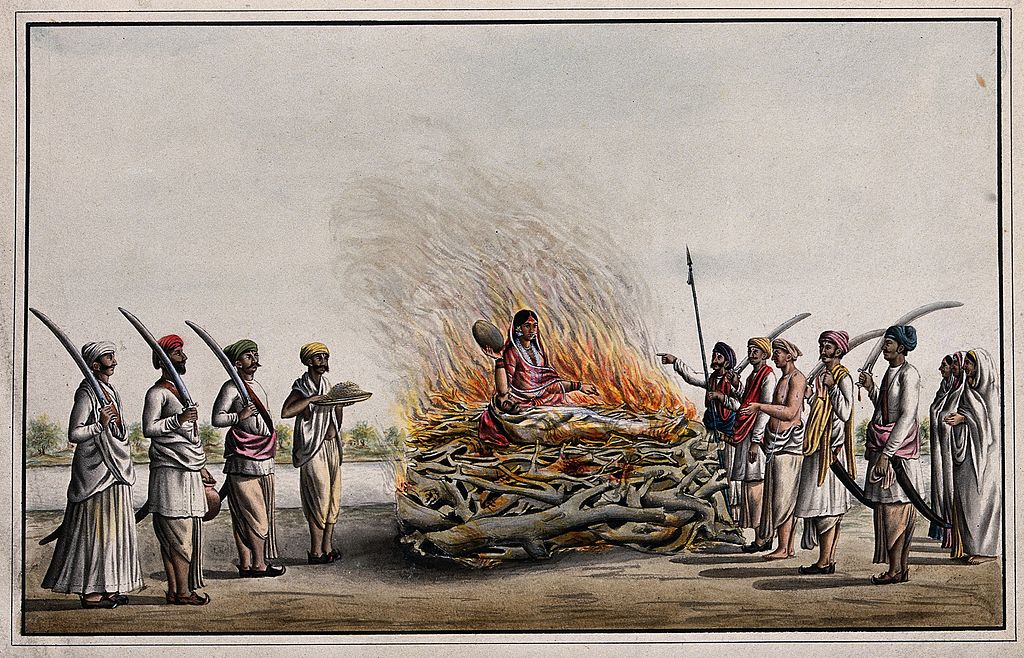 Sati pratha is no longer in practice today, but it was one of the cruel practices of society that kept women devoid of their willingness to live. If a husband died before the wife, the latter would have to burn together in the pyre too to serve the husband even in the afterlife.
Jung Bahadur Rana first made efforts to discourage the practice when he banned any woman (actually, a girl) of age 16 and below from committing self-immolation. But, the practice was brought to an end on July 8, 1920, by Rana Prime Minister Chandra Shamsher, and it became a milestone in Nepal's women's rights movement.
2. First feminist organisation
On August 8, 1947, Nepal got its first feminist organisation, Nepal Women's Association. Its establishment is credited to a strong Nepali Congress leader, Mangala Devi Singh. Singh is still remembered as an audacious women's leader who fought valiantly for women's rights and their freedom since the age of 16. Her faction under the NC and the organisation also gave a conducive environment for further movement in right to education and women's rights, through democratic reforms.
3. Chhaupadi criminalisation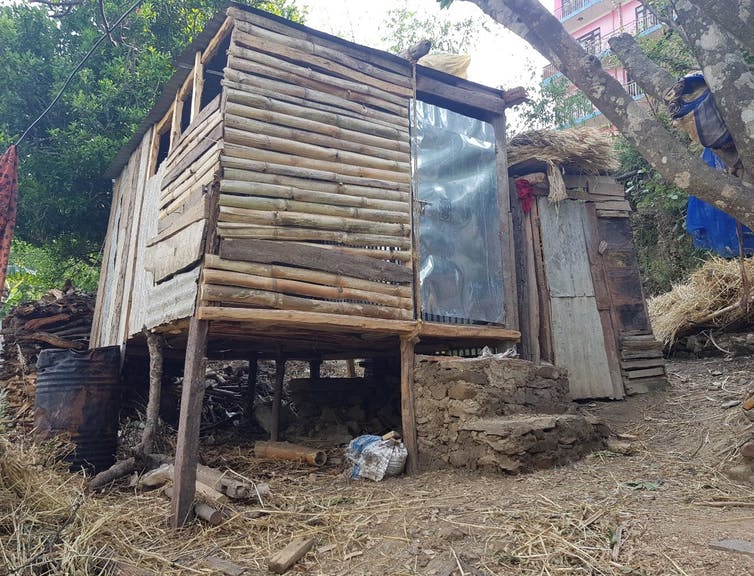 Another social evil that has been discriminatory against women is the chhaupadi. It is a social practice where menstruating women are exiled from their own house during their menstruation. The practice is still can be witnessed in far-western regions of Nepal, but its abolishment was an encouraging step for menstruating women.
After multiple efforts, in 2005, the Supreme Court finally issued a verdict against the practice. In 2017, Nepal passed a law, according to which, if anyone is found guilty of chhaupadi, one could be penalised with a jail time of three months or a fine of Rs 3,000, making it another milestone in the women's rights movement in Nepal.
4. Citizenship with the mother's name
As the result of patriarchal practices, Nepali citizens could acquire citizenship only based on the father's citizenship (under descent). But, the Citizenship Act, 2006, said that a child can acquire Nepali citizenship if either of her/his parents has Nepali citizenship too. Further, if a child of a Nepali woman married to a foreigner wishes to get citizenship, they can get naturalised citizenship provided they do not have another citizenship and/or has permanent residency in Nepal.
This opened many possibilities for women's rights and also marked a milestone in the movement. Many children who were yet to acquire citizenship because of the absence of their father could now get their citizenship.
Nonetheless, there are some problems in implementing the provision.
5. Reservation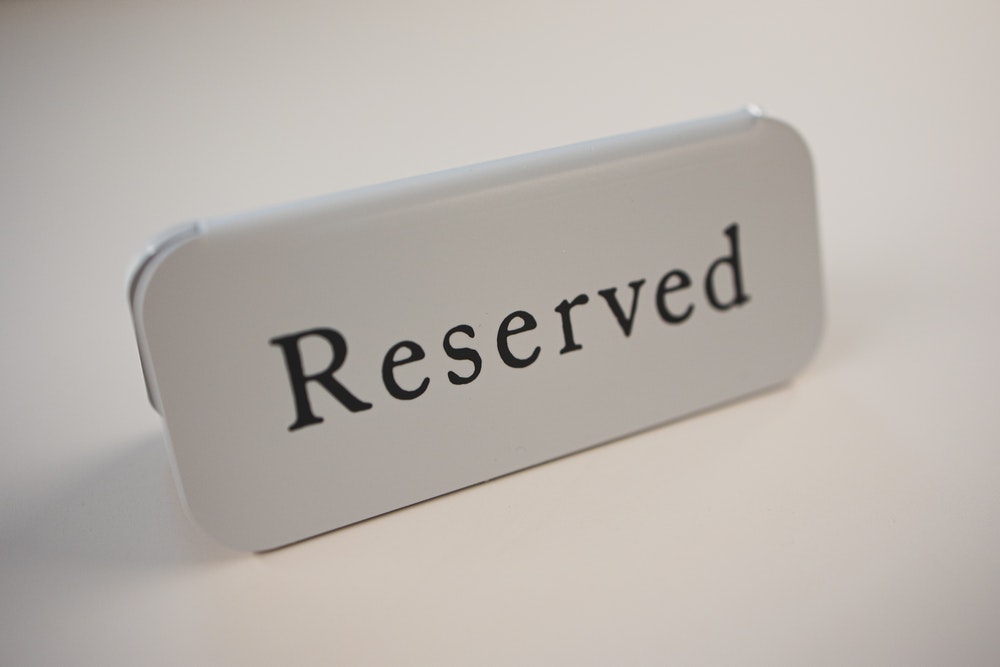 Nepal is still a patriarchal society with men in the leading positions of all key political and decision-making roles. But, following the Interim Constitution of 2007, a 33 per cent quota was reserved for women in the political system. Following this, in the 2008 elections, women secured 191 of 575 seats (33.2 per cent) in the Constituent Assembly and six out of 26 seats in the then cabinet. This gave women a lot of opportunities and a much-needed platform at the policy-making level. Political parties also followed suit.
After the inclusion of the reservation policy, Nepal's constitution became the most progressive constitution in South Asia for women's rights, in particular, their participation in parliament. Recently, in 2017 also, the local elections gave a platform to women in either the positions of either the chief or a deputy in a local government.
6. Domestic violence law
Another key event in the history of the women's rights movement is the introduction of the Domestic Violence (Offence and Punishment) Act, 2009. According to the act, the domestic violence survivors got the platform to report the abuse. Domestic Violence (Offence and Punishment) Rules, 2010, further directs the need for prompt health checkups and protection of survivors.
The act helped the survivors come forward, report the violence and get help in getting the compensation as well as punish the guilty.
7. Jail term for marital rape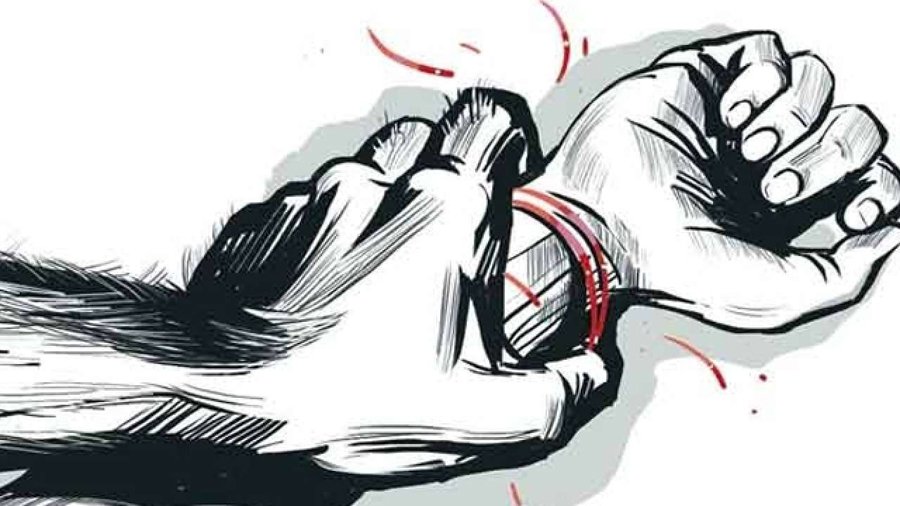 Whereas rape has already been accepted as a crime, people still are grasping the idea of marital rape. Women in abusive marriages are prone to marital rape and suffer in silence.
But, on October 29, 2017, Nepal introduced a new law defined marital rape as a crime and also set a five-year jail term for marital rape. This allowed women suffering in an abusive relationship to get out of it and even get alimony or compensation
Meanwhile, as per the law, rape dictates a jail term of 20 years, so many have argued that the difference in a jail term of marital rape makes the latter a lesser crime and it is not fair. Nevertheless, the new act has given a way out to women and contributed heavily to the women's rights movement.
8. Balatkari Hos Ta campaign
On October 10, 2020, a group of women gathered at Maitighar Mandala and staged a flash mob to draw attention to the rising number of rape and sexual violence cases. The movement also aimed to make people aware of the larger definition of rape, rape-related punishment and how it is not the solution to increasing cases.
Similar performances were held in many parts of the country, like Dang, Nawalpur, Sindhuli, Hetaunda, Biratnagar, Dhangadhi, Birtamode and Mahendranagar. Meanwhile, the activists also have organised 'Ajhai Kati Sahane' (How long shall we tolerate?) campaign to redefine social movement and their approaches against sexual violence in Nepal.
9. Protest against the travel ban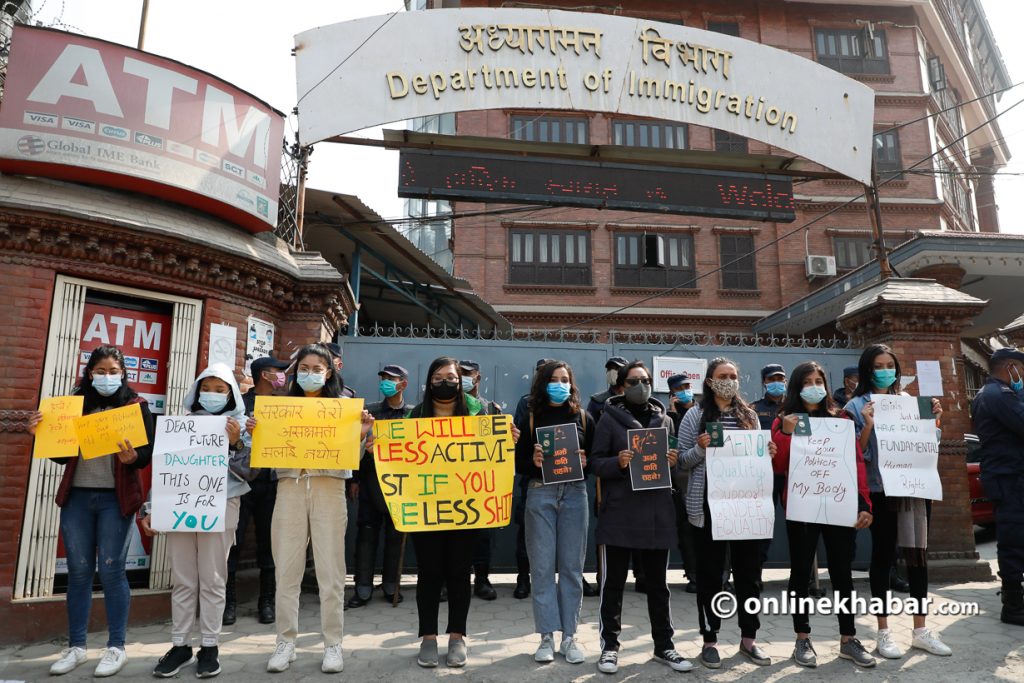 The Department of Immigration proposed a new amendment in the Immigration Procedure, 2008, according to which the first-time women travellers, who were under the age of 40, needed a 'permission letter' from their family members and their respective ward offices for the visit. As soon as the news broke out, women poured out to the streets and raised their disagreement over the matter on February 12, 2021.
This was one of the key protests for the women's rights movement in which young women demanded their right to freedom of movement Those on the streets as well as others on the internet questioned the man-led department's demeaning decision that branded women as second-class citizens.
10. Rato Kar Maaf Gar Campaign
Another campaign for women's rights also based itself on another fundamental right issue. In the announcement of the annual budget 2021/22, the House of Representatives approved a replacement bill with an added tax on sanitary pads, increasing its pricing altogether.
Against the move, on September 23, 2021, a group of women poured down on the streets at Maitighar Mandala and protested demanding the pardon of tax on sanitary pads as a part of their basic needs. With red paint on their pants and placards, the women laid down on the ground to make their demands. Before that, on March 8, 2021, on the occasion of International Women's Day, women protested demanding the same.
---
Originally published on March 8, 2022