Today is December 8, a day marked as Dignified Menstruation Day since three years ago in Nepal. Meanwhile, it also comes within the 16 Days of Activism against Gender-Based Violence. Hence, there cannot be a better day than this to initiate the dialogues regarding the link between menstrual discrimination and gender-based violence, according to stakeholders and activists.
Radha Paudel is a leading Nepali activist working for women's right to dignified menstruation, who believes this can be a great tool to eliminate violence against women in the country. In an interview with Onlinekhabar, Paudel, also the founder of Global South Coalition for Dignified Menstruation (GSCDM), explains why.
Excerpts:
Why do you think menstruation is directly linked to violence against women?
It does not matter where and in what condition people live, menstrual discrimination is everywhere. We usually talk about menstruating women forced to stay at secluded houses (chhaugoths), particularly in western Nepal, as menstrual discrimination. But, there are other restrictions too.
There are a lot of restrictions related to food, touch (whom and what they can and can't touch), mobility (where they are allowed and barred from entering) and participation (ceremonies, festivals, rituals). There is so much stigma around it that no one comes forward and discusses it openly. The menstruating women even wash and dry their underclothes secretly. They still can't proudly say they are menstruating; they use different names.
Menstrual discrimination occurs not only during the menstruating period but throughout the lifecycle of the menstruators, from womb to tomb.
This discrimination is essentially a form of sexual and gender-based violence and also the violation of constitutional fundamental rights and human rights including the right to dignity, right to freedom, right to education, right to equality, and right to social justice.
Because of these restrictions, menstruators suffer from various reproductive and mental health issues and get deprived of nutritional food, educational and earning opportunities. They are having to live in fear with chronic humiliation, without dignity. They have inferiority complexes, leading to suicidal thoughts.
In western Nepal, some girls and women who had to live in secluded menstrual sheds have died due to snakebites, animal attacks, accidental fires, suffocation or extreme cold. They also encounter sexual violence including abuse, rape or even murder.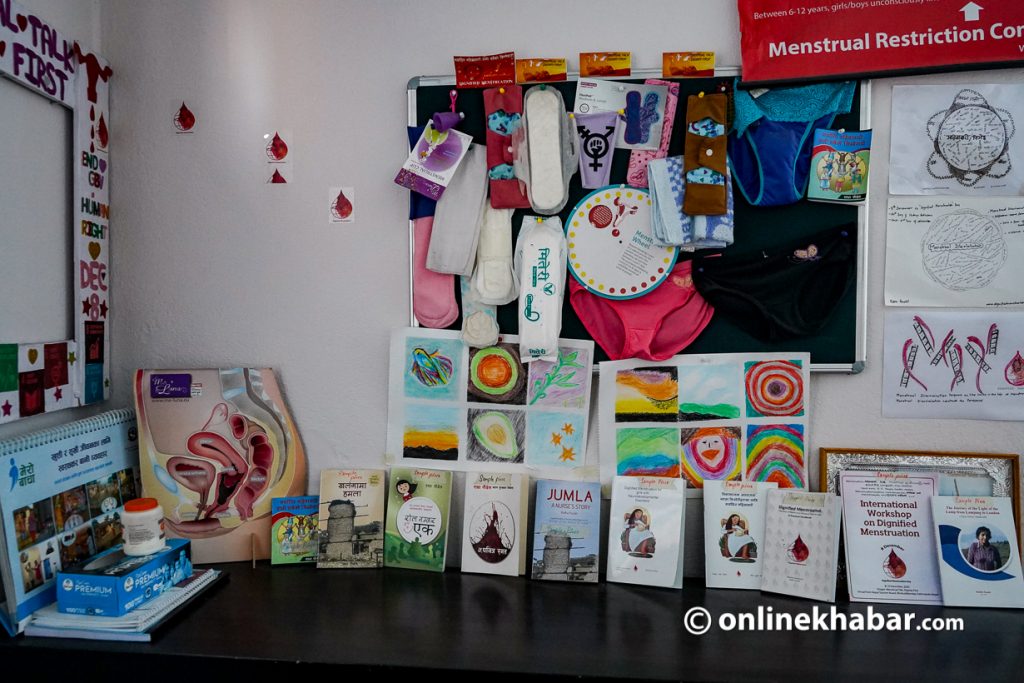 You said the discrimination is lifelong. Can you please explain that?
People are considering girls/women as inferior sex because they menstruate, therefore are impure and dirty. This is our socialisation. And, this concept constructs discrimination, which gets bigger in the form of patriarchy. Between 6 and 12 years, girls and boys unconsciously know about menstruation and its related restrictions at home, school and society, particularly learning from senior female members in the family and neighbourhood.
In those years, they become familiar with the uneven power dynamics between boys and girls. Consequently, boys grow up with a feeling of superiority over girls. On the other side, girls socialise with a feeling of inferiority that they are weak and powerless as they have to face all the menstrual restrictions.
Girls unconsciously and subconsciously accept the violence and are obligated to silence whereas boys unconsciously reinforce their power over girls including gender-based violence as they are considered weaker, again because they menstruate.
This is how power and patriarchy are constructed. Why there happens female foeticide? Why do people are preferring sons over daughters? It is because there is no value for girls; this is the outcome of the concept of menstrual impurity.
Why should the issue of dignified menstruation be incorporated in the 16 days of activism?
Menstrual discrimination is not just only a form of gender and sexual violence. It has multiplier effects. It has both short-term and long term impacts on society, the economy, politics and every sector.
But, how does it impact all these sectors?
Menstruating girls and women are allowed to go the school but still deprived of educational rights because of menstrual discrimination. It is because their daily routine gets disturbed; they fear leakage. Also, they have to constantly think of hygiene, whether proper toilet facilities are available or not. Therefore, they either feel too embarrassed to go to school or even if they go, they can't concentrate in their studies and works.
Consequently, these disturbances impact girls' ability at school, and they fall behind in their studies ultimately dropping out. This allows the parents to question the worth of girls' education, hence, they become vulnerable to child marriage.
Let's talk about politics. Menstruating girls and women are barred from entering the kitchen. The kitchen is the "parliament" of any home as we discuss every crucial thing there. Political participation, meaning putting forth their opinion, starts from there itself. However, they are restricted to do so.
They can't also participate in many cultural events in family and neighbourhood, and meetings and conferences. Many women don't feel like stepping outside during menstruation due to the stigma and taboos surrounding it.
And, those women who can't share their views or learn to not put forward their opinion or those who can't say 'no' or question things also cannot say 'no' to their partners/husbands/boyfriends. Won't this instigate rape, intimate partner violence, sexual coercion, sexual abuse?
There is no dignified menstruation-friendly environment in the office. Even if she goes, there happens to be a lot of disturbance. Therefore she cannot give many outcomes, impacting the economy.
Their cultural rights are also violated as they can't participate even in the death rituals of their own parents. All of these cause mental trauma, and feelings of exclusion.
Overall, every month, when you practise menstrual discrimination, that keeps on reinforcing the concept that girls are inferior and impure.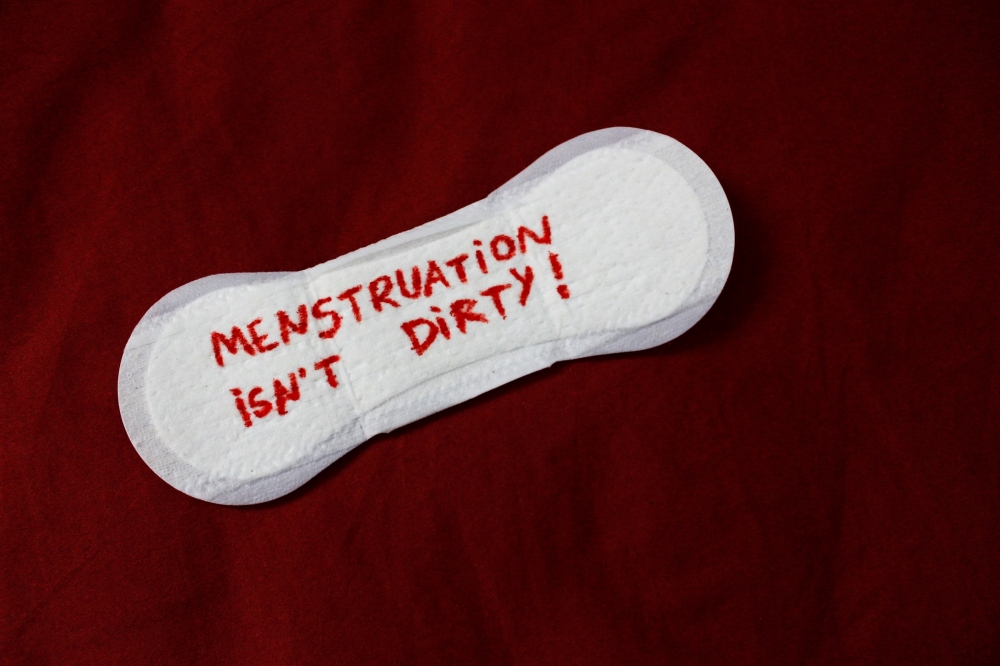 Why is there minimal discussion about this issue?
We are just missing the opportunities. What I feel is menstruation has existed in this world since the time of Homo sapiens'. Menstruation's blood is pure; it is menstruation, because of which life has been possible on this earth. But, we lack this kind of awareness.
Social organisations have also neglected this issue. They only talk about 'donors' issues. One kind of social organisation ignores this issue regarding this as somebody else's business. And, another of a kind only focuses on menstrual hygiene, not menstrual discrimination and dignified menstruation.
Haven't there been any work on eliminating menstrual discrimination by the government and non-government sides?
There has been some work from both sectors. In 2017, four ministries including the Ministry of Drinking Water, the Ministry of Women, the Ministry of Education and the Ministry of Health have formulated a policy. The Ministry of Women has also included dignified menstruation in its gender equality policy.
Apart from this, non-government and private agencies such as the Global South Coalition for Dignified Menstruation, Sancharika Samuha, Jyoti Development Bank, and Kathmandu Guest House have been actively working on dignified menstruation through campaigning. However, these efforts are definitely not enough.
So, who should do what for promoting dignified menstruation and bringing an end to menstrual discrimination-induced violence?
Dignified menstruation is the solution to menstrual discrimination. Therefore, we should keep dignified menstruation at the centre and initiate dialogue about it in family, school, health posts, media, agriculture, and wherever we are.
First and foremost, the government, being responsible, should make a policy regarding dignified menstruation in all 25 ministries and bring it to the mainstream. Moreover, the Ministry of Women, Children and Senior Citizens should significantly work on this issue. The provincial and local governments also should work on this.
Besides, political parties should make dignified menstruation their main agenda. Media also have a key role in initiating dialogues regarding dignified menstruation.