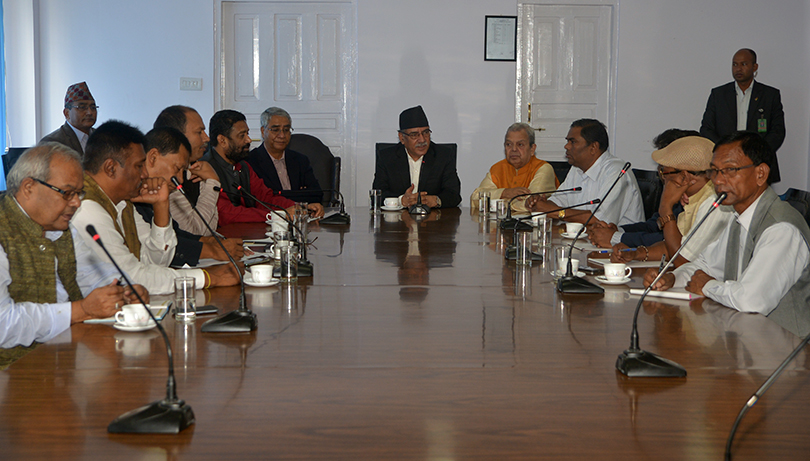 Kathmandu, August 5
The newly-elected government has started implementing the three-point understanding reached with Federal Alliance.
A day after assuming office, Prime Minister Pushpa Kamal has held talks with leaders of the alliance. Alliance leaders have described this step of the government as positive.
At Friday's meeting in Singhadurbar, Nepali Congress President Sher Bahadur Deuba, Deputy Prime Minister and Home Minister Bimalendra Nidhi as well as FA leaders were present.
We discussed implementation of the second point of the three-point understanding reached between the Nepali Congress, CPN-Maoist Centre and Federal Alliance, Raj Kishor Yadav, chair of the Madheshi Janadhikar Forum-Republican, told Onlinekhabar. According to Yadav, at the meeting, Prachanda sought suggestions from parties on effective implementation of the understanding.
PM Prachanda has pledged to take necessary decisions by holding a Cabinet meeting on Friday itself, Yadav informed. Home and Law Secretaries were also present at the meeting.
At the meeting, Home Secretary said earlier also , government had decided to declare those who died during Madhesh Movement as martyrs and compensate the bereaved families.
Some of the victimised families have not received relief because they are out of contact. On top of it, government and UDMF differ on the number of people, who died in course of the movement. While UDMF says 60 people died during the movement, the Home administration does not agree.
At the meeting, Home Secretary asked UDMF leaders to provide the details and added that the ministry will also seek necessary details from district administration offices concerned.
Law Secretary said the Ministry of Law has already set criteria for withdrawal of cases. He said they are ready to move the process forward in keeping with this criteria.
According to UDMF leaders, the Cabinet meeting scheduled for Friday will take a decision on addressing issues mentioned in the second point of the three-point deal.
Prachanda said at the meeting that the government will form a commission in a few days to investigate incidents that occurred during the movement.
Yadav of MJF-R said: We got a call from the government at 11 pm on Thursday. We had not discussed issues. So, we have agreed on forming a probe commission in a few days after doing adequate homework.
At the meeting, parties discussed forming a taskforce for amending the new Constitution on the basis of political understanding.
After the meeting, Upendra Yadav, alliance coordinator, told the media: A day after taking the oath of office, Prime Minister has pledged to walk the talk. This is a good gesture.
Political solution (of the Madhesh crisis) is the main issue, Yadav said, stressing the need to initiate step towards this end.