Major English and Nepali broadsheet newspapers published from Kathmandu on Sunday have given priority to announcement of results of the third phase of local level elections held in Province 2 last Monday. Likewise, political parties' preparations for upcoming federal and provincial polls have also received attention.
As the major festival of Nepalis, Dashain, is on the doorstep, news stories related to festivities have also received prominence.
Important
Major parties begin candidate selection procedures for federal, provincial polls
Major political parties have begun preparations for selecting candidates for elections of federal House of Representatives and Provincial Assemblies, various newspapers have reported.
Annapurna Post says the Nepali Congress has urged its district chapters to recommend names of candidates to the party's Central Office within next 10 days. Likewise, the CPN-Maoist Centre wanted the names before September 29, according to the report. The two parties have already finalised criteria for the selection.
Leaders speaking at the Central Committee meeting of CPN-UML, which began in the capital on Friday, have suggested that the party launch the poll campaign only after announcing its candidates for the prime minister and provincial chief ministers, according to Naya Patrika. Leaders close to the party's senior leader Madhav Kumar Nepal, however, have said such move would invite an alliance against the party; therefore it would not be appropriate to do so now.
Rajdhani says the main opposition party is preparing to assign top leaders to command the poll campaigns in various parts of the country.
Meanwhile, most parties are likely to mull over forming alliance for upcoming polls based on the results of local level elections in Province 2, according to The Kathmandu Post anchor story.
PM seeks support for UNHRC membership during General Assembly address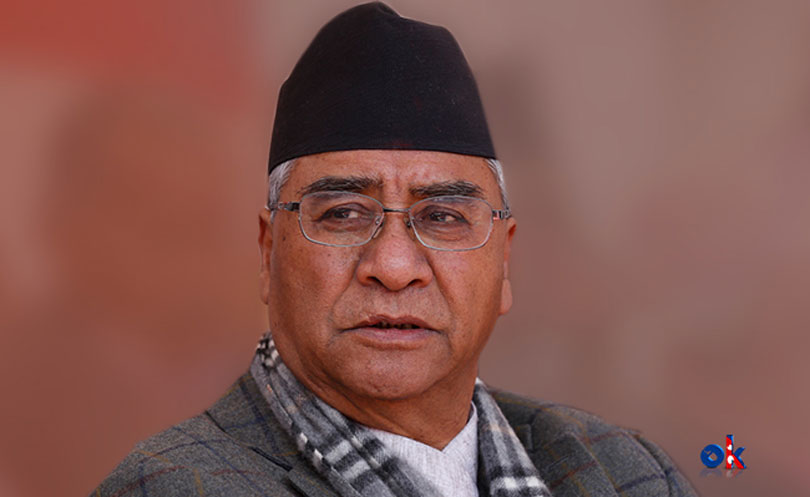 Prime Minister Sher Bahadur Deuba has called the international community to support Nepal's candidature for membership in the United Nations Human Rights Council as he addressed the 72nd session of the UN General Assembly in New York on Saturday, reports The Himalayan Times lead story.
Stating that Nepal has been fulfilling its international obligations as a party to the 24 international human rights instruments, PM Deuba said Nepal's first-ever election would be recognition of the country's commitment and contribution to the field of human rights and encouragement to do more at national and global levels.
Meanwhile, Deuba informs the international community that Nepal is currently drafting a way to prosperity after completing years-long political transition with the promulgation of an inclusive and democratic constitution two years ago, reports Gorkhapatra lead story.
Ignored
Nepal loses sand worth Rs 60 billion to India every year
Construction entrepreneurs in Nepal often complain of shortage of construction materials including sand very often. However, Nepal is losing sand worth Rs 60 billion to India every year and stakeholders have not paid any attention to efforts which could save this resource, reports Karobar.
A recent research conducted by hydropower engineers have concluded that Nepal loses around 2.25 cubic metre sand every year as it flows with water in southbound rivers.
"We can stop the flow of sand if we build more hydropower projects and other infrastructures in the riverbed," the report quotes President of the Independent Power Producers Association Nepal, Shailendra Guragain.
74,000 families of earthquake survivors to celebrate third Dashain in makeshift homes
Rajdhani lead story filed from Sindhupalchok district, which was worst hit by the magnitude-7.6 earthquake and its aftershocks in 2015, reads that around 74,000 families in the district are preparing to celebrate their greatest festival, Dashain, in makeshift homes this year as well thank to the delay in reconstruction. As 28 months have passed since the earthquake, most of the survivors are yet to rebuild their houses, according to the report.
Around 82,000 families had lost their homes to the earthquake in the district, but only around 6,000 have completed the reconstruction, according to the government report.
However, most of the survivors have received Rs 50,000 as the first tranche of reconstruction support from the government,
Meanwhile, the box story in the same paper filed from Nepalgunj reads that flood victims of western Nepal are also celebrating the festival in temporary huts.
Interesting
Kathmandu will anoint new Kumari this Dashain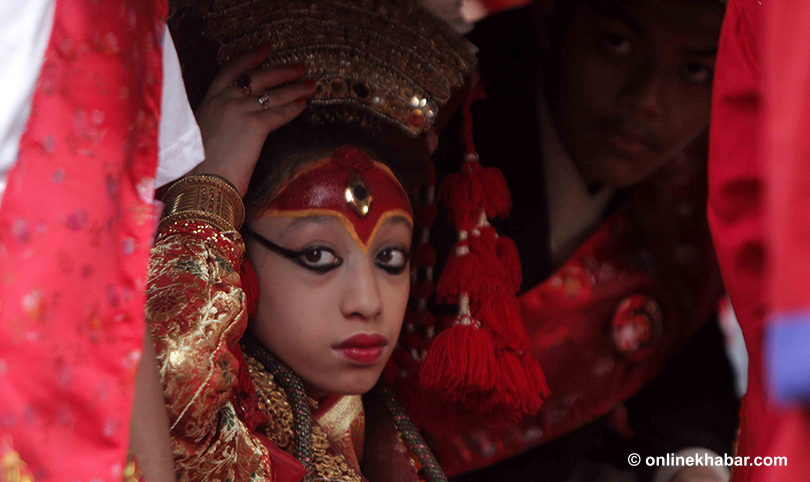 The anchor story of Nagarik daily says Kathmandu city will see the new Kumari, who is worshipped as the living goddess, after nine years soon. The present Kumari, Matina Shakya, is retiring this Dashain as she has become 12-year-old now, informs Guthi Sansthan, a government authority which looks after various cultural celebrations of the city. A new girl from Shakya or Bajracharya community will be anointed as the Kumari on the day of Mahaashtami, which falls on September 28, the Sansthan informs.
Meanwhile, Nepal Samacharpatra lead story says the selection process has been dragged into a controversy as the main priest of Taleju Temple was kept in the dark about the process. But, President Bidya Devi Bhandari has already been informed about the ceremony to be held after four days by Chitaidar Gautam Shakya of Kumari Ghar.
---
Published on September 24th, Sunday, 2017 10:13 AM
---
Download Onlinekhabar App. Android click here & IOS click here . Keep in touch with us on Facebook, Twitter & YouTube.