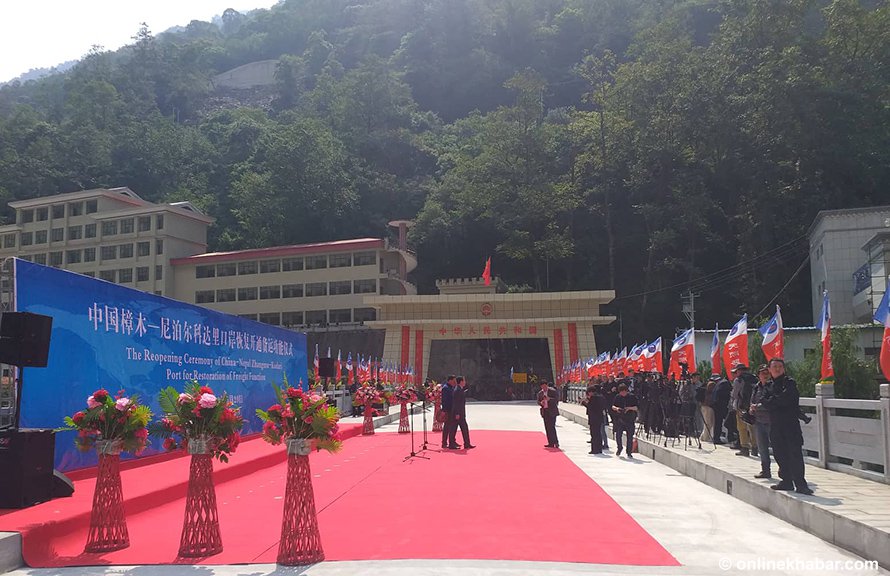 Kodari, May 29
After four years and one month since its closing, the Tatopani border point between Nepal and Chinese autonomous region of Tibet has reopened.
The major customs point between the two countries was closed after the 2015 earthquake destroyed various infrastructures in the area including roads and office buildings.
Since then, most of the commercial activities between the two countries were operated through Rasuwagadhi border point. However, the government of Nepal and traders had been pressing China for the reopening of Tatopani border citing easy access road and its proximity with Kathmandu. It was also discussed in many bilateral meetings.
Nepal's Minister for Industry, Commerce and Supplies Matrika Yadav, a minister from the Tibet government and Chinese ambassador to Nepal, Hou Yanqi, attended a special ceremony held at the border point to mark the reopening. On the occasion, four trucks carrying wool were sent to Nepal.
Though China seemed reluctant to reopen the border point initially, it seems to have given a significant value to the reopening now. Ambassador Hou was staying in the area since Tuesday while many Chinese media covered the event this morning.