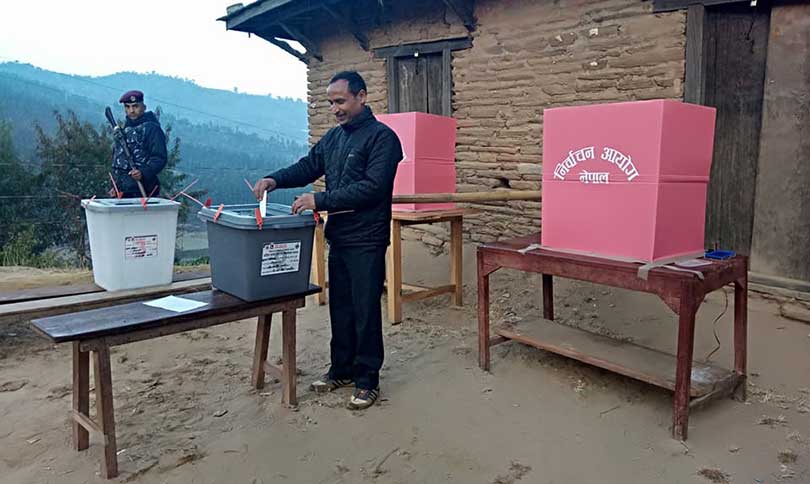 Kathmandu, December 13
Final results of first-past-the-post elections held for House of Representatives have been out from all 165 constituencies.
As of the results published so far, the UML has become the largest party with 78 seats. Its election ally CPN-Maoist Centre is in the second position with 36 seats. The Nepali Congress has won 23 seats.
Madhesh-centric Rastriya Janata Party-Nepal and Federal Socialist Forum-Nepal have won 11 and 10 seats respectively.
Rastriya Prajatantra Party, Rastriya Janamorcha, Naya Shakti Party and Nepal Workers and Peasants Party have won one seat each.
Likewise, three independent lawmakers have secured victory.
House of Representatives
Winners of the first-past-the-post elections
CPN-UML
Province 1
Yogesh Bhattarai, Taplejung
Bhawani Khapung, Terhathum
Bishal Bhattarai, Khotang
Rajendra Rai, Dhankuta
Basanta Kumar Nembang, Panchthar
Yagya Raj Sunuwar, Okhaldhunga
Rajendra Gautam, Sankhuwasabha
Jaya Kumar Rai, Sunsari-1
Jhala Nath Khanal, Ilam-1
Subas Chandra Nembang, Ilam-2
Pabitra Niraula Kharel, Jhapa-2
Lal Prasad Sawa Limbu, Jhapa-4
KP Sharma Oli, Jhapa-5
Ghanashyam Khatiwada, Morang-1
Bhanu Bhakta Dhakal, Morang-3
Lal Babu Pandit, Morang-6
Province 2
Raghubir Mahaseth, Dhanusha-4
Lilanath Shrestha, Siraha-3
Province 3
Parbat Gurung, Dolakha
Gokul Banskota, Kavre-2
Ganesh Pahadi, Sindhuli-1
Mahesh Basnet, Bhaktapur-2
Surendra Pandey, Chitwan-1
Krishna Bhakta Pokharel, Chitwan-2
Narayan Prasad Khatiwada, Nuwakot-2
Madhav Kumar Nepal, Kathmandu-2
Krishna Rai, Kathmandu-3
Ishwar Pokharel, Kathmandu-5
Rambir Manandhar, Kathmandu-7
Jeevan Ram Shrestha, Kathmandu-8
Krishna Gopal Shrestha, Kathmandu-9
Nawaraj Silwal, Lalitpur-1
Krishna Lal Maharjan, Lalitpur-2
Krishna Dahal, Makawanpur-1
Birodh Khatiwada, Makawanpur-2
Bhumi Tripathi, Dhading-1
Khem Lohani, Dhading-2
Sher Bahadur Tamang, Sindhupalchok-2
Province 4
Prem Prasad Tulachan, Mustang
Palden Chhopang Gurung, Manang
Bhupendra Bahadur Thapa, Myagdi
Tilak Mahat, Nawalparasi East-2
Padam Giri, Parbat-1
Khagaraj Adhikari, Kaski-1
Rabindra Adhikari, Kaski-2
Jagat Bishwakarma, Kaski-3
Krishna Kumar Shrestha Kisan, Tanahun-1
Kedar Sigdel, Tanahun-2
Surya Pathak, Baglung-1
Narayan Marasini, Syangja-1
Padma Kumari Aryal, Syangja-2
Province 5
Nandalal Rkaya, Banke-3
Metmani Chaudhary, Dang-1
Hira Chandra KC, Dang-3
Chhabilal Bishwakarma, Rupandehi-1
Bishnu Paudel, Rupandehi-2
Ghanashyam Bhusal, Rupandehi-3
Dal Bahadur Rana Magar, Palpa-1
Som Prasad Pandey, Palpa-2
Pradeep Gyawali, Gulmi-1
Gokarna Bista, Gulmi-2
Province 6
Dhan Bahadur Budha, Dolpa
Gopal Bam, Mugu
Dhruva Shahi, Surkhet-1
Nawaraj Rawat, Surkhet-2
Rabindra Raj Sharma, Dailekh-1
Raj Bahadur Budha, Dailekh-2
Province 7
Prem Aale, Doti
Ganesh Thakunna, Darchula
Damodar Bhandari, Baitadi
Lal Bahadur Thapa, Bajura
Bhairav Bahadur Singh, Bajhang
Nara Bahadur Dhami, Kanchanpur-2
Deepak Prakash Bhatta, Kanchanpur-3
Bhim Rawal, Achham-1
Yagya Bogati, Achham-2
Jhapat Rawal, Kailali-2
Narad Muni Rana Tharu, Kailali-5
CPN-Maoist Centre
Province 1
Hem Kumar Rai, Solukhumbu
Sudan Kiranti, Bhojpur
Himal Kiranti, Udayapur-2
Surendra Kumar Karki, Jhapa-1
Aman Lal Modi, Morang-4
Shiva Kumar Mandal, Morang-5
Province 2
Giriraj Mani Pokharel, Mahottari-1
Prabhu Sah, Rautahat-3
Matrika Yadav, Dhanusha-1
Suresh Chandra Das, Siraha-2
Rameshwor Raya Yadav, Sarlahi-3
Province 3
Pushpa Kamal Dahal, Chitwan-3
Shyam Kumar Shrestha, Ramechhap
Haribol Gajurel, Sindhuli-2
Ganga Bahadur Tamang, Kavrepalanchok-1
Agni Prasad Sapkota, Sindhupalchok-1
Hit Bahadur Tamang, Nuwakot-1
Pampha Bhusal, Lalitpur-3
Province 4
Hari Adhikari, Gorkha-1
Dev Gurung, Lamjung
Devendra Paudel, Baglung-2
Province 5
Top Bahadur Rayamajhi, Arghakhanchi
Maheshwor Gahatraj, Banke-1
Santa Bahadur Tharu, Bardiya-2
Chakrapani Khanal, Kapilbastu-1
Barsha Man Pun, Rolpa
Krishna Bahadur Mahara, Dang-2
Kamala Rokka, Rukum East
Province 6
Tek Bahadur Basnet, Salyan
Durga Bahadur Rawat, Kalikot
Shakti Bahadur Basnet, Jajarkot
Janardan Sharma, Rukum West
Gajendra Mahat, Jumla
Province 7
Bina Magar, Kanchanpur-1
Gauri Shankar Chaudhary, Kailali-3
Lekhraj Bhatta, Kailali-4
Nepali Congress
Province 1
Sitaram Mehata, Sunsari-2
Bijaya Kumar Gachhadar-3
Gyanendra Bahadur Karki, Sunsari-4
Minendra Prasad Rijal, Morang-2
Narayan Khadka, Udayapur-1
Province 2
Tejulal Chaudhary, Saptari-4
Mohammad Aftab Alam, Rautahat-2
Dev Prasad Timalsina, Rautahat-4
Umakanta Chaudhary, Bara-1
Pradeep Giri, Siraha-1
Amaresh Kumar Singh, Sarlahi-4
Province 3
Mohan Acharya, Rasuwa
Prakash Man Singh, Kathmandu-1
Gagan Kumar Thapa, Kathmandu-4
Bhimsen Das Pradhan, Kathmandu-6
Rajenra Kumar KC, Kathmandu-10
Province 4
Shashanka Koirala, Nawalparasi East-1
Province 5
Devendra Raj Kandel, Nawalparasi West-2
Abhishek Pratap Sah, Kapilbastu-3
Pramod Kumar Yadav, Rupandehi-4
Bharat Kumar Sah, Rupandehi-5
Sanjaya Kumar Gautam, Bardiya-1
Province 7
Sher Bahadur Deuba, Dadeldhura
Rastriya Janata Party Nepal
Province 2
Rajendra Mahato, Dhanusha-3
Chandrakanta Chaudhary, Saptari-3
Laxman Lal Karna, Parsa-4
Iqbal Miya, Bara-4
Raj Kishor Yadav, Siraha-4
Pramod Sah, Sarlahi-1
Mahendra Yadav, Sarlahi-2
Sharad Singh Bhandari, Mahottari-2
Mahantha Thakur, Mahottari-3
Anil Kumar Jha, Rautahat-1
Province 7
Resham Lal Chaudhary, Kailali-1
Federal Socialist Forum-Nepal
Province 2
Surya Narayan Yadav, Saptari-1
Upendra Yadav, Saptari-2
Uma Shankar Argariya, Dhanusha-2
Pradeep Yadav, Parsa-1
Bimal Prasad Shreevastav, Parsa-2
Hari Narayan Rauniyar, Parsa-3
Ram Sahaya Prasad Yadav, Bara-2
Ram Babu Yadav, Bara-3
Surendra Yadav, Mahottari-4
Province 5
Istiyak Rai, Banke-2
Rastriya Prajatantra Party
Province 1
Rajendra Lingden, Jhapa-3
Rastriya Janamorcha
Province 5
Durga Paudel, Pyuthan
Naya Shakti Party Nepal
Province 4
Baburam Bhattarai, Gorkha-2
Nepal Workers and Peasants Party
Province 3
Prem Suwal, Bhaktapur-1
Independent
Province 5
Hridayesh Tripathi, Nawalparasi West-1
Brijesh Kumar Gupta, Kapilbastu-2
Province 6
Chhakka Bahadur Lama, Humla