Forest fires in Nepal have turned central Nepal's sky into a hazy din as a yellow tone is constant as if it were an Instagram filter. In the past month alone, there have been over 500 forest fires in nearly 60 districts across the country. From the lower plains of Mahottari to the high hills of Manang, forests in Nepal have been burning constantly since late November 2020 as 73 out of 77 districts have seen forest fires.
As a result, a thick dense smog has engulfed a major part of central Nepal, due to which the air quality in major cities of the region is getting worse day by day. The air quality index (AQI) in Kathmandu has continuously been over 300 while cities like Pokhara, Birgunj, Hetauda and Butwal have seen their AQI marks over 200 on a regular basis in the past week. AQI in all these cities in the past week has even crossed the 400-mark, some even getting as high as 600, which falls under the severely polluted category.
Lack of rain, uncontrollable forest fires, vehicular and industrial pollution have been cited as the major reasons for the depleted air quality in the region. This has affected both domestic and international flights as well as people's general health as many have been complaining about breathing issues and a constant burning sensation in their eyes.
As air quality continues to get worse, we try to answer what is causing it, why this year has been so bad and what can be done in the future to ensure that such things do not happen again:
What is AQI?
An air quality index (AQI) is an index for reporting air quality on a daily basis. It is a measure of how air pollution affects one's health within a short period. The Environmental Protection Agency (EPA) calculates the AQI for five major air pollutants, for which national air quality standards have been established to safeguard public health. The higher the AQI value, the greater the level of air pollution and the greater the health concerns.
Who is most at risk from air pollution?
People with respiratory problems like asthma, chronic bronchitis and emphysema are the most at risk from air pollution along with young children and teenagers. Doctors also say people who work outdoors are also at risk along with people who exercise outdoors. That is why they advise people no to take part in outdoor activities and ask people with respiratory problems to stay home. Nepal's government has also released a statement asking citizens with lung-related issues to stay home.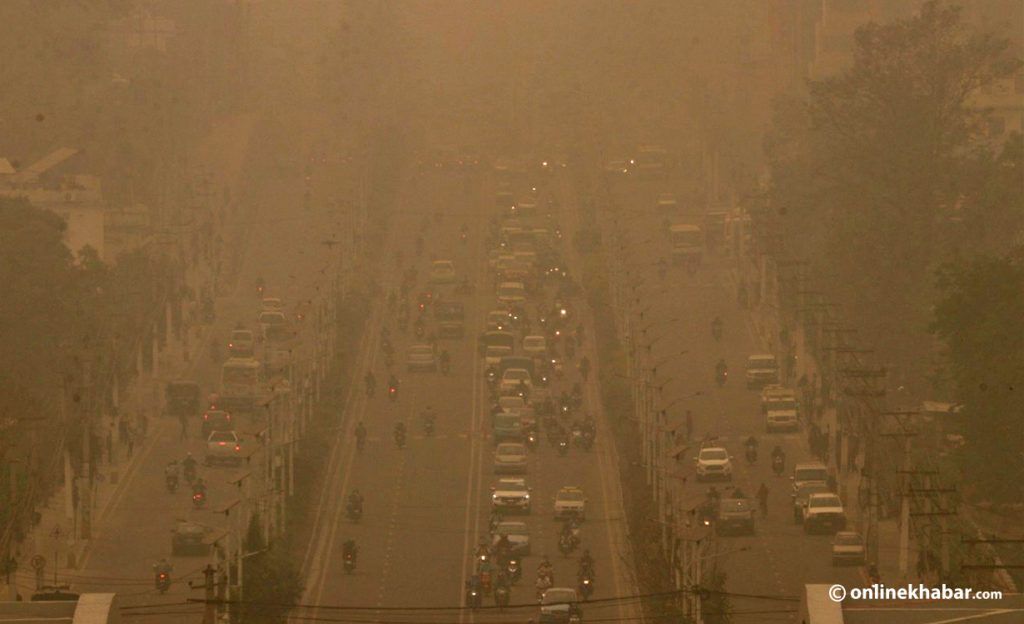 What's causing the pollution?
The main reason for the pollution is believed to be the forest fires happening throughout Nepal. Since November 2020, there have been over 2,000 cases of forest fires in Nepal. This is not limited to central Nepal. According to the Department of Forest and Soil Conservation, reports of forest fire have come from Taplejung in the east to Achham in the west. But, the most number of forest fires have been reported in the Parsa, Gorkha and Chitwan districts of central Nepal. Apart from the forest fire, pollution from vehicles and various industries has also been cited as a reason for air pollution.
How does a forest fire occur?
Forest fires are a usual occurrence between November and April. People who are dependent on forests for cattle fodder and natural fertiliser often light up a fire in the forest to ensure they remove all the dried leaves and shrubs that remain in the forest so that the new batch of grass plants germinates.
In the Terai plains, people often start a fire to make the land ready for farming, burning away stems of all old crops in the area. Usually, most of these fires do not continue for more than a few days as winter rain douses the winter fire started around November and the pre-monsoon rain douses the fire started in early spring.
But, with no rain for over three months, fires have destroyed hectares of forest land currently. The westerly winds have also helped spread the fire around the country. The westerly winds, experts say, is also why Kathmandu valley has been engulfed in smoke.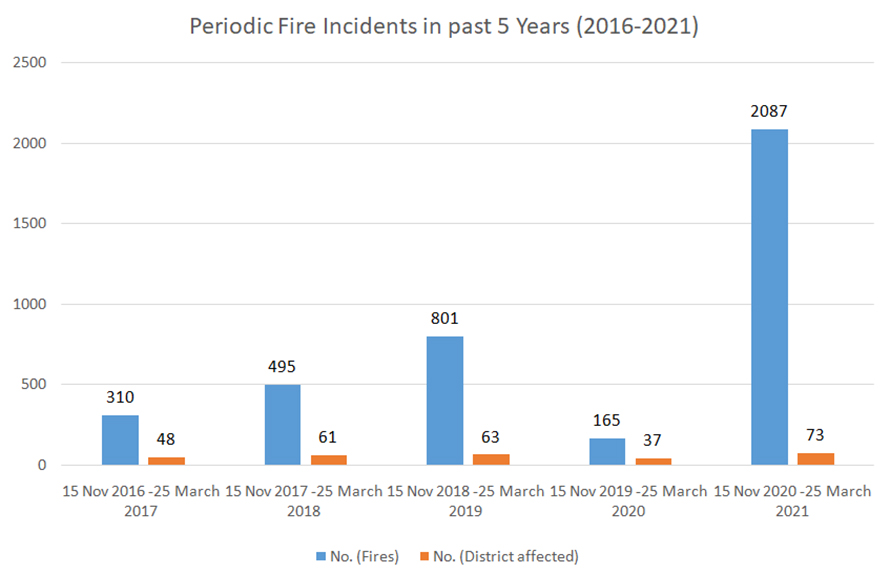 Why can't it be controlled?
Forest fires are not easy to control. California, Amazon and Australia are recent good examples where it took months to bring them under control. Ultimately, the fire was controlled thanks to the rain. Even though a forest fire in Chobhar of Kathmandu last Saturday was controlled before it got out of hands, thanks to the Armed Police Force, in other areas, things are not as easy. Most are remote Nepal does not have both skilled human resources and the technology to bring fires like these under control. A forest fire in Manang that started in November was burning for months destroyed over 700 hectares of forest. Even though a helicopter was used to douse a fire in Pathibara of Taplejung District, this was only done when the fire was about to reach the temple.
What damage does it do?
Apart from polluting the air, fire causes significant damage to wildlife. Even though many mammals escape the forest fire area, smaller mammals and reptiles cannot. That risks a lot of flora and fauna dying. The exact damage of the forest fire is yet to be determined, but under-secretary at the Department of Forest and Soil Conservation, Sundar Sharma says that a loss of forest areas up to over 200,000 hectares happens every year.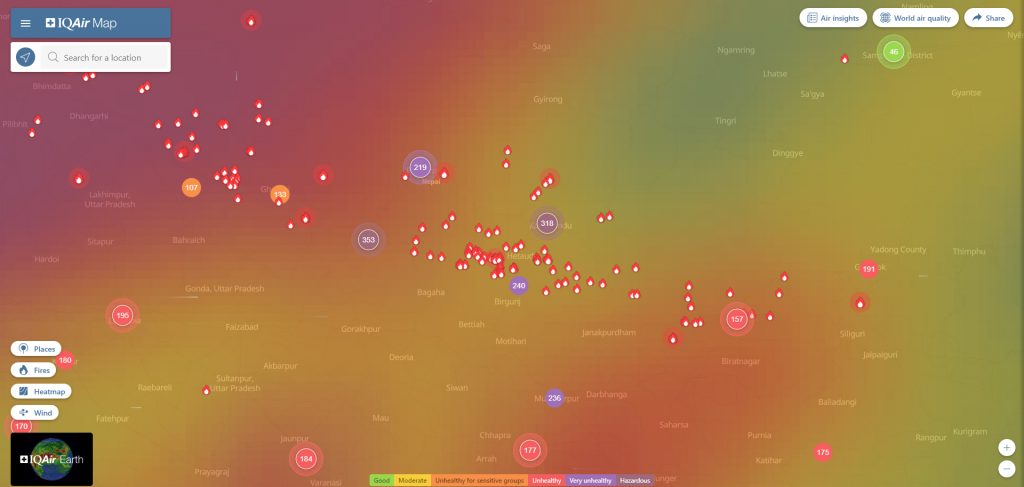 Why is it worse this year?
The main reason is the lack of rain. Nepal, which saw a relatively dry and warm winter this year, received less than 20 per cent of normal rainfall in the season. Due to low rainfall that caused a drought-like situation, wildfires continued to rage on. This year has seen more wildfire incidents than the last four years combined, says Sharma. With the peak normally coming in April, government officials are worried about what is to come.
What are the major hotspots?
Chitwan, Makawanpur and Parsa have the highest forest fires in all of Nepal currently along with Sindhuli and Rautahat. On March 28 alone, 115 wildfire incidents were reported from 34 districts.
What does government say?
The government has remained mum on the issue. However, a team is being formed. The National Disaster Risk Reduction and Management Authority, the Home Ministry and the Ministry of Forests and Environment are working together to combat wildfires in the country. For now, most are hoping for rain to help douse the fire.
How can we solve?
The government currently has no idea how to douse the wildfires. Government officials say they are looking at options, but for now, all of them are looking towards the sky, praying for rain.
Fire control expert Kishor Kumar Bhattarai says that Nepal does not have the resources to control forest fires. He says that fire trucks cannot douse it on their own and he calls on the government to form a proper team that can plan for such disasters in the future.
He says the local communities who are dependent on the forest need to be made aware of the dangers of forest fires and many seem to have stopped caring about it. Having details of people who go into the forest is also necessary, says Bhattarai.
He further adds that volunteers need to be trained and deployed to fire-prone areas, especially during pre-spring.