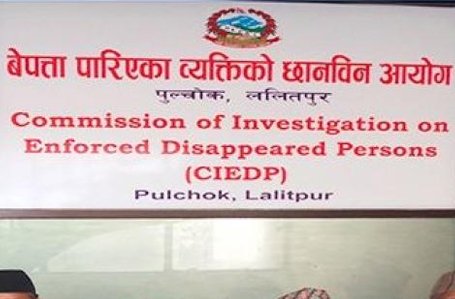 Kathmandu, March 17
The Commission of Investigation on Enforced Disappeared Persons (CIEDP) has made public a list of 2,506 persons who were allegedly made disappeared either by the state security personnel or the rebelling armed party during the decade-long armed conflict, 1996-2006.
The transitional justice body says the list was prepared based on the complaints it received since its establishment in 2015.
Bardiya district of Province 5 tops the chart with 254 disappearance cases. It is followed by Dang of the same province with 128 cases. Interestingly, Rukum and Rolpa, two of the worst conflict-hit districts, have fewer cases, 97 and 45 respectively.
Meanwhile, the commission has urged the public to inform the commission about the listed persons if they have any information about them. The commission's information officer Niranjan Ghimire says the information can be given via its tollfree telephone 1660-01-22111 or by visiting its office in Pulchok of Lalitpur.