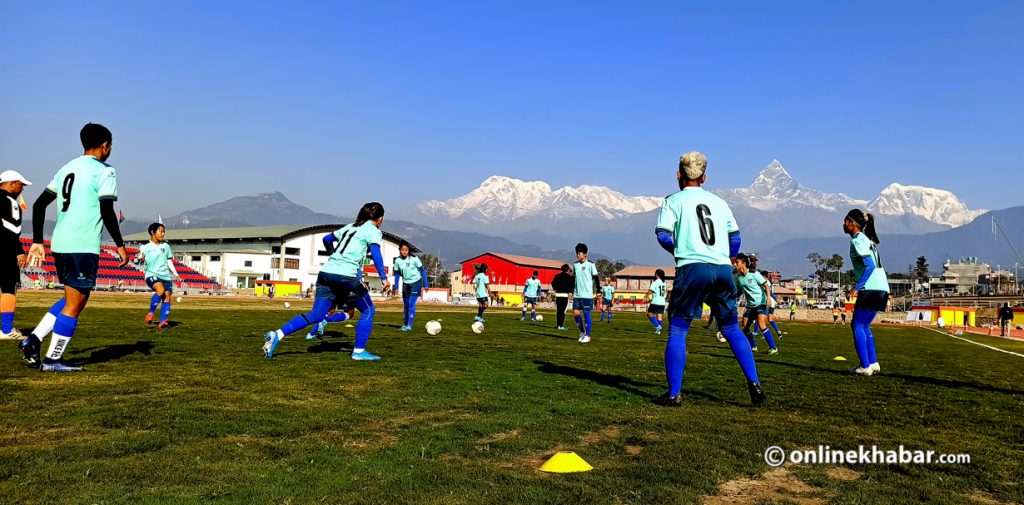 Sabitra Bhandari from Nepal is lighting up the Indian Women's League (IWL). In seven, Bhandari, who is also known as Samba, has scored 26 goals including five hat-tricks (one seven-goal game) for Gokulam Kerala FC.
With the team yet to play more games, it is likely that her goal tally will significantly go up as Bhandari, after being the highest scorer in Nepali women's football, has created history and has become the all-time leading goal scorer in the IWL.
Players like Bhandari shining in foreign leagues in South Asia is good for Nepali players and Nepali football. It allows them to test themselves with the best.
That said, these players are sad that women's football has not developed in the country as the football governing body, the All Nepal Football Association (ANFA), has not been able to conduct a women's league this year. This means national team players who do not get the opportunity to play abroad have to wait a long time to play tournaments in the country.
Nice neighbours
Things in countries like India and Bangladesh are different. A women's league is being held in India regularly while Bangladesh recently announced Asia's first women's franchise football league. The league is set to start in May, in which players from Asia and all over the world are due to take part.
When it comes to women's football, India is South Asia's powerhouse. Recently, Bangladesh are also on the up as they won the SAFF Women's Championship for the first time by defeating both India and Nepal.
Nepal, on the other hand, are yet to win the title. But the women who play are not to blame for this as preparations only start on the eve of the tournament. This has left many players disappointed as they believe they could do a lot better in these tournaments if there was a proper domestic structure and a national league.
Shining stars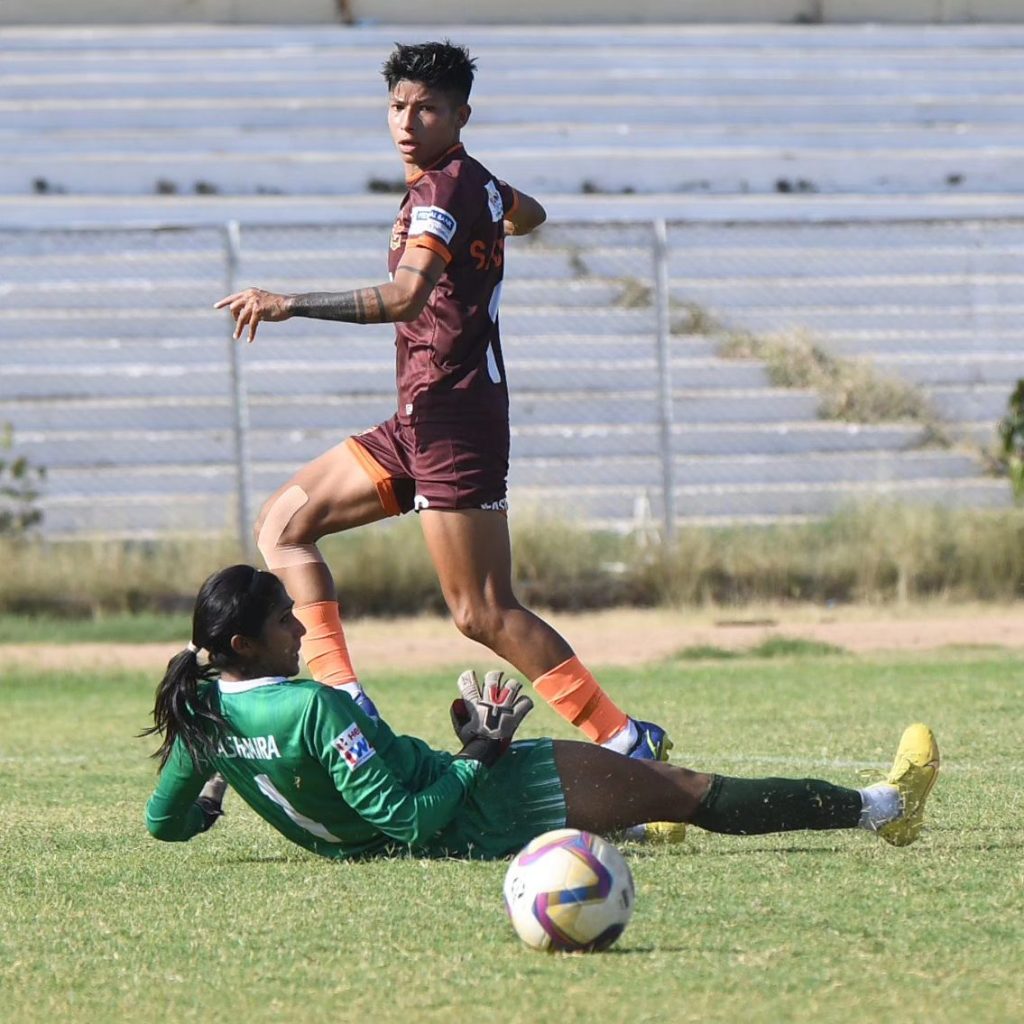 Nepal's national women's football team midfielder Renuka Nagarkoti is excited to play in India. But she feels Nepal is not doing enough for the women's game.
"Nepal not having a domestic league is sad for women's football. But it gives me a lot of pride to play in India," says Nagarkoti, who plays for Kickstart FC Karnataka.
She believes if there is a regular league in Nepal, players will get exposure and new players will also get opportunities, resulting in a strong national team.
Like Nagarkoti, Saru Limbu, Rekha Paudel and Anjila Tumbapo Subba, who are also playing in the Indian Women's League for the first time, are also excited.
Six players from Nepal are participating in the Indian Women's League. Bhandari is playing for defending champions Gokulam Kerala while Subba is playing for Sethu FC.
Similarly, Nagarkoti and Limbu are playing for Kickstart FC and Paudel is playing for Sports Odisha. Anita Basnet is playing for the new team, Lord's FA Kochi. Except for Nagarkoti and Basnet, all the players are first-team regulars.
Bhandari has become a goal machine this year as even India's best players fall behind her. This proves Bhandari is a star player not only in Nepal but also in South Asia.
She has been unstoppable as she has scored four goals each in three games, five and seven goals in one game each and two in another taking her total to 19 goals in six games. She has only failed to score in one game in the IWL this year, which ended in a goalless draw for her team.
Subba has been solid in goal as she has kept five clean sheets in six games. It is safe to say that Nepali women are doing great in the IWL. It is likely all Nepalis will play in the quarter-finals of the IWL which will have four teams from each group. The quarterfinalist will also qualify directly for the next women's league.
Fundamental failure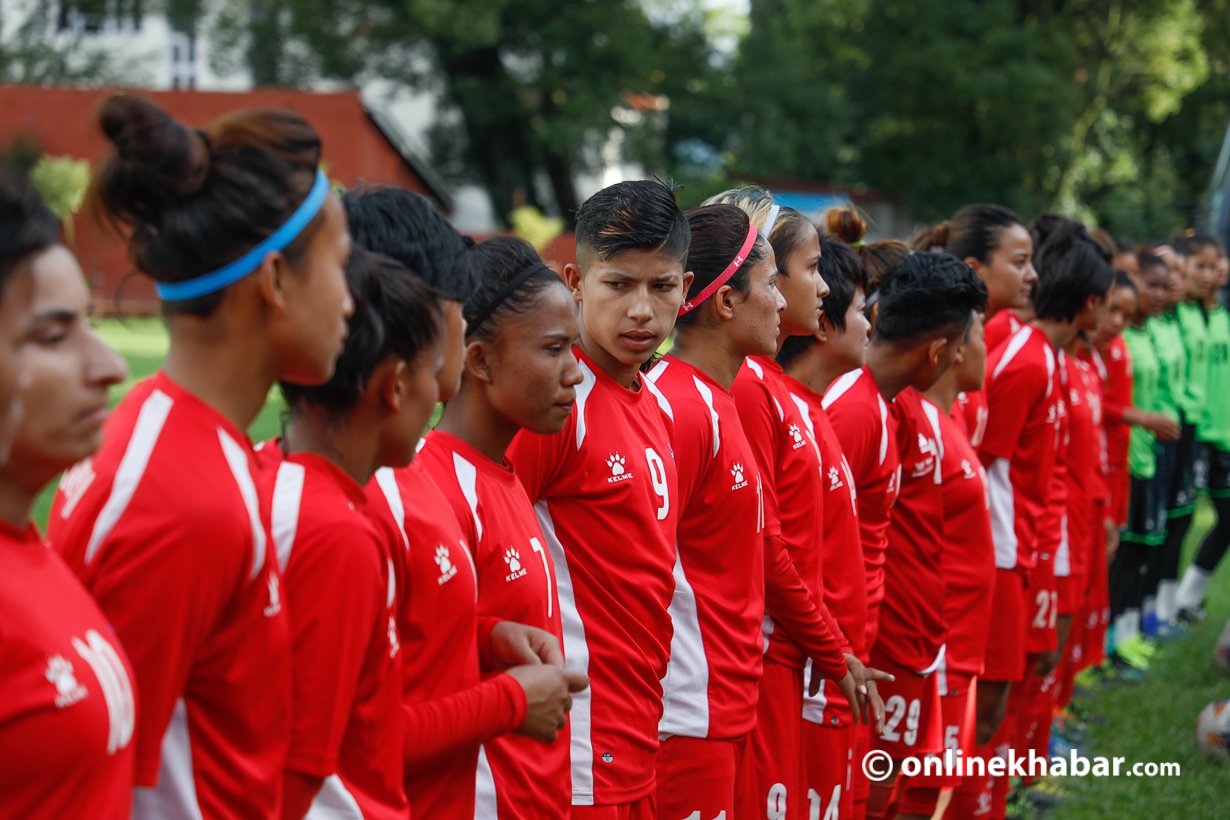 It is clear India are miles ahead of Nepal when it comes to both men's and women's football. While the Indian Super League has been going on quite well, the country has started organising a league tournament for women, in which players from other countries can take part. But in Nepal, women's football has always been under the shadows as ANFA could not even complete the league that was once announced.
In 2021, ANFA conducted the National Women's League in a double round-robin system with seven teams. Players from India and Africa took part in the league, which was seen as a positive step in women's football in the country. But in 2022, things took an ugly turn after ANFA could hot host the second round of the league.
The decision to hold the second round of the league in Biratnagar was made by former ANFA president Karma Tsering Sherpa, but when Pankaj Bikram Nembang was elected the new president, things did not move forward.
Nembang's team said it would host the event after the SAFF Women's Championship, but it did not and ANFA announced the winner based on the points of the first round.
The Armed Police Force team were declared the champions as they had won all seven games while Nepal Police Club finished second and Tribhuvan Army Club finished third.
ANFA has not talked about conducting a new league in 2023 as it is struggling to finish the men's league at the moment.
Not having a regular league has hurt the women's team. A prime example is the women losing to Bangladesh after finally beating India in the semifinal of the SAFF Women's Championship in September 2022. Many players believe if women's football in Nepal had a proper structure, they might have had a title to show for their efforts.
Things are different in India and Bangladesh. Both countries are working with a vision to promote women's football in their respective countries. The All Indian Football Federation, through Vision 2047, is working to develop both men's and women's football in the country. The Bangladesh Football Federation has also started to see the results of its investment in women's football for a long time.
ANFA also says Nepal's aim is to win both women's and men's SAFF championships. But these are limited to talks as it has not invested enough to work for this goal.
The double round-robin league was seen as a positive and with municipalities also taking part in it, many felt this would reach new heights. But ANFA, stating having teams from municipalities was problematic, has decided to conduct it in a different manner.
But when will the league commence is anyone's guess now.
---
This story was translated from the original Nepali version and edited for clarity and length.