Anjila Tumbapo Subba has been the goalkeeper of Nepal's women's football team for the past eight years. During her career, she and her teammates have spent as much time training as their male counterparts, but she feels that their team do not get the recognition it deserves.
"When we talk about the national football team, people always think about the men's team," she says. "This has resulted in people also not caring about us. That's wrong."
It is wrong because these women have worked hard and sacrificed even more than men to get where they are. Take Anjila Tumbapo Subba for example. By the age of 24, she has established herself as the country's number one goalkeeper. "Now, I want to change the perception prevalent in Nepal that football means men's football."
But, to get to this position and have developed a determination to change the scene, she has had to face quite a hard time travelling from her home in Kanyam to the capital city Kathmandu.
The football fantasy
Anjila Tumbapo Subba was born in Panchthar. As a girl born in rural Nepal, she had to face adversities from an early age. Her father abandoned their family, after which her mother remarried and moved to Kanyam in Ilam.
That is where her love for the game started. Close to her house was a football ground where her stepbrothers and sisters played football. Wanting to fit in, she also started to join in.
Watching her play football, people were not happy as they constantly complained to Subba's mother telling her her daughter would ruin her life.
"Thankfully, my mother was supportive and encouraged me to play. Without her and the family's support, I would not be here."
Yet, it was not easy. Even though Anjila Tumbapo Subba loved the game, she did not even have football boots nor did she have a ball. Not letting that discourage her, she continued working hard. As she started to play district level tournaments, she started to get the funds to buy boots.
The goal of goalkeeping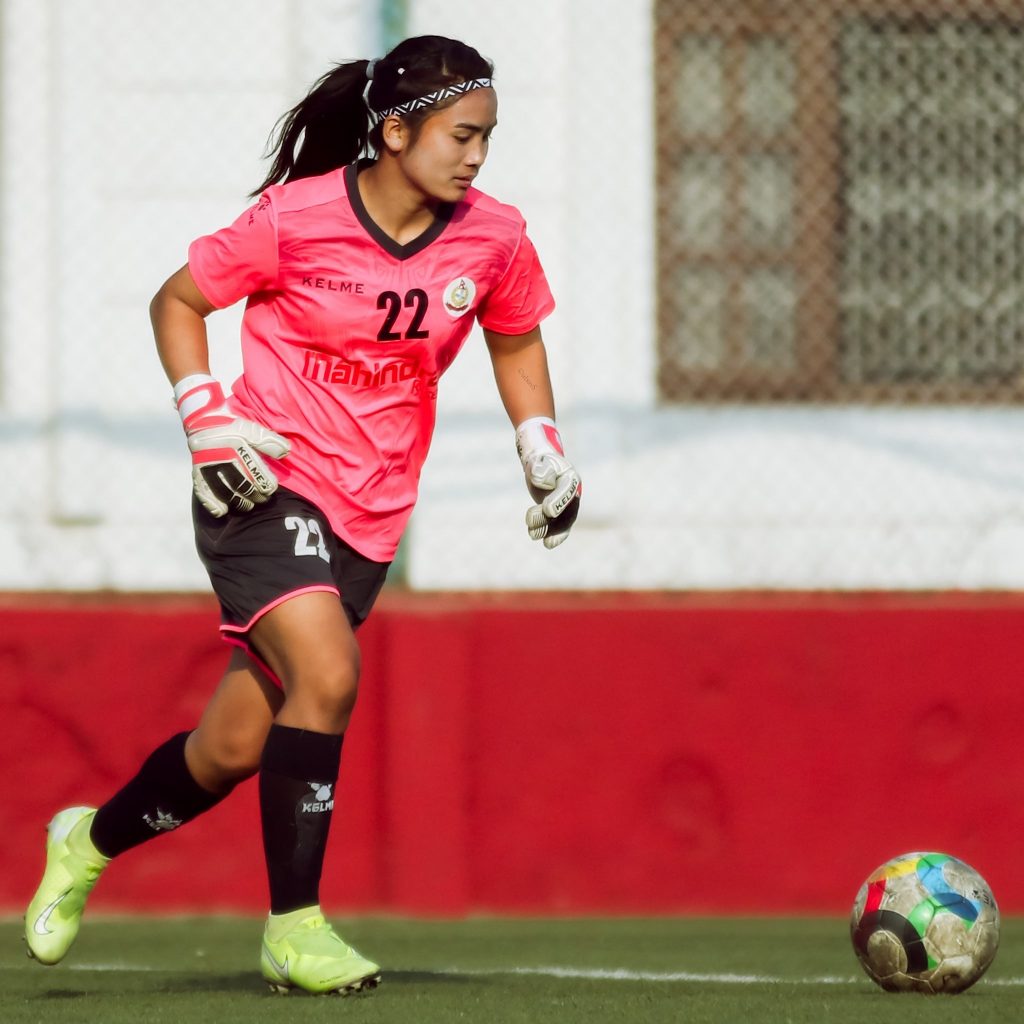 Subba was not always a goalkeeper. while playing in Kanyam Once when her team's keeper did not come to a match, Subba stepped up. She had never kept the goal before but that time, she surprisingly did better than even the goalkeeper of the team.
"I had one goal to stop them from scoring and I did that. Everyone was so happy with my performance," says Subba.
Soon Anjila Tumbapo Subba understood that a goalkeeper was a specialist position that no one really wanted. But, as she learnt being a keeper would mean better chances, she continued to train and get better.
It was in 2012, during the sixth national games, that she started to make a name for herself nationally, impressing everyone playing for Eastern Nepal.
That caught the eyes of selectors who kept on monitoring her. During the eighth national games, her determination to keep a clean sheet was lauded by everyone.
"After the sixth national games, I started getting phone calls. People started to tell my parents that they'd pay for my education and give me a place to live in Kathmandu."
Anjila Tumbapo Subba was only 14 then.
But, as the Armed Police Force came calling, her parents could not say no. It was with the force that she learnt the basics of goalkeeping and started to improve. Soon, she was the team's starting goalkeeper.
Last year, she even went to Pakistan to play in the woman's league there alongside three other Nepali women. Playing for Masha United, she even captained the team. But, the tournament was cancelled midway due to elections and the outbreak of Covid-19.
The push for parity
Back to Nepal again, Anjila Tumbapo Subba is desperate to change people's perception about women's football as this has been her goal now.
In Nepal, like everywhere in the world, men's football gets a lot of coverage and importance. Stadiums are full of fans who want to see the country win. But, when it comes to women's football, the same enthusiasm is not there.
It is not just about the fans, even the governing body, ANFA, does not pay much attention to improving the women's team. It knows if it spends the same amount of energy and resources on the women's team, there is a chance to win something big, but due to various reasons, it does not seem keen, complaints Anjila Tumbapo Subba.
Nepal's women's team are ranked 103rd in the world compared to the men's which are ranked at 167. Despite this, the women's team hardly go abroad to take part in tournaments as their competitions are limited to Nepal.
"When we ask why we don't have many games, they tell us they don't have the budget. It discouraging that the state says that," says Subba.
When Karma Tsering Sherpa became ANFA president, he had told everyone how he would change this. But, even during his term, little to nothing has happened, complains Anjila Tumbapo Subba. He had promised to start an academy dedicated to women, but even that promise has not materialised along with his promise of extending the women's league season.
Subba says she will continue pushing for this parity as long as she plays football.
In her stay in Pakistan, Anjila Tumbapo Subba learnt about life more than she did about football as she saw the Pakistani women live life in a country dominated by men shocked her.
"I know women aren't treated as equals, but in Pakistan, things were different. They didn't even let women wear short clothes. We had to play wearing full clothes."
That's made her even more goal-oriented as she wants to do a lot in the field.
The heroism and hopes for the future
It is safe to say that Anjila Tumbapo Subba's life has been turned on its head now as a biopic based on her life is under work where she herself will be cast as the lead of the film.
"Everyone has their own struggles in life. Maybe they liked my struggle more than they did others. I feel that I am getting to relive my life all over again. I hope I do myself justice and show the struggles I've been through," she says, adding she hopes to inspire women from all walks of life.
This year, she is also nominated for the NSJF's People Choice Award. She hopes that the award will help women's football gain some traction among football fans in Nepal.
"I feel proud to have been included in this list."
Anjila Tumbapo Subba hopes that she can continue her life in football even after she is done playing. Her goal, she says, is to become a goalkeeping coach.
"I know nothing apart from football. This is my life and I hope to carry on."