Saru Limbu, 21, was in raptures when she won the best player award in the National Women's League as an Armed Police Force player on February 19. She had had a great season as she capped it off with two goals in the final game against Tribhuvan Army in a 3-0 victory.
With Sabtira Bhandari 'Samba', who had scored 43 goals, injured, many had felt that the Army would put an end to the APF's unbeaten run. But, Limbu stole the show in the victory as she won the most valuable player of the tournament ahead of 'goal machine' Bhandari.
"It was quite surprising," says Limbu. "I knew I would win an award, but I thought it would be a small one like the best midfielder. But, when Bimala Chaudhary from the Army won the best midfielder and Bhandari won the best forward, I started to dream."
Having done well in the league this year, she now wants to do more and has her eyes set on glory with the national team. As she missed out on the final of an under-age SAFF championship due to the 2015 earthquake, she now wants to win one with the senior team. And, she wants to do that by beating Nepal's nemesis India in the finals.
Playing barefoot and in torn shoes
Limbu's footballing career started in Morang. As a child growing up, she regularly watched football matches with her friends and cousins. Even though at first she was sceptical about playing football, gradually, she started to get accustomed to it.
One day, her school teacher saw her play football wearing a skirt. She was playing really well and that impressed her teachers who then called Bikram Dhimal, a football coach. Dhimal then decided to take Limbu under his wing and took her to Urlabari.
To play football, she needed boots. She asked her brother to buy one for her and then left for Urlabari to train.
"It took me two weeks to play a game. When I started playing, it felt odd initially as I didn't know much," she says, "I barely touched the ball and was running around like a headless chicken. When I did touch the ball and hit a shot, my shoes tore," she says.
She played the remainder of that match barefoot. That is not it, she says she played a lot of games barefoot as she could not ask her parents to buy her shoes. She even sewed the torn shoes and played with them countless times.
Gradual growth
She was doing well too. Impressed at local level tournaments, she was catching the eyes of various clubs. One of them was the APF.
Initially, her family did not want her to go. But, as it was a departmental team where she would have more than just a football job, her family agreed.
When Limbu joined the APF, it already had a number of talents like Anu Lama and Sajana Rana. But, with both Lama and Rana injured, Limbu got a chance to play as soon as she joined the club.
"I was quite lucky," she says.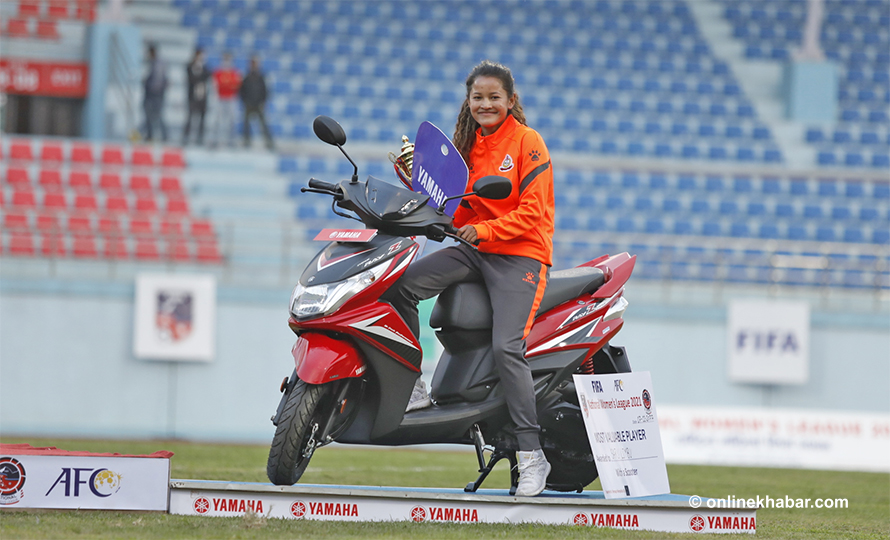 She garbed the opportunity with both hands as she garnered a lot of praise when she lit up the Chief of Army Staff Cup. That got her a ticket to Nepal's national team.
After consistently performing well both at the club level and at the closed camps, she booked a place in Nepal's 2016 SAFF Championship team.
"I went home with the national team jersey with my name on it and stared at it for hours," she says. "It was one of the proudest moment of my life."
Dream of defeating India
Her debut for the national team was against Sri Lanka. She was anxious. All that she had worked for in her life was coming true.
"I came on in the second half. I wasn't sure if I could compete with them, but it was a good first game, which we won thanks to an own goal from Sri Lanka."
But, in the semi-final, Nepal lost to hosts India and with that, Limbu's debut tournament ended in disappointment.
Then came the 13th South Asian Games in 2019 when she scored her first goal against Sri Lanka. To her, it was a special moment as she scored in a game in which Nepal was struggling.
"I was shocked when I scored," she says. "I didn't even know how to celebrate. Samba didi [Sabitra Bhandari] pulled me and hugged me as we celebrated the goal."
Limbu was hopeful about winning a gold medal at the SAG. But as Nepal lost to India again, that dream all but remained a dream.
Every time Nepal have reached the finals of either the SAFF Championship or the SAG, each time they have lost to India.
Why do they always lose to India? This question has plagued almost all the players. But none of them has an answer.
"Every time we play them, we try our best. Give our all. But, we always end up losing," says Limbu.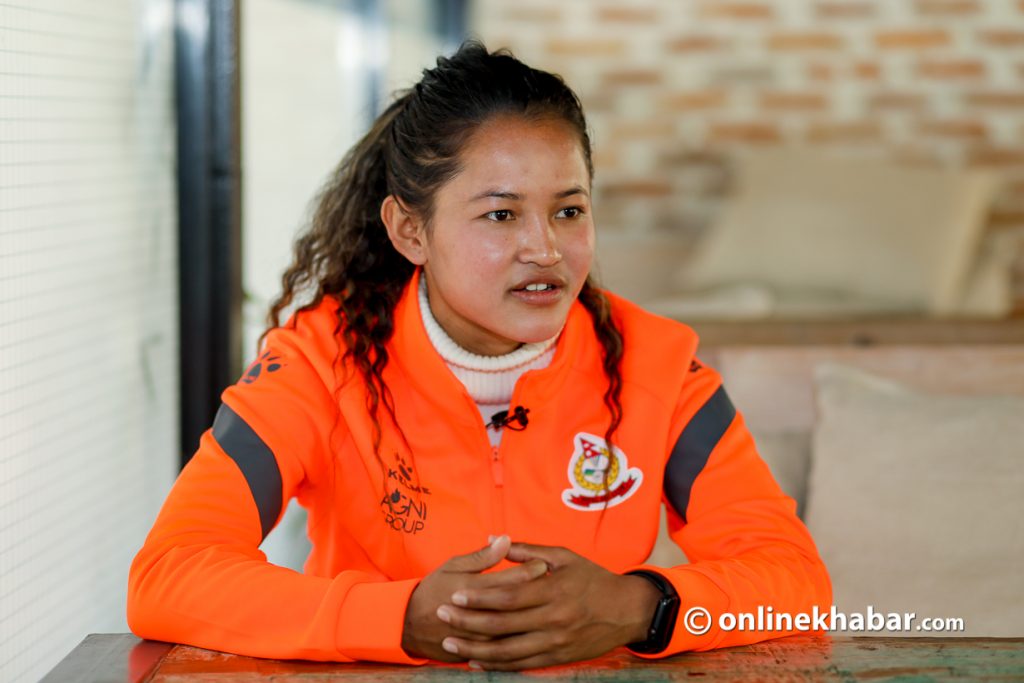 But, Limbu and others have not lost hope. She says that beating India and winning a gold medal in the SAG has become her one and only goal.
"We have to do this–for us and for the coming generation of female footballers. If we beat them once, we will no longer fear them," she says.
Supporting her in this goal is her family who has always been by her side. That is why Limbu has enjoyed playing football as much as she has.
"My parents are proud of me. And I feel fortunate that I've been able to make them proud," she says.
She also was quite happy with ANFA's recent decision to remunerate both female and male football players equally. This, she says, has given them added motivation.
"All of us want to work harder than we did before because we want to prove that we are no less than the men," she says. "If we bring home one trophy, it will be an inspiration to girls all around Nepal."