Ever since the Supreme Court reinstated the House of Representatives, Nepali Congress President Sher Bahadur Deuba has been spending a lot of time attending or hosting meetings.
These meetings have revolved around the notion of forming a new government as leaders from both Nepali Congress and other parties have been encouraging Deuba to jump at the opportunity and form a new government. But, Deuba has surprisingly remained content as he was often been telling his close aides that the Nepali Congress did not have a majority to form one.
However, people close to Deuba also say that he is reluctant to form a government as he was waiting for India's signal on the matter as he believes that India wanted KP Sharma Oli to remain as Nepal's PM until the next elections.
Deuba is not alone in claiming this. Puspa Kamal Dahal, after Oli dissolved the House of Representative, accused Oli of doing it upon instructions from India. He has even openly said how the government formed under his leadership along with support from Janata Samajbadi Party and Nepali Congress would be 'comfortable' for both India and China.
These statements from senior leaders of Nepal's two big parties goes to show how India still has a say in Nepal's politics scene as both want India to be in their support if and when they come into power.
India and Oli
Deuba was not wrong when he said he did not have a majority to form a new government. Even though the House of Representatives voted Oli out of office, the opposition did not have a majority, and Oli once again became the prime minister. This happened due to two reasons – leaders close to Madhav Kumar Nepal boycotted the vote while Janata Samajbadi Party leaders close to Mahanta Thakur and Rajendra Mahato neither voted in favour nor against. This has resulted in the Janata Samajbadi Party being on the brink of a split.
As this happened, one can assume that Deuba, who has been in politics for aeons, knew that becoming the prime minister was beyond him as he felt he needed support from India.
According to political analyst Puranjan Acharya, India feels Oli is the right person for the job as engaging with him is favourable for it.
"Ever since the Mahakali Treaty, India had been looking for a friend in Nepal. In Oli and his communist party, it has finally found one," says Acharya. "Yes, there have been certain differences, but it wants him to remain the PM but of a smaller communist party and not one as big as the erstwhile Nepal Communist Party."
He adds that both Oli and India want elections in Nepal as quickly as possible. While Oli wants the elections for his benefit, India feels that if the elections take time, the two communist parties will merge again.
Acharya's statements are supported by murmurs coming from the southern neighbour. A week ago, an Indian news daily, Hindustan Times, in its editorial hinted at India still being in favour of Oli remaining the prime minister.
Similarly, Subramanian Swamy, a BJP leader and Rajya Sabha member, said that Oli was India's choice in a tweet on May 11. Although that was just his point of view, one can clearly see the general feeling amongst BJP leaders in India.
A Nepali diplomat who wants to remain anonymous says that the NCP's split was India's idea and that it also wanted Nepal to hold elections as soon as possible. Likewise, India also blocked opposition parties' efforts to form an alternative government in Nepal.
According to the diplomat, India is not in favour of a communist government with a two-thirds majority ruling Nepal. The diplomat further adds if the House yet again does not give a vote of confidence to Oli, there are chances that Oli will dissolve the House again.
Acharya agrees with the diplomat's points.
"When the constitution was being drafted, India's foreign secretary S Jaishankar, who is the country's Foreign Minister now, had come to Nepal, carrying India's agenda," says Acharya. "Jaishankar once again is trying to form an environment to ensure that Nepal does exactly what India wants it to do."
Indian interests in Nepal
But, there are other analysts who say that India has no role to play in Nepal's political scene. They say that India is neither in support of the Oli government nor does it want to topple it and form a new one.
A source who believes India wants to maintain equidistance with both ruling and opposition sides in Nepal says if Deuba and Dahal had committed to meeting the demands of the Janata Samajbadi Party's Thakur-Mahato, there could have been a possibility of a majority coalition.
"In Nepal, political parties often try to be anti-India to ensure that they can win votes of hardcore nationalists. But as soon as the elections are over, they become close to India or China as it will benefit them in the long run," says Lok Raj Baral, professor of political science and former ambassador of Nepal to India. "Both citizens and intellectuals fall for this trap every time."
Baral adds that foreign countries support parties who are beneficial for them and are in a strong position in the country.
"That is why I think India supports Oli," says Baral who adds that India does not seem to trust leaders of the opposition.
An Indian diplomat closely looking at Nepal says, "One thing is certain: India understands that Oli's continuity will not be a problem for it." According to him, if Deuba and Dahal had committed to supporting Thakur and Mahato's agenda, Oli's continuity could have been avoided. Hence, the narrative that India made Oli continue is not totally correct.
He says that India has no preference for who Nepal's prime minister is or which party they come from as it used to be in the past.
"India has learnt a lesson about supporting politicians in Nepal as it's backfired a few times," he says.
India's main point of interest in Nepal is the anti-India sentiment brewing in the country after the 2016 economic blockade. That escalated after the map issue as India claimed Lipulekh and Limpiyadhura in its new map. To tackle this issue, Nepal even amended its constitution.
Changing dynamics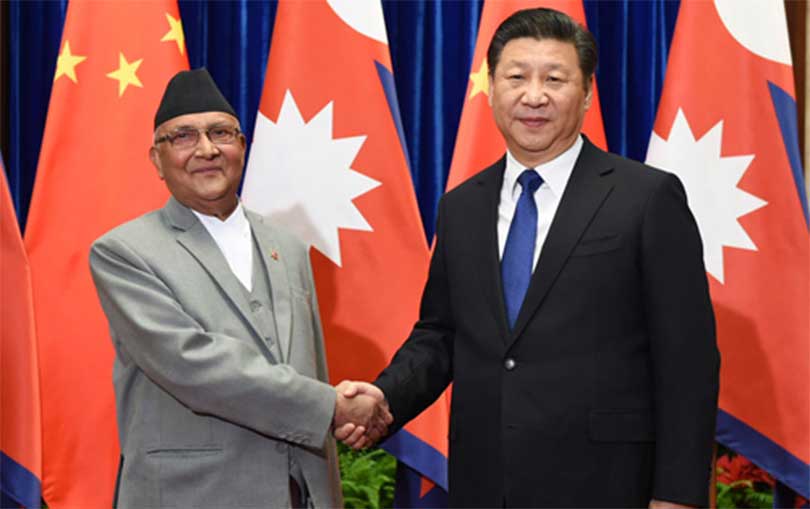 "But, Oli's relationship with India, since then, has improved, after which he has stopped bringing up the map issue in public events. Once Oli stopped doing that, his party leaders also stopped," says the Indian diplomat.
In October 2020, Samant Kumar Goel, the chief of India's secret service Research and Analysis Wing (RAW) came to Nepal. Prior to his visit, the relation between Oli and India was quite cold. Since then, Nepali and Indian government officials kept on meeting each other on a regular basis as Oli's relationship with India apparently started to get better. There are also claims that India's Hindu nationalist group Rashtriya Swayamsevak Sangh (RSS) also played a part.
Nepal's northern neighbour, China, also keeps a close eye on Nepal's political scenario. Last year, when the NCP was on the verge of splitting, Chinese ambassador to Nepal, Hou Yanqi, personally met Oli, reportedly asking him to resign from either as prime minister or as the party chairman.
"After that Oli, started to look southward for help," says a political analyst, who along with many others, believes that this was the turning point of Oli's relationship with India.
The analyst says that India and many western countries did not like communist China's influence on Nepal and its political parties. They feared if Nepal's army and its Finance Ministry would turn towards China.
But, Oli did not let that happen.
"Since then, China's influence has lessened as Nepal's relationship with India has gotten better. The two nations have even cooperated on defence strategies. That is why India feels Oli is better for them," says the analyst.