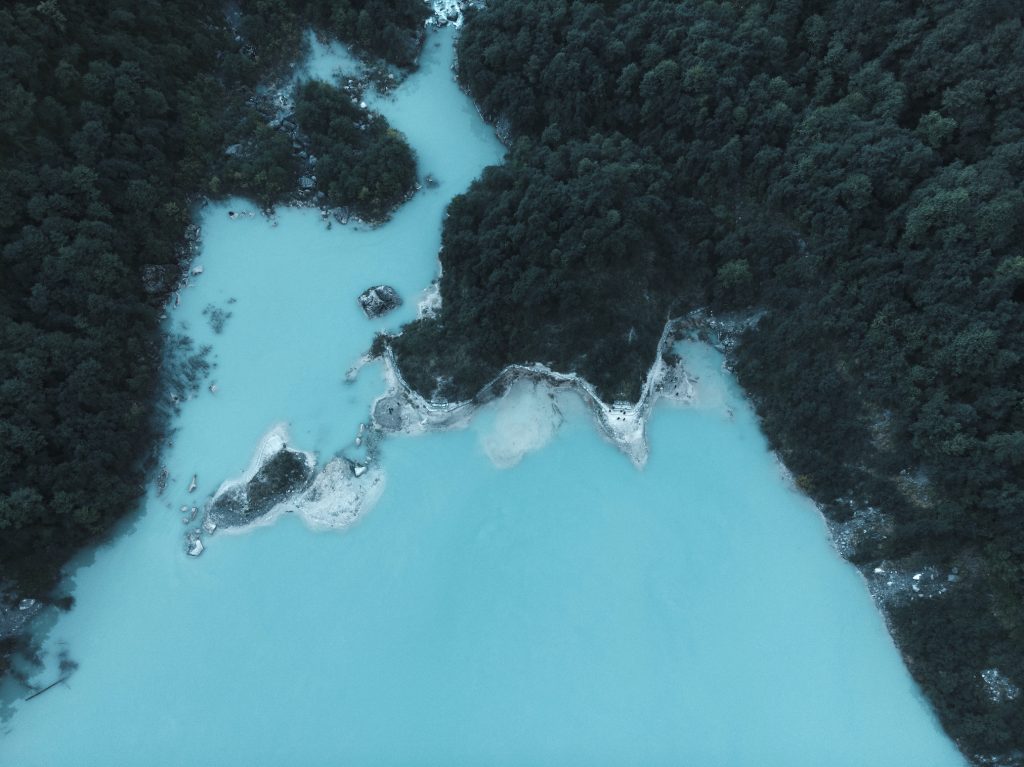 It is often said the journey matters more than the destination. But if your destination is a serene and large water body, your journey will be worthwhile too. Exploring destinations that combine the thrill of trekking or travelling with the mesmerising beauty of a water body destination offers a truly unforgettable experience. Serene ponds or lakes nestled in the heart of lush forests to pristine lakes reflecting majestic mountains captivate adventurers seeking both awe-inspiring views and a connection with nature.
Whether you choose to embark on a challenging trek or enjoy a scenic road trip, these destinations offer a perfect blend of adventure and tranquillity. Join us as we dive into the enchanting world of trekking and travelling to water body destinations, where breathtaking views and unforgettable experiences await at every turn.
Phewa lake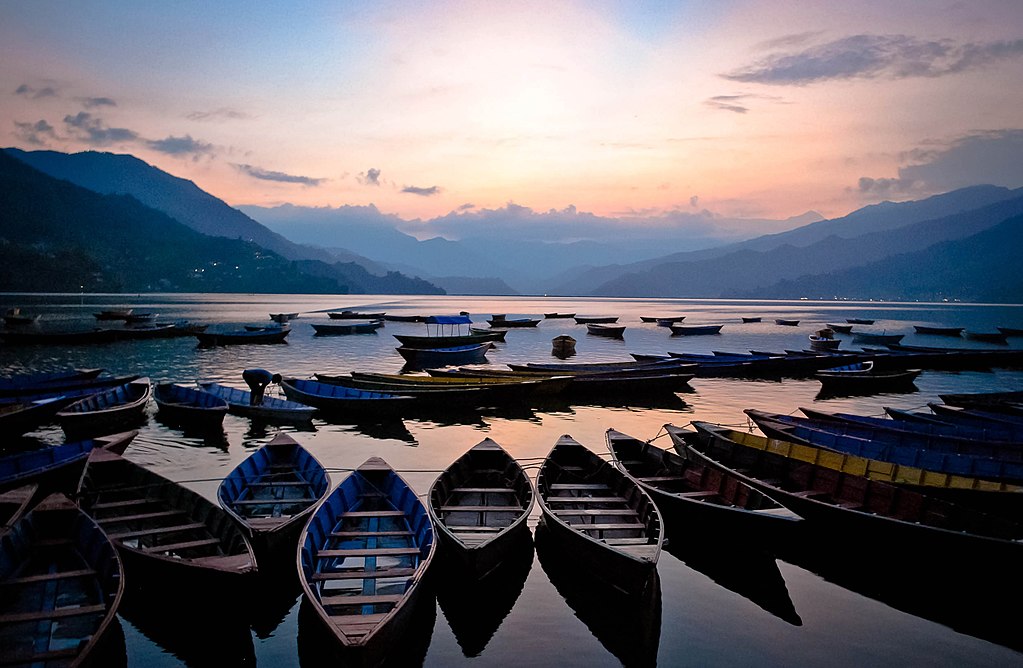 Phewa lake in Pokhara is a captivating tourist destination known for its easy accessibility and serene ambience. Visitors can reach the lake by taking a short taxi ride or a leisurely walk around the city area. If you are from outside Pokhara, take a road trip to this beautiful city.
Surrounded by lush hills, Phewa lake provides a peaceful setting and panoramic views and exquisite combinations of flora, including lotus flowers and water lilies, and its many bird species, such as cormorants, egrets, and kingfishers. The presence of these natural elements adds to the charm and tranquillity of the lake. Visitors can admire the beauty of the lake and witness the harmonious coexistence of nature's elements.
The prominent landmark of Phewa lake is the Tal Barahi Temple, situated on an island. Accessible by boat, this temple holds religious significance and offers a serene ambience for spiritual immersion. This is arguably one of the most accessible water body destinations in Nepal.
Rara lake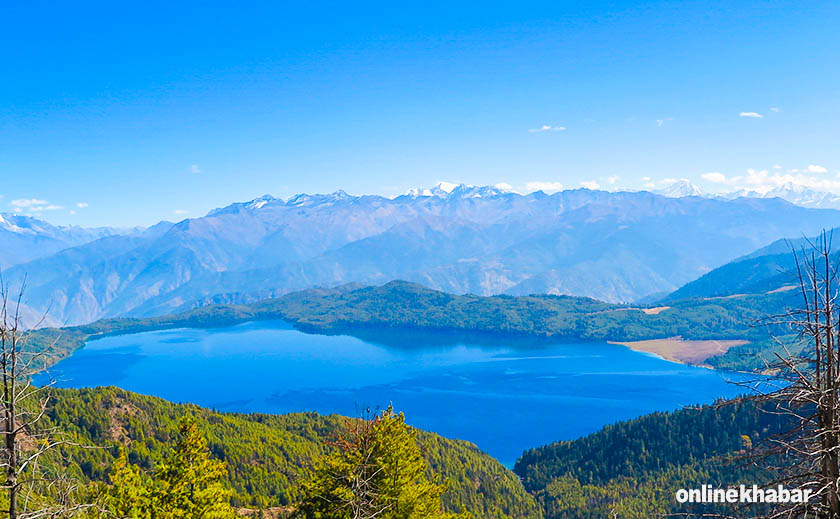 Rara lake, nestled in the remote Mugu District of western Nepal, is a captivating water body destination that continues to enchant visitors with its unparalleled beauty. Since the late 1960s, trekkers have been drawn to this picturesque lake, seeking a unique and off-the-beaten-path adventure. The trek to Rara lake begins in Jumla, leading trekkers through lush forests, traditional villages, and breathtaking landscapes. Along the trail, landmarks like Sinja Valley, Nagma Valley, and Rara National Park add to the allure. 
The region boasts diverse flora, including rhododendron, pine, and juniper forests, while wildlife enthusiasts may spot musk deer, red pandas, and Himalayan black bears. Bird enthusiasts can enjoy the vibrant avian species. Upon reaching the lake, visitors can take a leisurely boat ride or embark on a hike to Murma Top for panoramic views.
Interacting with local communities provides insights into their culture, and camping by the lakeside offers a magical experience. To reach Rara lake, flights are available from Kathmandu to Jumla or Nepalgunj, connecting to Jumla, but a road trip is also a good idea.
Gosainkunda lake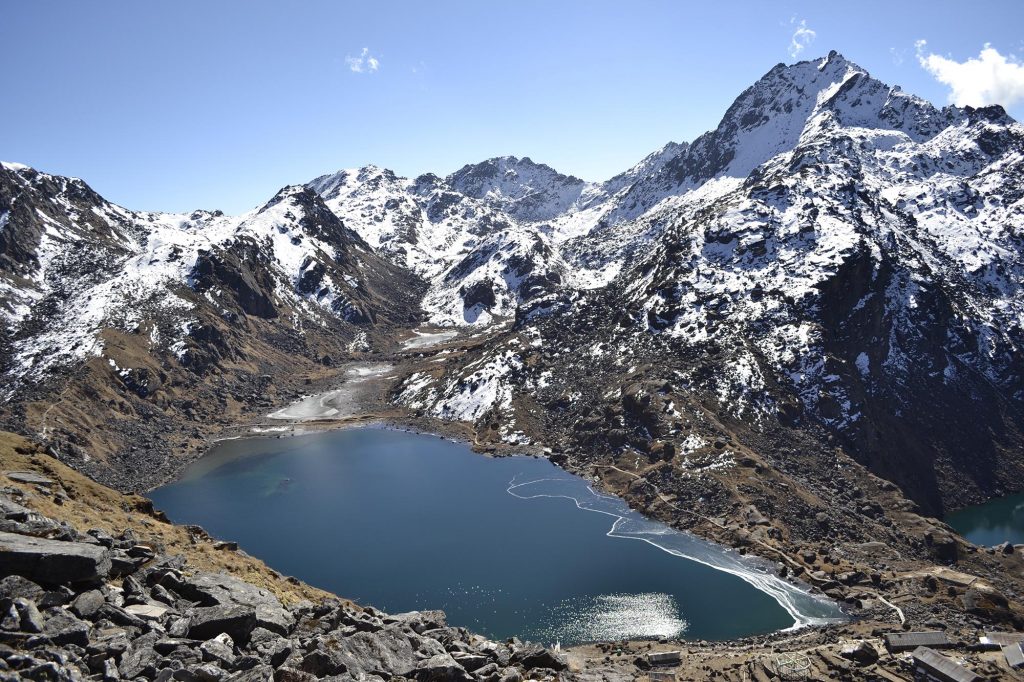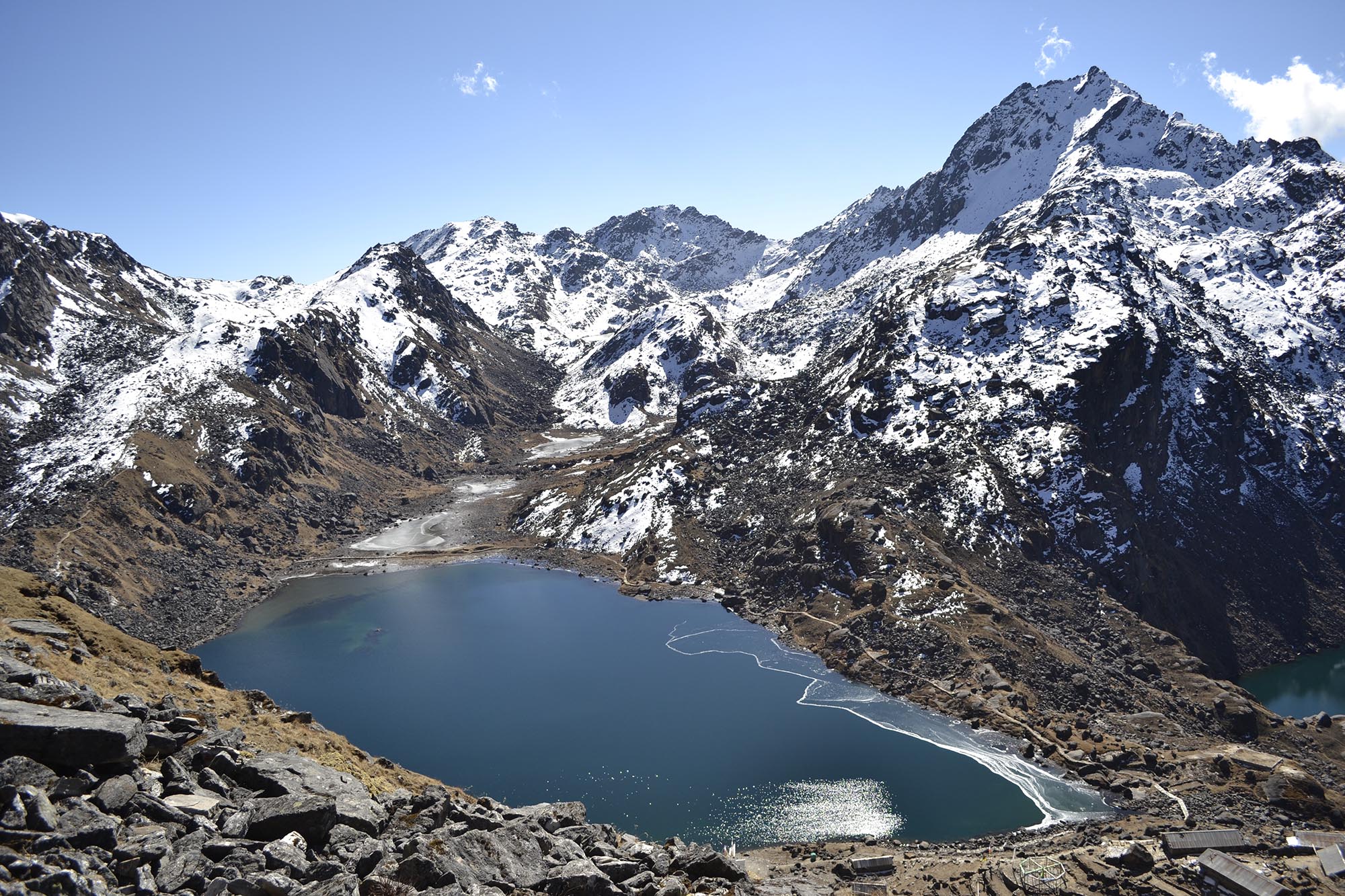 Gosainkunda lake is a revered religious site in Langtang National Park. It has attracted Hindu and Buddhist pilgrims for centuries, and in the mid-1900s, it gained popularity among trekkers and tourists. The lake is located in the Rasuwa District of the Bagmati Province within the Langtang region.
The trek to Gosainkunda lake begins from Dhunche or Syabrubesi, both accessible from Kathmandu by bus or private vehicle. The trail takes visitors through forests, traditional Tamang villages, and high alpine landscapes, offering a chance to explore landmarks like Chandan Bari, Lauribina La Pass, and small lakes.
One can see rhododendron, oak, and pine forests, that adorn the trail. Wildlife enthusiasts may spot Himalayan black bears, red pandas, and musk deer, while birdwatchers can expect to see Himalayan monals, pheasants, and eagles.
Both religiously and culturally significant Gosainkunda lake is perfect to enjoy breathtaking panoramic mountain views, witnessing stunning sunrises and sunsets over the surrounding peaks, and interacting with local communities. The lake's serene atmosphere provides a perfect setting for introspection and reflection. The journey offers a unique blend of spirituality, natural beauty, and cultural exploration, making it an unforgettable adventure for pilgrims, trekkers, and nature lovers alike.
Begnas lake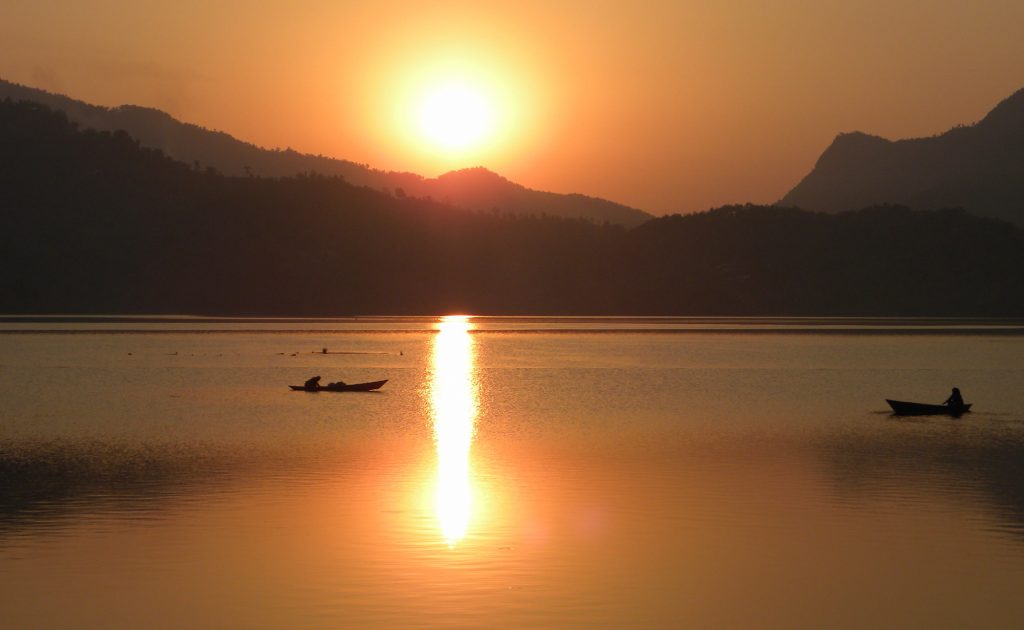 Begnas lake situated in Pokhara is a beloved destination for tourists seeking peace and natural beauty. Located approximately 15 kilometres east of Pokhara, the journey to Begnas lake offers breathtaking views of the Annapurna and Dhaulagiri mountain ranges. Travellers can choose between a taxi or a local bus from Pokhara to reach this enchanting locale.
Upon arrival, visitors are greeted by lush green hills, terraced fields, and subtropical forests surrounding the crystal-clear waters of Begnas lake. The vibrant ecosystem is home to a variety of avian species, including kingfishers, herons, and migratory ducks, providing a delightful experience for birdwatching enthusiasts. Beyond the captivating lake, a range of activities await.
Visitors can enjoy boating on the calm waters, a leisurely stroll or hike along the lakeside, and visit nearby viewpoints like Sundari Danda for panoramic vistas of the surroundings. The nearby traditional Gurung and Magar villages offer an immersive cultural experience, allowing travellers to explore the local way of life.
Begnas lake continues to captivate the hearts of travellers seeking solace and natural splendour in the stunning Western Nepal region. Whether you choose a taxi or a local bus, the journey to Begnas lake is a feast for the eyes, and this water body destination itself offers a perfect escape from city life, showcasing the beauty of Nepal's landscapes and local traditions.
Tilicho lake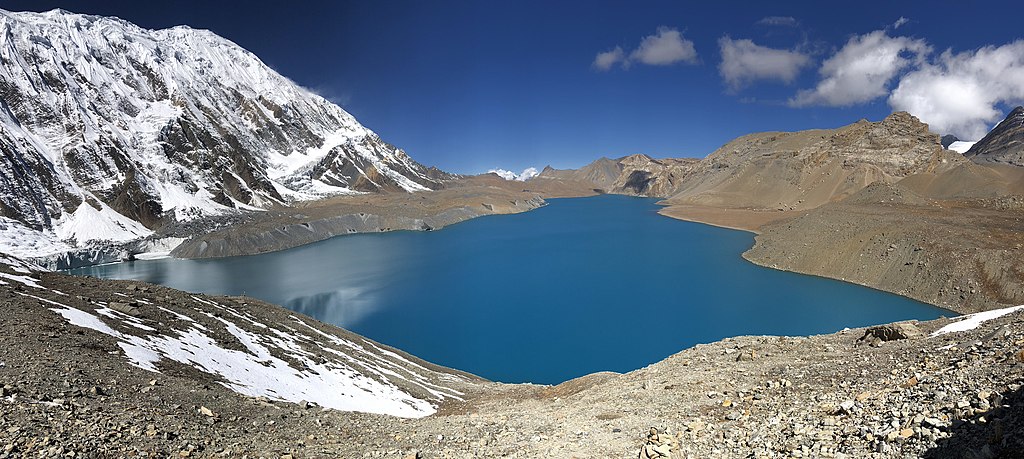 Tilicho lake located in the remote Manang of western Nepal has been a popular choice among adventurous trekkers due to its stunning natural beauty. The trek usually starts from Besisahar or Chame, following the Annapurna Circuit trail, and passes through notable landmarks like the Marshyangdi River, Manang Village, and the challenging Tilicho Pass.
To reach Tilicho lake, trekkers can take a bus or private vehicle from Kathmandu to Besisahar or Chame, where the trek begins. The trail offers an array of vegetation, with lush forests at lower elevations and barren landscapes at higher altitudes. Along the way, trekkers may spot Himalayan blue sheep, rare snow leopards, and various bird species.
The highlight of the trek is witnessing the turquoise waters of Tilicho lake, a mesmerising sight that offers the best view amidst the rugged surroundings. Hiking to the Tilicho Base Camp provides even better views of the surrounding mountains. Exploring the beautiful Manang Valley is also a must, including its landscapes, traditional villages, and ancient monasteries.
For the more adventurous, continuing the trek to Thorong La Pass or the Annapurna Circuit is an option to immerse oneself in the grandeur of the Himalayan range. Throughout the journey, trekkers will experience the transition from lush forests to barren landscapes, creating a captivating backdrop for their adventure.
Shey Phoksundo lake
Shey Phoksundo lake situated in the Dolpa is another popular destination among trekkers and nature enthusiasts due to its remote location and stunning landscapes. The trek to Shey Phoksundo lake begins from Juphal, taking you through remote villages, picturesque valleys, and rugged terrains. Along the way, you will encounter landmarks such as the Phoksundo River, Ringmo Village, and the scenic Kang La Pass. 
To reach the lake, you can fly from Kathmandu to Juphal Airport and start your trek. The trail offers unique landscapes, including pine forests, alpine meadows, and barren hills. Wildlife sightings may include blue sheep, Himalayan marmots, and even the elusive snow leopard. Bird enthusiasts can look out for the Tibetan snowcock and Himalayan griffon.
Shey Phoksundo lake itself mesmerises with its turquoise waters, and nearby Shey Gompa provides insight into the Tibetan culture of the Dolpa region. The serene ambience of the surrounding landscapes invites you to immerse yourself in the beauty of Shey Phoksundo lake.
Gokyo lakes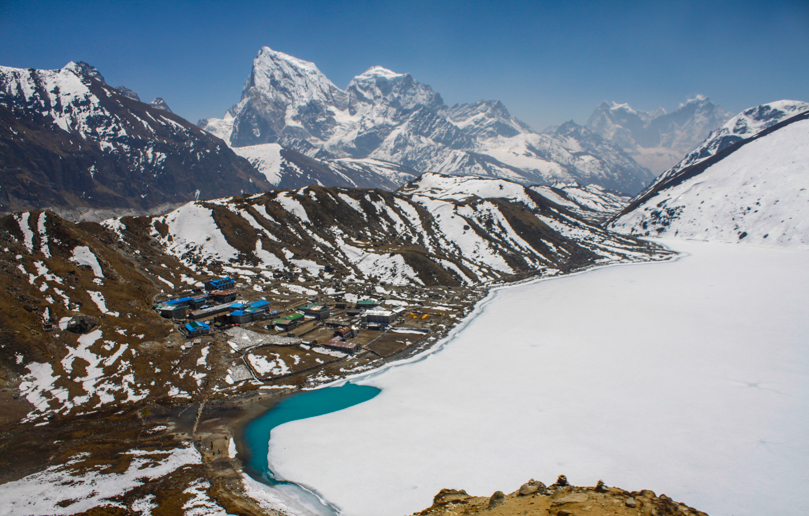 The Gokyo lakes, located in Sagarmatha National Park, is an evergreen popular destination for trekkers in the Everest region of Nepal. The journey to the lakes begins in Lukla and follows the renowned Everest Base Camp trail until Namche Bazaar, before diverting towards the Gokyo Valley.
Along the way, trekkers encounter landmarks such as the Dudh Koshi River, Tengboche Monastery, and the challenging Cho La Pass. The trail is adorned with rhododendron forests, juniper trees, and alpine meadows. Wildlife enthusiasts can spot Himalayan thar, musk deer, and various bird species like the elusive snowcock. Activities include exploring the six enchanting Gokyo lakes, witnessing the Ngozumpa Glacier (Nepal's longest glacier), and immersing in the rich culture of Sherpa communities. 
To reach the lakes, one must fly from Kathmandu to Lukla and commence the trek. The trek offers breathtaking views, a variety of flora and fauna, and a chance to engage with local communities. It is an adventure that combines natural splendour, iconic landmarks, and cultural immersion, making the Gokyo lakes an increasingly popular destination among trekkers in the Everest region.
The trek is also known for its stunning vegetation, including rhododendron forests, juniper trees, and alpine meadows, which create a vibrant and picturesque landscape. Wildlife enthusiasts may encounter Himalayan thar, musk deer, and various bird species, such as the elusive snowcock. The trek provides an opportunity to appreciate the natural beauty and diversity of the region's flora and fauna.
Ghodaghodi lake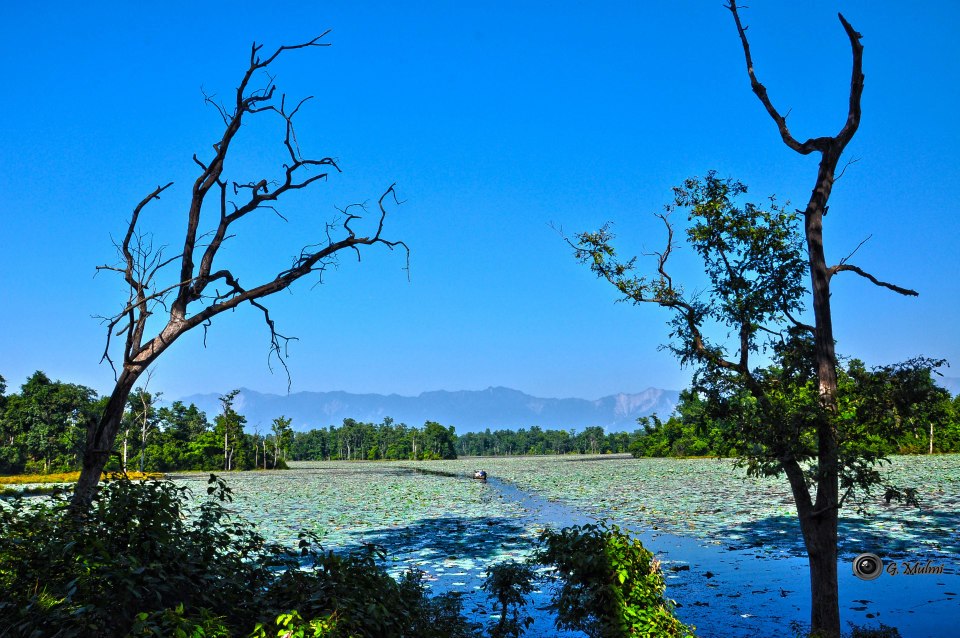 Ghodaghodi lake in the Kailali of far-west Nepal has become one of the emerging and popular nature and wildlife destinations. Situated approximately 18 kilometres from the major city of Dhangadhi, the lake is part of the Ghodaghodi lake, which includes dense forests and wetlands. Travellers can reach Ghodaghodi lake by flying or taking a bus from Kathmandu to Dhangadhi and then hiring a taxi or using local transportation services.
Surrounded by lush Sal forests and marshy grasslands, Ghodaghodi lake offers a diverse ecosystem. It serves as a habitat for various mammal species, including the endangered swamp deer, leopard, and wild boar. The lake also attracts a wide variety of migratory and resident bird species, such as storks, kingfishers, and herons.
Visitors to Ghodaghodi lake can engage in several activities to explore its natural wonders. They can take boat rides to discover the lake and its surroundings, indulge in birdwatching, hike in the adjacent forests, and immerse themselves in the serene natural environment. With its scenic beauty, diverse flora and fauna, and a range of recreational activities, it is an easily accessible destination for both domestic and international travellers.
Khaptad daha
Khaptad daha, the largest and most pristine water body in Khaptad National Park, is located in another gem from far-west Nepal. The park, established in 1984, covers an area of 225 sq km and is renowned for its natural beauty and tranquillity.
To reach Khaptad daha, travellers can choose a road trip through its rural villages and forests or opt for a thrilling trek that immerses them in the wilderness. Along the way, they will encounter breathtaking landscapes and landmarks like the Khaptad meadows and Nagdhunga Daha.
Khaptad daha has gained popularity for its serene and picturesque setting, offering a peaceful escape and a connection with nature. Boating on the lake is a popular activity, while visitors can camp along the shores of the lake for an immersive experience.
Exploring the surrounding trails provides a chance to observe the park's flora and fauna up close including an exquisite range of flora and fauna while enjoying panoramic views. One can witness rhododendron forests, oak trees, wildflowers and fauna, including Himalayan black bears, musk deer, and various birds. In addition to natural wonders, a visit to Khaptad Daha offers interaction with local communities, providing insights into their unique culture and way of life.